Arnold talks Cubs on 'Express Written Consent'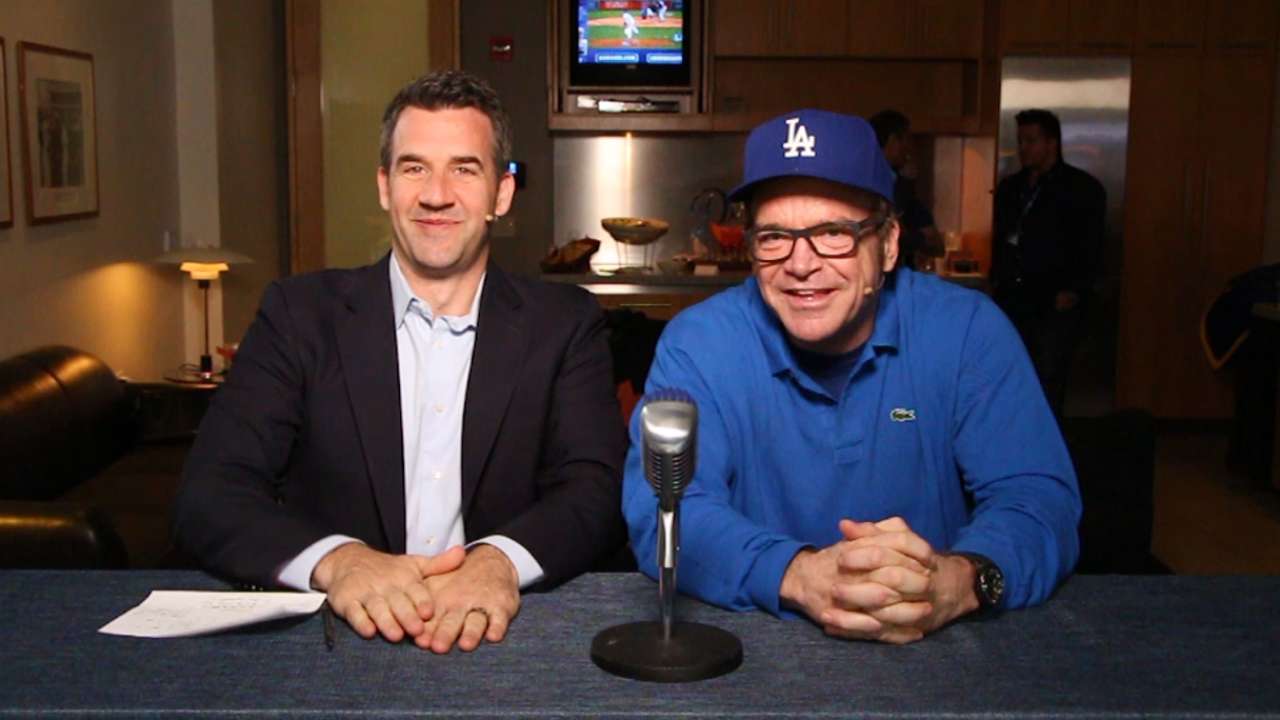 In some ways, Tom Arnold sounds like every other born-and-raised Cubs fan when he talks about his favorite team.
He grew up in the Midwest. He's a long-suffering fan. He is raising his son, somewhat reluctantly, to also be a Cubs fan. He likes the team today. He is a fan of Joe Maddon. He's encouraged that things seem to be looking up.
Those sentiments aren't much different from what you would hear from a slightly less famous but still diehard Cubs fan. What makes Arnold different are the random encounters he's had with actual Cubs personalities.
Arnold, whose acting credits include roles on "Roseanne," "True Lies" and "Austin Powers: International Man of Mystery," found himself in the broadcast booth at Wrigley Field one afternoon chatting with Harry Caray. Arnold had just filmed a movie that, in Arnold's words, "nobody watched." But Caray was intrigued.
The movie was called "The Stupids."
"Sounds like my grandkids would like that," Caray said to Arnold.
Meanwhile, somewhat important things were happening on the field. Like, for instance, future Hall of Famer Ryne Sandberg's final at-bat, ever.
"Steve Stone's like, 'Hey, it's Ryno's last at-bat, Harry. Harry!'" Arnold recalled. "That's what you loved about him -- having fun, so Chicago. He was great."
Arnold, whose storytelling was a perfect fit for the latest episode of "Express Written Consent" -- MLB.com's cheeky venture that invites celebrities into a suite at the ballpark to talk ball (and anything else that may come up) -- is no stranger to sports broadcasting.
He was one of the hosts of the edgy early-2000s show called "The Best Damn Sports Show, Period," a popular nightly program that pushed the envelope a bit while drawing big names in the sports world as guests, likely because of its looser programming and daring format.
"We wanted to have a little fun with it," Arnold said. "And we did for a few years. A lot of great people came through there. Athletes wanted to come on to do something different, do something silly. It really was one of the most fun things I've ever done.
"I'm a huge sports fan. I didn't have to be objective. I could like who I wanted to like and it didn't matter. The other guys had to be a little more objective."
Perhaps it's best that Arnold leave objectivity to others. His latest venture, a Yahoo! original series titled "Sin City Saints," is about a professional basketball team that plays in Vegas. This would seem to be right in the wheelhouse of Arnold, a noted risk-taker throughout his acting career.
Not only does the show take place in Vegas, it's filmed there, too.
"Casinos 24 hours a day," Arnold said. "I don't care how good your program is -- two months in a casino, something weird is going to happen. A lot of weird things happened. It was great."
But did he at least break even on the job? Well...sort of.
"I felt at some point I needed to go to a slot machine and lose a thousand dollars really quick," Arnold said. "They let me sit by the pool in a cabana by myself, because I didn't want other people to see me with my shirt off. So I felt like I owed the casino at least that. I just couldn't wait to lose."
Presumably, Arnold wins more than he loses. And it sounds like he's counting on his favorite baseball team to do the same.
"My son is 2 years old," he said. "When he was born, I said, 'You know, I've been a Cubs fan my whole life. I grew up in Southeast Iowa. I have suffered, and that's OK with me. But do I want my son to suffer like that?
"The Cubs are making some moves. I like Joe Maddon, I like the changes to [Wrigley Field]. So my son is a Cubs fan. In his lifetime, he can decide what he is."
Unless, of course, he decides he's not a Cubs fan.
Alyson Footer is a national correspondent for MLB.com. Follow her on Twitter @alysonfooter. This story was not subject to the approval of Major League Baseball or its clubs.