Quasi-intentional walks haunt Lyles in decisive fifth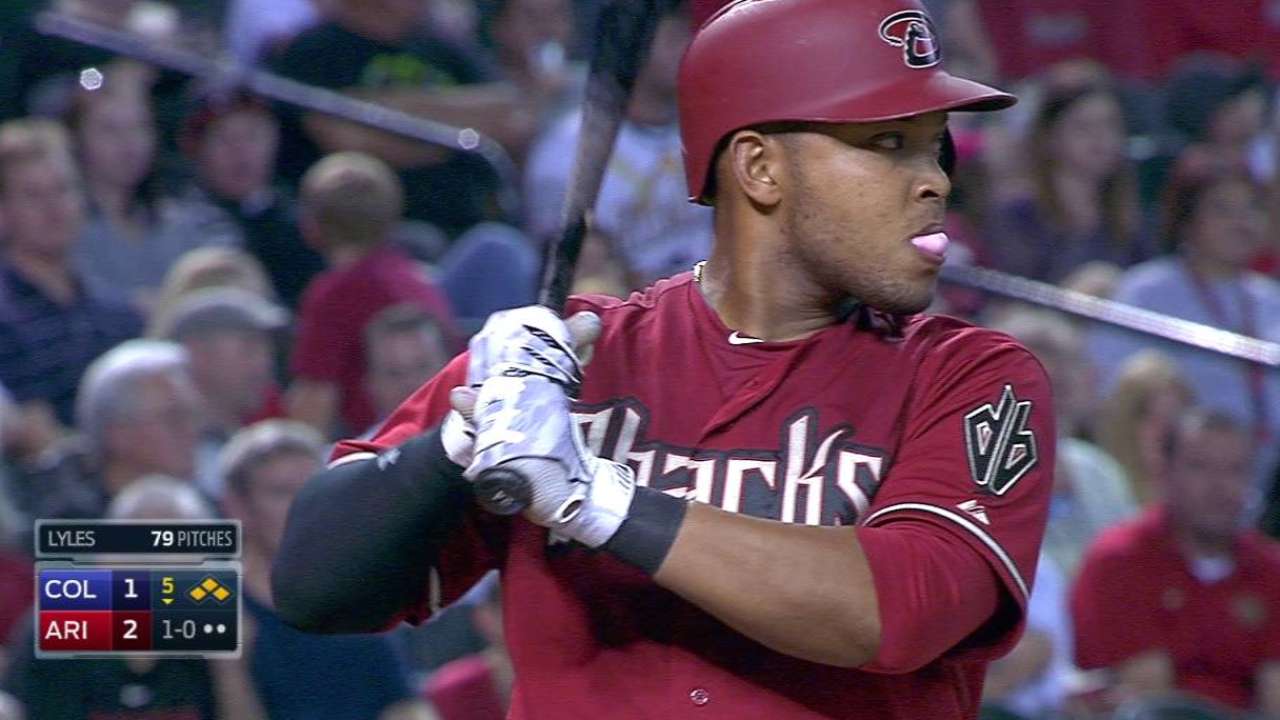 PHOENIX -- It took nearly three games, but in the fifth inning of Wednesday night's 9-1 loss to the D-backs at Chase Field, Rockies manager Walt Weiss finally instructed starter Jordan Lyles to pitch around Paul Goldschmidt with first base open and one out.
Lyles walked Goldschmidt semi-intentionally, one of his five walks in five innings. The move eventually backfired as the D-backs scored five times in the inning to bust open the contest and win the swing game of the three-game series.
"In that situation, we just didn't want to let Goldschmidt beat us," said Rockies manager Walt Weiss.
It was the proper tactic.
Goldschmidt absolutely crushed the Rockies this week, and Mark Trumbo added an additional hammer. The 3-4 hitters in the Arizona lineup combined to go 16-for-26 with 10 RBIs and eight runs scored. (This coming after the Pirates held them to 2-for-17, a run scored, no extra-base hits and no RBIs.)
The Rockies started Tyler Matzek, Kyle Kendrick and Lyles, none of whom pitched more than five innings. Matzek had the best shot, but a left-leg cramp knocked him out of Monday's 5-4 Rockies' win, after he threw one pitch to open the sixth.
The D-backs scored two runs against the Bucs and 25 against the Rockies. Let Goldschmidt be the judge:
"It's just how the game is," Goldschmidt said. "Besides you guys asking a bunch of questions, nobody was worried whatsoever. Who knows, we may get shut out the next game. Guys will keep playing hard and try to score as many runs as we can."
During Wednesday night's critical fifth inning, Lyles' leadoff walk to Ender Inciarte put the Rockies in a precarious position with the D-backs leading just 2-1. Chris Owings bunted Inciarte to second, and the managerial wheels began spinning.
"That leadoff walk didn't throw me, it's just something you can't do," Lyles said. "They bunted him over, and we pitched around Goldschmidt. Then we kind of pitched around [David] Peralta, too, in that inning, and those came back to haunt me. I've got to do a better job. That's too many runs via the walk. That's uncalled for."
Just to be sure, Lyles tried to pitch around Goldschmidt and Peralta?
"With a base open, [Goldschmidt] is hot," Lyles said. "So is Trumbo. Now with runners on first and second and Trumbo at bat, we had to attack him. In this lineup you don't want Goldschmidt to hurt you. If there's an open base we're not going to let him do the damage. Also, Trumbo is finding his swing. He looks pretty good right now."
Actually, Lyles got a bit lucky. Trumbo hit a shot to left field that Corey Dickerson caught in the little triangle that juts out from the D-backs' bullpen to the bleachers. A tad to the right, and it would have been a three-run homer. Instead, both runners moved up, leaving first base open again.
"We thought it was time to walk Peralta," Lyles said. "So we put him on base and [with Yasmany] Tomas, I left the ball over the plate, and he hit it hard" for a two-run single.
Former Rockies catcher Jordan Pacheco then hit a three-run homer to snap off the lights.
And it all began by pitching around Goldschmidt, which wasn't a bad idea, considering the circumstances.
Barry M. Bloom is a national reporter for MLB.com and writes an MLBlog, Boomskie on Baseball. Follow @boomskie on Twitter. This story was not subject to the approval of Major League Baseball or its clubs.