Morrison finds relief as bounces finally go his way
Seattle first baseman's four-hit night raises average to .194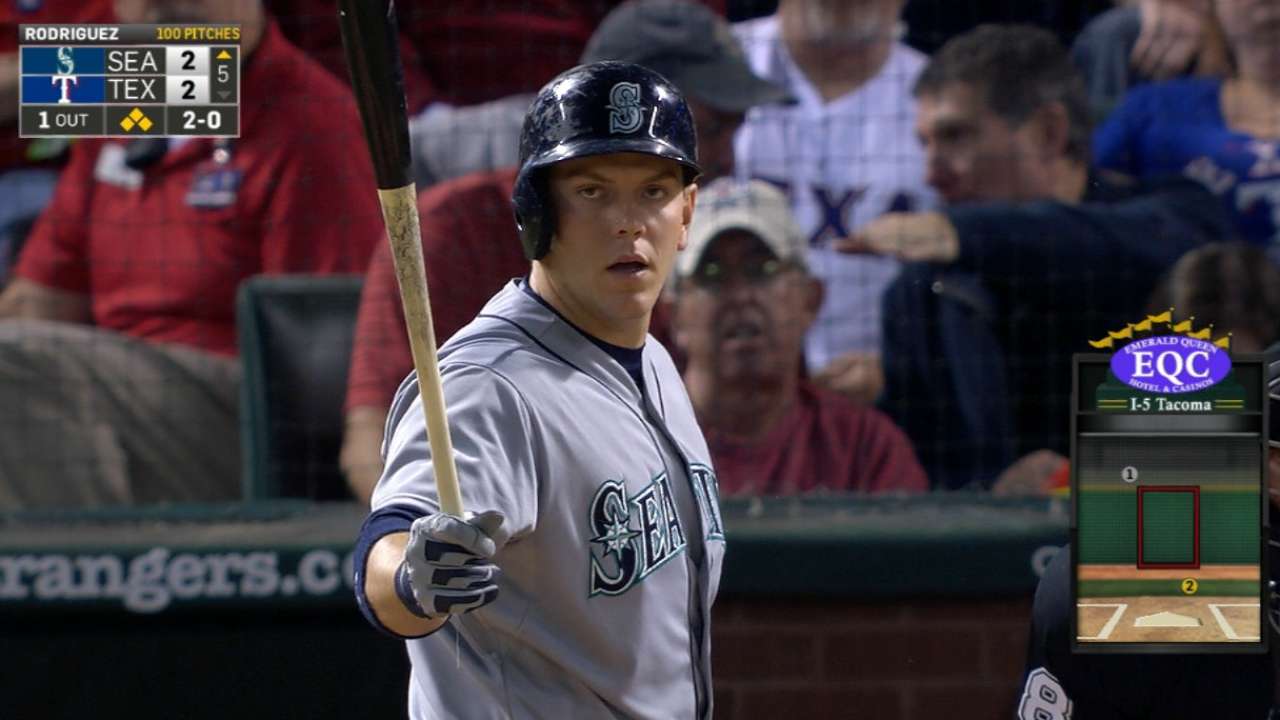 ARLINGTON -- Logan Morrison has driven some hard-hit balls that got him nothing more than loud outs a few times this season, so the Mariners first baseman certainly wasn't going to argue with a four-hit night in Wednesday's 5-2 victory over the Rangers that included a few fortunate bounces.
The biggest of Morrison's breaks was a line drive that skipped past Texas first baseman Kyle Blanks with the bases loaded in the fifth and was ruled a double by the official scorer. He scooted three other singles through holes in a game that hiked his average from .149 to .194 in one swoop.
What was he thinking on his go-ahead shot that eluded the glove of Blanks?
"Don't get doubled up and get to first," Morrison said. "It got through and then they gave a double and, 'Ohh. I'll take it.' I feel like I've had some tough ones, but at the same time I need to be swinging the bat better. They found holes tonight.
"I've hit way-better balls that haven't gotten through and been out. Better to be lucky than good some nights and tonight was that night."
The Rangers knew they let one get away on the one-out double.
"That's a play we've got to make," said Texas manager Jeff Banister.
The Rangers had already made a couple plays with the bases loaded as they turned two on a Mike Zunino grounder in the second to limit a no-out rally to one run after Nelson Cruz had opened the frame with a monster home run. And Wandy Rodriguez struck out Austin Jackson with the bases juiced in the fourth to squelch another threat.
So how did Morrison approach the same situation in the fifth with the score tied at 2-2?
"You don't ever want to have the feeling where you have to get something done because more than likely you're going to press and not," he said. "You want to get a good pitch to hit and do some damage with it. It wasn't the best swing or the best pitch to swing at, but it worked out."
The victory covered up a 3-for-15 night with runners in scoring position, an ongoing issue for the Mariners. But the pitching held Texas to four runs in the three-game sweep and that solved a lot of problems for the moment.
"Our pitching is going to be there," Morrison said. "We know that and they did a great job this series. As an offense, we just need to keep going and keep putting up runs. There's going to be times we don't because they get paid a lot on the other side, too. But I feel like we had a good series. We won the games we needed to win and we need to go to Houston now and do the same thing."
Greg Johns is a reporter for MLB.com. Follow him on Twitter @GregJohnsMLB as well as his Mariners Musings blog. This story was not subject to the approval of Major League Baseball or its clubs.