Harang's strong April ends on sour note
Phillies pitcher gives up four runs in rough fifth inning vs. Cards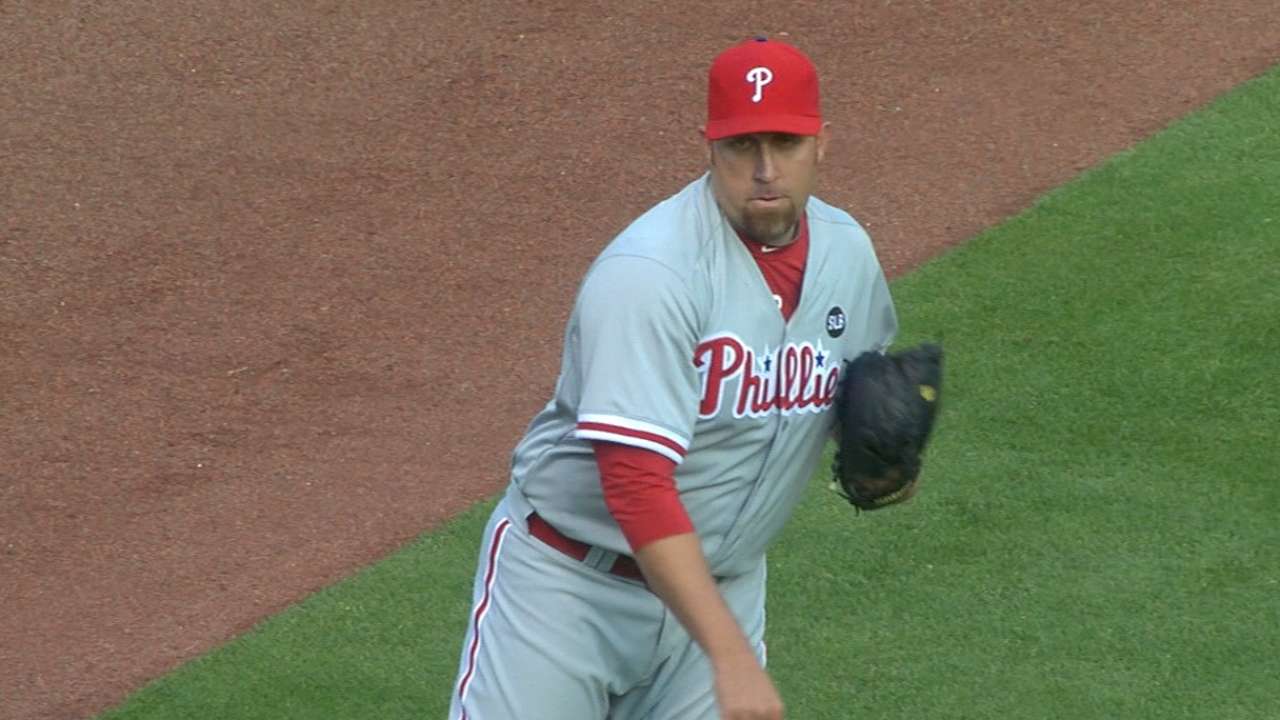 ST. LOUIS -- Phillies right-hander Aaron Harang had been one of the team's few positives in April, but the good times could not continue forever.
One inning spoiled Harang's final start of the month Wednesday in a 5-2 loss to the Cardinals at Busch Stadium. He allowed a combined four earned runs in 26 1/3 innings in his first four starts this month, but he allowed five runs in six innings as the Cardinals try to win the four-game series with a victory Thursday.
"They're a good ballclub," Harang said. "They've kind of got everything over there. When they put it together they can make things happen."
Harang actually looked like himself through four innings, allowing a run in the second inning as the Phillies had a 2-1 lead.
But trouble came in the fifth. Kolten Wong stood on second base with one out when Peter Bourjos tripled to right field to tie the game. Matt Carpenter followed with a ground ball to Phillies first baseman Ryan Howard.
Howard threw home, trying to nail the lightning-fast Bourjos. But Bourjos beat the throw and the tag from Phillies catcher Carlos Ruiz to hand the Cardinals a 3-2 lead.
"He's pretty quick," Howard said about Bourjos. "It was one of those bang-bang plays and it was actually a lot closer than I thought it was on the replay, because it looked like his foot was still in the air when they showed the other angle."
Matt Holliday walked, Matt Adams doubled and Jhonny Peralta singled to score two more runs to give the Cardinals a three-run lead.
Harang allowed nine hits, one walk and struck out six. He fell to 2-2 with a 2.51 ERA.
Todd Zolecki is a reporter for MLB.com. Read his Phillies blog The Zo Zone. Follow him on Twitter. This story was not subject to the approval of Major League Baseball or its clubs.