Colon's unbeaten stretch turns on weak grounder
Veteran right-hander saddled with first loss of 2015 in bid for 5-0 start to season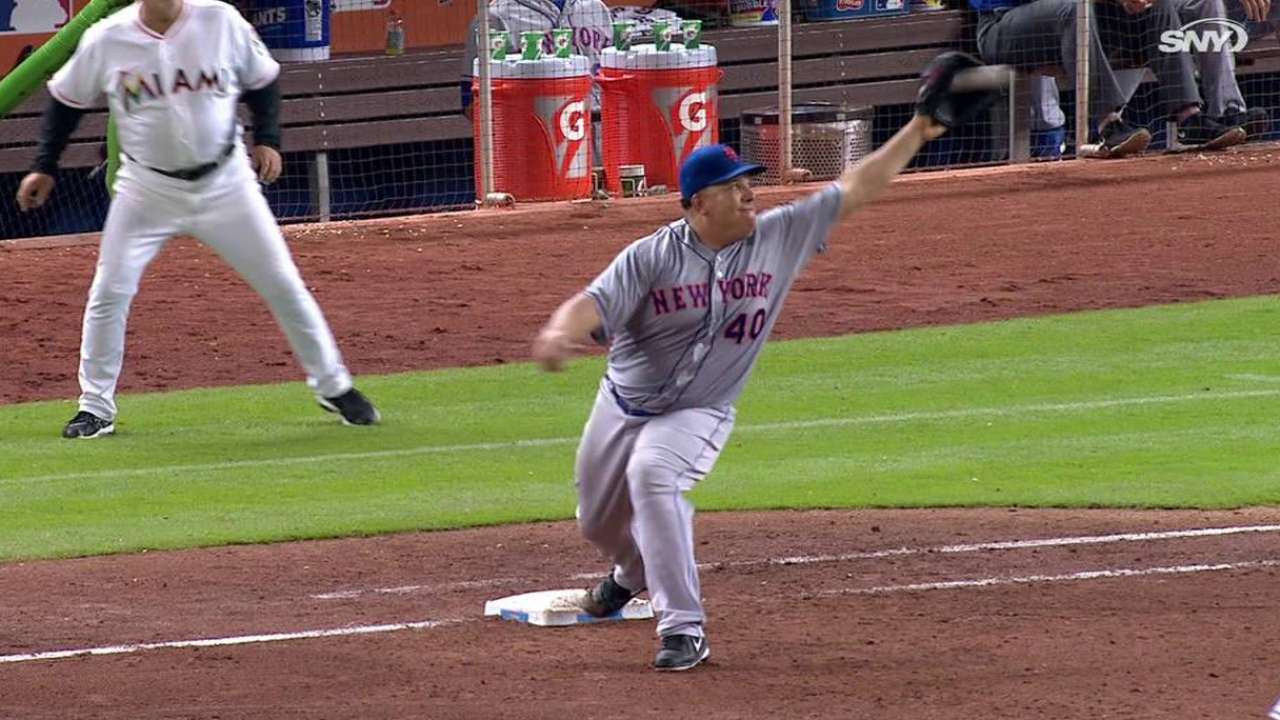 MIAMI -- Kevin Plawecki watched Bartolo Colon's 92-mph fastball zoom just beyond the strike zone's outside corner, within millimeters of where the Mets catcher set up his glove. It was near-perfect execution of the pitch that Plawecki wanted. And still Giancarlo Stanton muscled it past a defensive shift, shattering his bat on an opposite-field single that helped to snap Colon's improbable winning streak at four.
"If you told me before that at-bat that he was going to hit a broken-bat, weak ground ball to that side, I'd have told you I'll do it 100 times," Plawecki said. "It's one of those deals where it's part of the game. You've just got to move on and make the next pitch."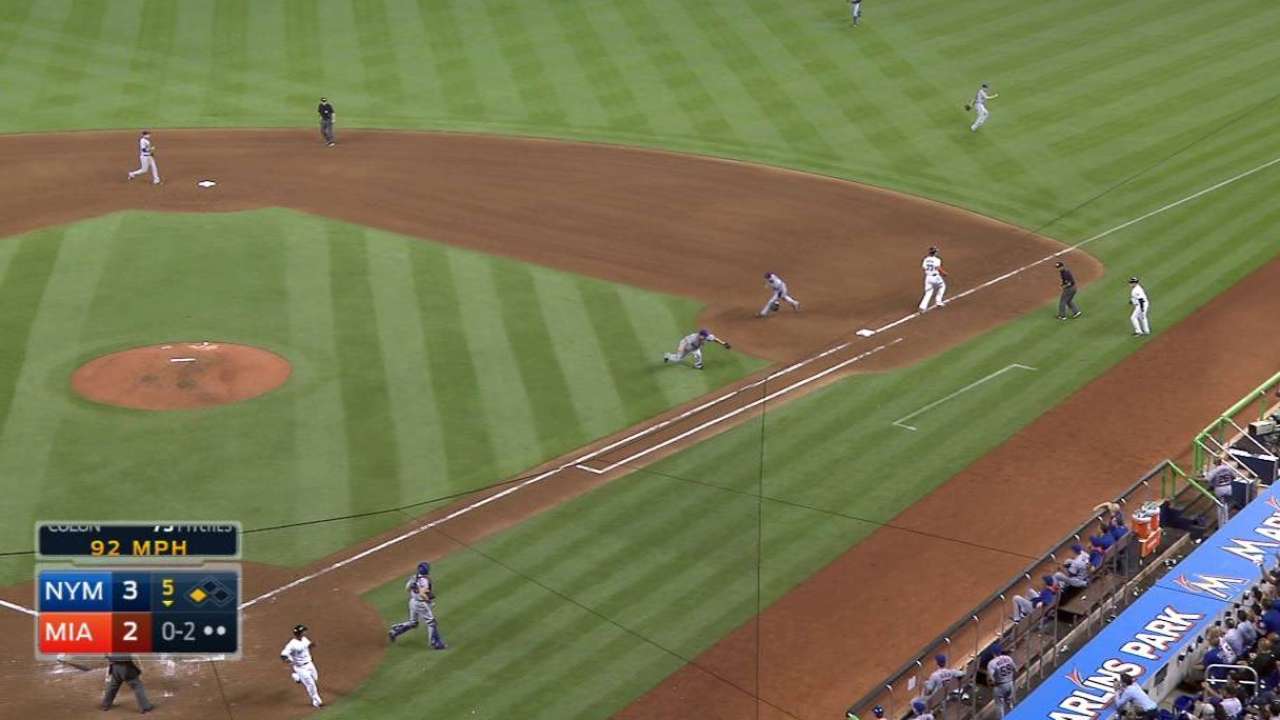 Stanton's infield single was not the most damaging hit off Colon in Wednesday's 7-3 Mets loss to the Marlins -- that was Stanton's two-run homer in the first inning. But it was easily the most frustrating. Stanton's third RBI tied things at 3, opening the door for the Marlins to rally late in the game and plate their go-ahead run on a sacrifice fly in the seventh inning, before putting things out of reach on Ichiro Suzuki's three-run homer in the eighth.
Such is life as a 41-year-old pitcher -- even an undefeated one heading into the night -- whose margin for error is always thin. Such is also the challenge of facing Stanton, one of the National League's premier sluggers. Tuesday night in Miami, the Mets chose to pitch to Stanton with a base open, allowing a critical run because of it. Wednesday, they repeated the strategy, only to watch Stanton beat them on a broken-bat bleeder.
"You can't walk this guy every time up," Mets manager Terry Collins said. "You've got to be able to pitch to him and make pitches. You start doing that, and you start looking up and you've got huge innings on your hands."
Colon did manage to avoid those in his fifth start of the season, giving up two runs in the first inning, one in the fifth and one in the seventh. But on a night when Michael Cuddyer's first-inning homer represented two-thirds of New York's offense, it was enough. Colon fell to his first loss of the season in his fifth start, falling one win shy of joining Dwight Gooden and Pedro Martinez as the only Mets pitchers to go 5-0 or better before the month of May.
Still, Colon finished April 4-1 with a 3.31 ERA, walking a batter on Opening Day and not a single one -- not even Stanton -- since.
"For me, I think I did a pretty good job," Colon said through an interpreter. "But more than anything, the team responded well. They scored runs for me. It was too bad that I couldn't pick them up when I needed to."
Anthony DiComo is a reporter for MLB.com. Follow him on Twitter @AnthonyDiComo and Facebook. This story was not subject to the approval of Major League Baseball or its clubs.