White Sox top prospects shine Wednesday night
Danish K's six in 6 innings, Davidson break slump with HR, 6 RBIs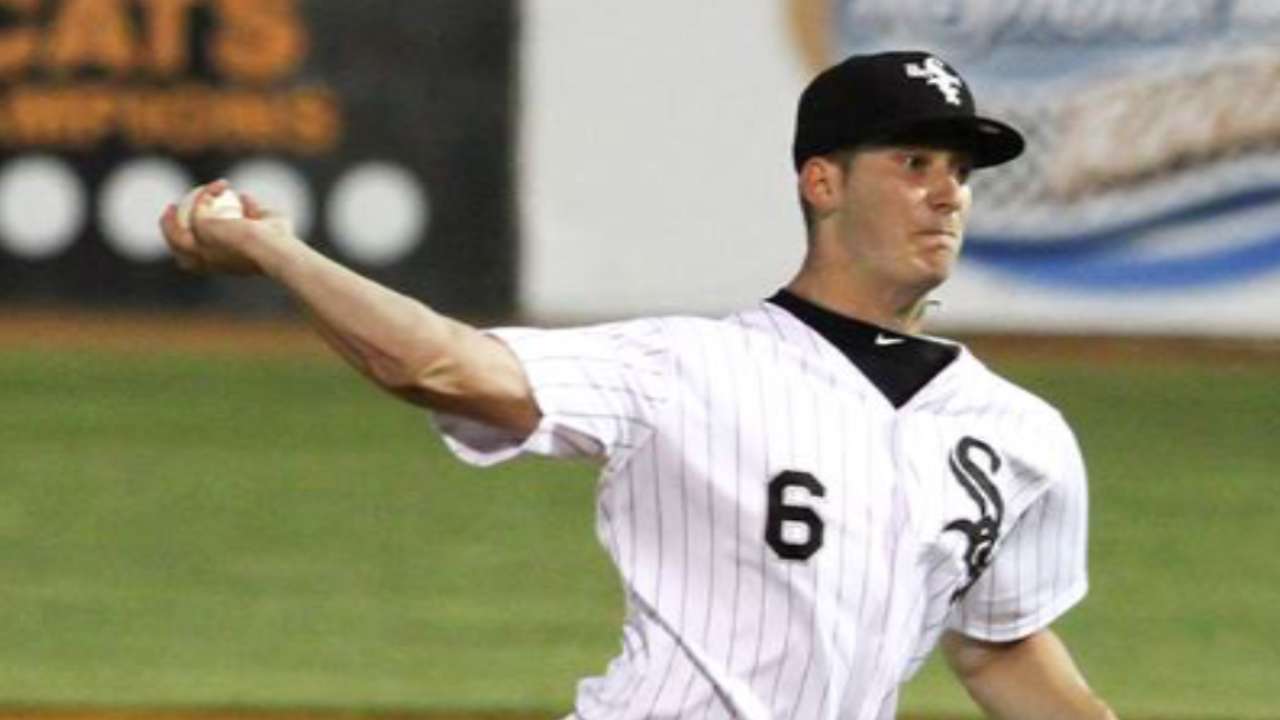 Top right-handed pitching prospects from the White Sox and Marlins' organizations squared off in the Southern League on Wednesday night, as Chicago's 20-year-old Tyler Danish got the best of Miami's Kendry Flores in Birmingham's 2-1 win over Jacksonville.
Danish, Chicago's No. 7 prospect, improved his record to 3-0 and lowered his ERA to 2.86 ERA with a six-inning, seven-hit, one-run outing. The 2013 second-round Draft pick hasn't given up a run in his past two starts (12 innings) and has racked up 13 strikeouts in that time.
Flores was nearly as good in a tough-luck loss, notching a season-high eight strikeouts. The 23-year-old Dominican allowed two earned runs in 7 1/3 innings, but it was enough to saddle him with his third straight "L." He's now 1-3 with a 3.57 ERA on the season.
The White Sox organization provided another top performance in the Minors on Wednesday, with its No. 11 prospect, Matt Davidson, flashing his power for Triple-A Charlotte. The third baseman swatted a home run and two doubles and knocked in six in a 10-4 win over Toledo.
Davidson was 2-for-19 in his previous five games entering Wednesday, but his 3-for-5 day upped his season totals to four homers and 13 RBIs. After a rough start to the season, the former D-backs prospect currently sports a .261/.320/.507 line.
More standout performances from Top 100 Prospects on Wednesday
• Yankees No. 1 prospect Luis Severino gave up one run in five innings of work in Double-A Trenton's 4-1 loss to New Hampshire. The 22-year-old also notched six strikeouts and one walk in the no-decision. Severino is 1-1 on the year, but lowered his ERA from 2.40 to 2.25.
Other notable performances from around the Minor Leagues
• Indians No. 8 prospect Justus Sheffield blazed through his five innings with eight strikeouts, two hits and no walks. The 18-year-old picked up a win in Class A Lake County's 2-1 victory over Lansing. Cleveland's 2014 first-round Draft pick stands at 2-1 with a 2.60 ERA on the year.
• Mariners No. 7 prospect Edwin Diaz was nearly untouchable in Class A Bakersfield's 2-1 win over Stockton. The Puerto Rican righty gave up three hits and no runs in six innings. While he only managed a no-decision, he cut his ERA from 1.89 to 1.44. Diaz is undefeated (2-0) in five starts and has only allowed 11 hits in 25 innings.
• Rangers No. 12 prospect Ryan Cordell went 2-for-5 with a season-high five RBIs for Class A High Desert in a 10-1 win over Modesto. He now has 17 RBIs on the season, along with four homers and a .341/.368/.593 line.
• Rays No. 6 prospect Casey Gillaspie knocked his first home run in 13 games (and third of season) for Class A Bowling Green in an 8-7 loss to Great Lakes. His 1-for-3 night improved his season average from .273 to .296, and the Omaha native now has nine RBIs this year.
• Braves No. 17 prospect Dustin Peterson notched the second four-hit game of his career for Class A Advanced Carolina. The outfielder smacked his third home run in six games, and his average climbed more than 50 points, from .189 to .246. Peterson also doubled in the 8-2 win against Lynchburg.
• Brewers No. 23 prospect Yadiel Rivera extended his on-base streak to 19 games with a 2-for-5 performance against Double-A Pensacola. Despite his productive night, the Biloxi shortstop's season OBP actually fell from .415 to .414.
• Reds No. 27 prospect Tejay Antone picked his spots in Class A Dayton's 9-1 win over Fort Wayne. He scattered seven hits in seven innings, but didn't allow any runs or walk anyone. The righty tied his season-high with six strikeouts and he is now 1-2 with a 2.78 ERA.
• Royals No. 24 prospect Eric Skoglund turned in the longest performance of his career, going seven innings while surrendering three hits and no runs. The five-strikeout effort cut his ERA from 3.18 to 2.25, but he only earned a no-decision in Double-A Wilmington's 2-1 loss to Myrtle Beach. He's still 1-1 on the season.
• Nationals No. 10 prospect Austin Voth was aggressive in Double-A Harrisburg's 3-2 win over New Britain, putting up his largest strikeout number, six, since he tossed seven on April 9. The righty gave up two runs (zero earned) in six innings, and now has a 2-1 record with a 3.77 ERA.
• Padres No. 15 prospect Travis Jankowski extended his hitting streak to 16 games in Double-A San Antonio's 6-4 loss to Frisco. The center fielder is now hitting .371 with a higher OBP (.463) than slugging percentage (.429). Jankowski also showed off his defensive abilities on Wednesday, making a diving grab in the right-center gap.
• Brewers No. 12 prospect Jorge Lopez picked up his second straight win with a six-inning, two-hit dandy. The six innings of shutout ball against Double-A Pensacola was his second consecutive start in which he didn't allow a run, and he's now sitting at 2-2 with a 3.50 ERA. The 6-foot-4 righty has lowered his ERA in three straight starts since giving up four earned runs in three innings on April 12.
Alex M. Smith is a reporter for MLB.com. This story was not subject to the approval of Major League Baseball or its clubs.