Freeman's red-hot bat a bright spot for Braves
ATLANTA -- Now that Freddie Freeman has entered into one of his hot streaks, the Braves' offense has started to show some life. But Freeman's most recent contributions went for naught as the pitching staff allowed the Nationals to tally 26 runs during the final two games of this week's series at Turner Field.
Still as the Braves exited Wednesday night's 13-4 loss in the rubber game, they could at least be encouraged by the recent production provided by Freeman. Since exiting Saturday in the midst of a 1-for-18 slump, the All-Star first baseman has recorded 10 hits, including four doubles, in his past 17 at-bats.
"I don't think everybody is ever worried about Freddie Freeman," third baseman Chris Johnson said.
Before finding a groove during the latter part of Wednesday's seven-inning effort, Nationals starter Jordan Zimmermann allowed a double to Freeman during a two-run first-inning and an RBI single in the third.
Freeman's recent surge has coincided with the lineup adjustments manager Fredi Gonzalez made on Saturday in Philadelphia. The Braves have tallied at least four runs in each of the five games since Nick Markakis moved into the leadoff spot.
With Markakis and Andrelton Simmons filling the top two spots, there have been more frequent run-producing opportunities for Freeman, who is now batting just ahead of red-hot cleanup hitter A.J. Pierzynski.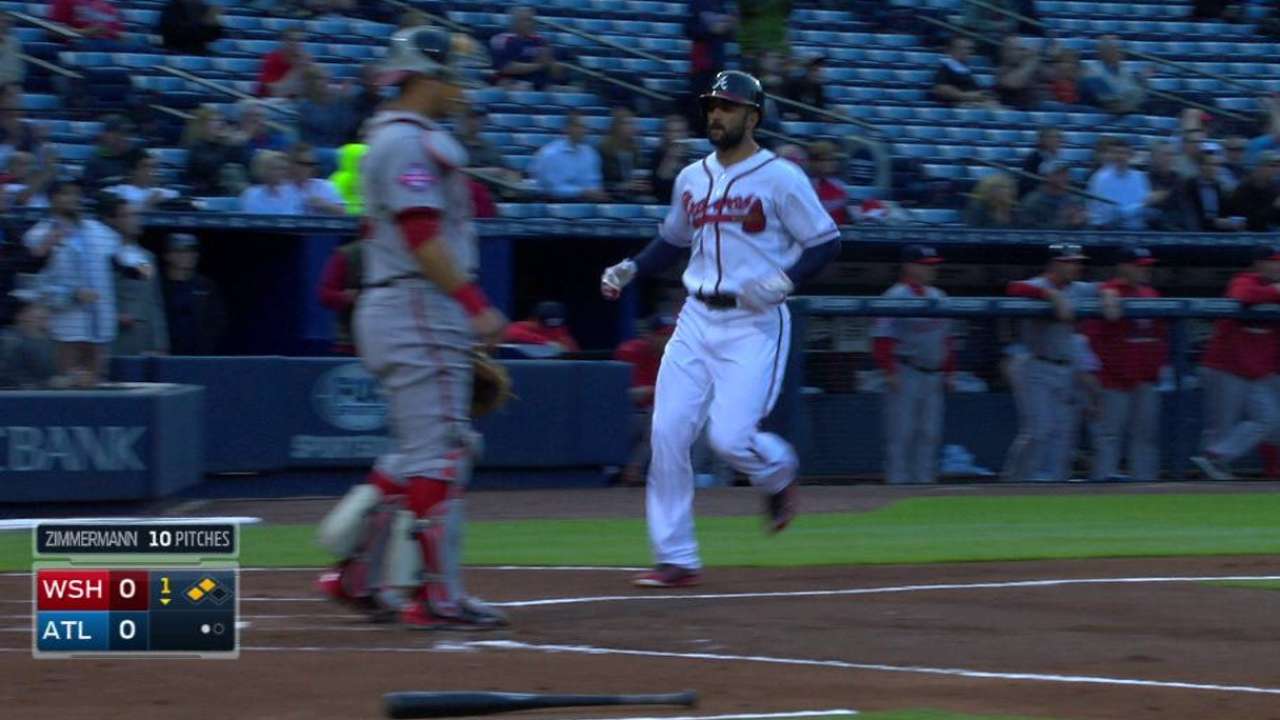 Pierzynski has hit safely in each of his first 12 games of the season. The 38-year-old catcher has compiled a .422 batting average through his first 52 plate appearances. He is now in position to become the first Braves player (minimum 50 plate appearances) to exit April with a .400 batting average since Chipper Jones in 2008.
Unfortunately for Freeman and Pierzynski, their recent offensive contributions have been blemished by the 5.64 ERA Atlanta's pitching staff has posted as the club has won just four of its past 14 games.
"It's hard to complain about the way we're scoring runs," Gonzalez said.
Mark Bowman is a reporter for MLB.com. This story was not subject to the approval of Major League Baseball or its clubs.