Statcast measures trio of epic blasts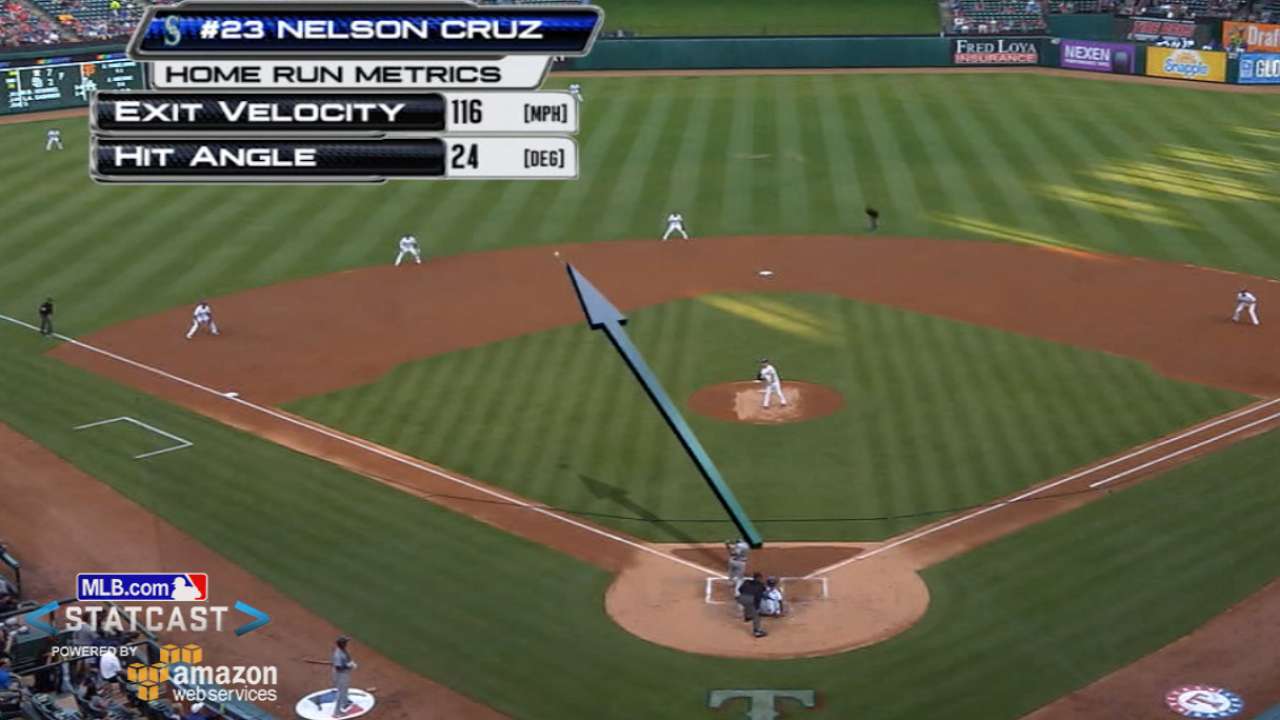 Nelson Cruz may be tied for the current league lead in home runs, but no player has hit one farther than the one he hit for his 10th of the season on Wednesday.
Statcast™ measured that Cruz's second-inning homer against the Rangers traveled a whopping 483 feet -- but that was just one of three home runs on the day that Statcast calculated to travel at least 450 feet. Tigers slugger Miguel Cabrera and Angels phenom Mike Trout also crushed homers beyond the 450-foot mark, meaning that three of the top-11 longest home runs measured so far by Statcast came during Wednesday's action.
Starting with Cruz, his 483-foot blast in the Mariners' 5-2 win was the farthest to be hit this season, eclipsing Blue Jays third baseman Josh Donaldson's previous league-leading mark of 481 feet. Cruz's solo shot jumped off his bat at a blistering 116 mph, which is only three mph shy of the hardest-hit ball Statcast has recorded this year -- also courtesy of Cruz.
That league-leading 119-mph strike came on Cruz's April 19 walk-off single against the Rangers. Looking at only home runs, the highest exit velocity measured thus far by Statcast was 118.5 mph, which came on an April 23 blast off the bat of Marlins outfielder Giancarlo Stanton.
Back to Cruz's mammoth homer from Wednesday night, the 483-foot shot also served to one-up Cabrera's projected 465-foot drive -- the seventh-longest recorded by Statcast -- from earlier in the day.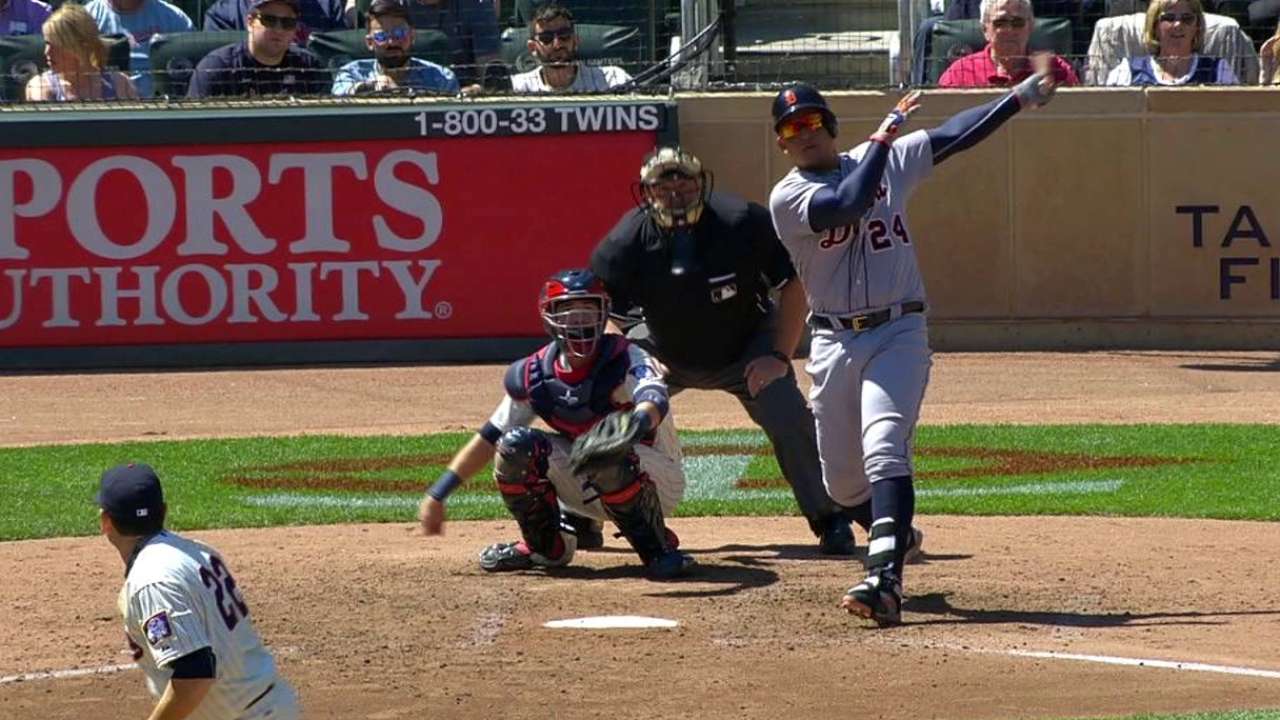 Cabrera hit a pair of homers in Detroit's 10-7 afternoon victory over the Twins, the first of which was a no-doubter in the sixth inning. Cabrera teed off on a 2-1 slider from Twins reliever Tim Stauffer, sending it into the second deck above the Target Field bullpens in left-center field.
"I can't think of a farther one that we've seen this year," Tigers manager Brad Ausmus said afterward.
Thanks to Cruz, he didn't have to wait very long to see an even longer homer -- assuming, of course, Ausmus is able to catch the highlight at some point during his team's travels to Kansas City.
Another ball hit even later in the night also left little doubt that it was leaving the yard, as Trout connected for a 454-foot solo homer in Oakland. The towering blast to left-center field checked in as the 11th-farthest home run tracked by Statcast.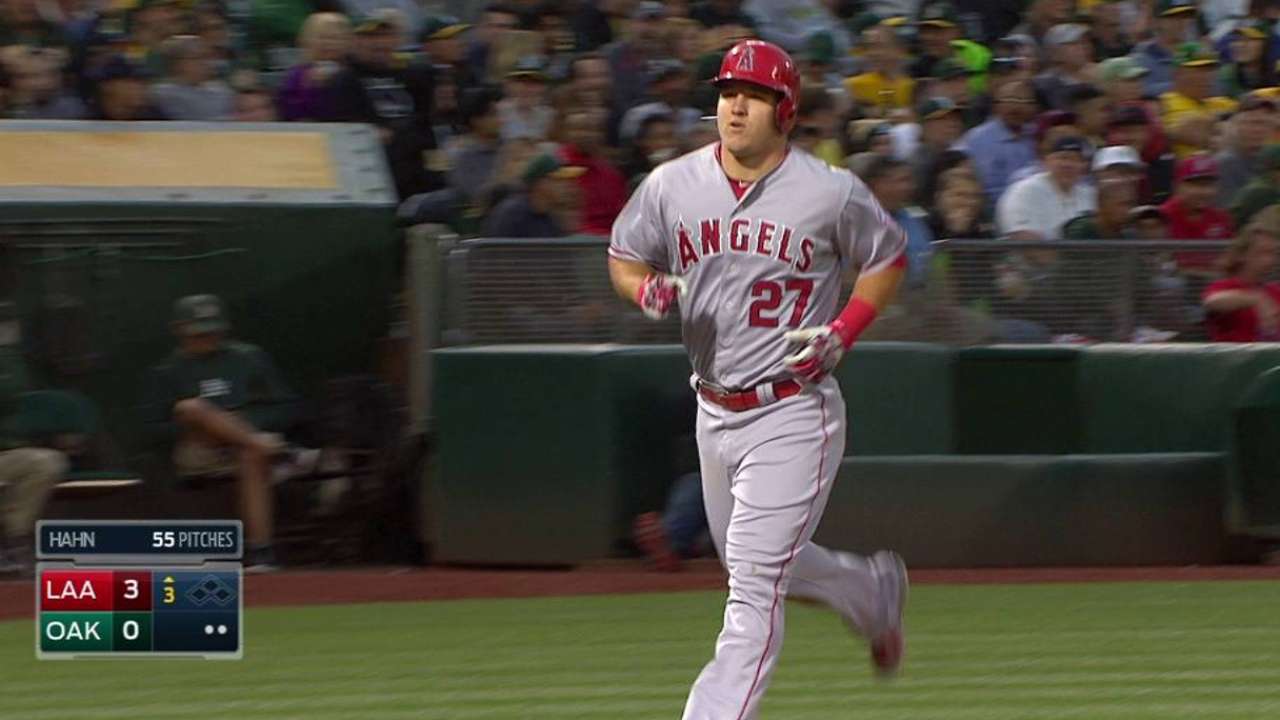 The names behind these three very, very long home runs may not be all that surprising, but the trio combined to put on quite the show Wednesday night and Statcast helped to track every foot of it.
Paul Casella is a reporter for MLB.com. This story was not subject to the approval of Major League Baseball or its clubs.