Wood pays heavy price in decisive fourth inning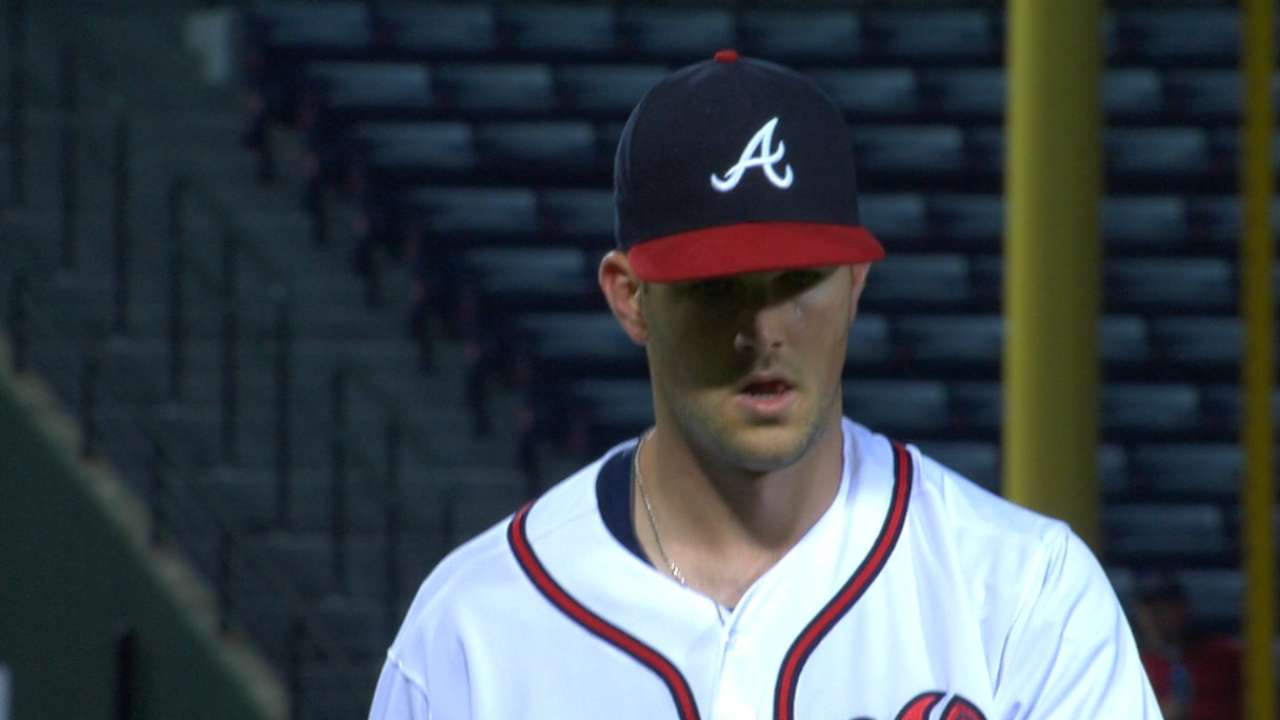 ATLANTA -- It did not take long for the Braves to be burned by the carryover effect that developed when the Nationals erased an early eight-run deficit and completed an incredible comeback victory on Tuesday night, courtesy of Dan Uggla's three-run homer in the ninth.
Had Uggla not recorded a pair of triples and the home run during the previous two nights, Alex Wood might have attacked him the same way he would have any other hitter who has batted .173 since the start of the 2013 season. But with those extra-base hits still fresh in his memory, the young Braves lefty proved cautious with his ex-teammate and ultimately paid the price during the decisive four-run fourth inning the Nationals produced during Wednesday night's 13-4 loss at Turner Field.
After pitching around Uggla to load the bases with a four-pitch walk, Wood fell behind Jordan Zimmermann with a 3-0 count before allowing the Nationals starting pitcher to lace a go-ahead three-run single to center field.
"You throw some pitches around the zone kind of hoping [Uggla] swings at," Wood said. "You're not going to let one of their hitters beat you. So, it was whatever four straight [balls] to him and he walks. Then I don't know if it was a focus thing where you're kind of pitching around him and it carries over to the pitcher, where you get behind 3-0 and you're just in a bad situation."
The Braves certainly aren't in a comfortable situation as they have lost seven of their last nine games. Julio Teheran has labored through each of his past three starts and Wood has not been dominant in any of his first five starts. Consequently, a rotation that was thought to be one of the team's strengths has posted a 5.11 ERA over the 14 games that have followed the club's 8-3 start.
Wood entered Wednesday having totaled just one strikeout during his past two starts. Thus, when he notched a pair of strikeouts during a perfect first inning and then added two more while surrendering a run in the second, it looked like he was primed for an effective outing. But his night began to crumble after Bryce Harper doubled with one out in the fourth inning.
"Mechanically and from a stuff standpoint, I feel that is the best I've been all spring," Wood said. "I was happy with the process, but I was pretty disappointed with the results."
Wood has posted a 4.03 ERA through his first five starts. Though statistics can be misleading at this point of the season, he has not yet looked like he did while producing a 1.92 ERA through his final 11 starts of the 2014 season.
Braves manager Fredi Gonzalez pulled Wood after he totaled 100 pitches through five innings on Wednesday night.
"That was definitely not the same Woody," Gonzalez said. "It was a good first inning and then he just got into a lot of deep counts."
Mark Bowman is a reporter for MLB.com. This story was not subject to the approval of Major League Baseball or its clubs.