Kipnis proves he is healthy by showing off power stroke
Indians second baseman homers exactly one year after tearing his right oblique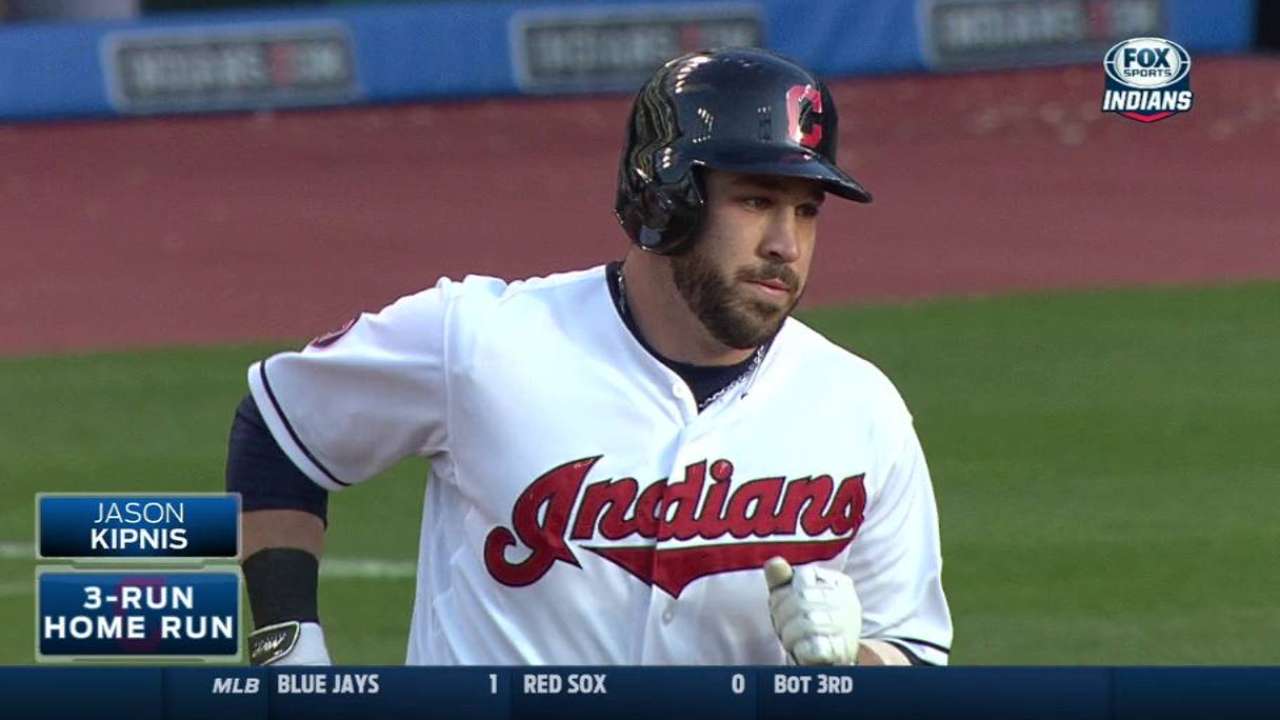 CLEVELAND -- One year ago, Jason Kipnis took a painful swing that resulted in the most trying season of his career. On Wednesday night, the Indians second baseman took a swing that helped power his team to a much-needed victory.
Kipnis continued his roll on Friday, hitting a leadoff home run in the Indians' 9-4 win over the Blue Jays.
"What a difference a year can make," Kipnis said with a smile.
Wednesday, Kipnis served as the offensive catalyst for Cleveland in a 7-5 victory over the Royals at Progressive Field, launching a three-run home run, tying a career high with four RBIs and helping the Tribe end a four-game losing streak.
Recenty moved to the leadoff spot, the second baseman has not been immune to the Indians' offensive woes to date. But things came together Wednesday night against Kansas City.
His third-inning home run off Royals right-hander Yordano Ventura -- a blast that came against a 95-mph fastball and soared to the seats in front of the bullpens in right-center field -- ended a long power outage for Kipnis, too.
It marked the second baseman's first homer since July 31 last year, snapping a drought of 67 games and 265 at-bats without a long ball.
"[He] took a gorgeous swing," Indians manager Terry Francona said. "And we really needed that."
It seemed fitting that Kipnis' best day at the plate (in terms of run production) fell on Wednesday.
This was the one-year anniversary of when Kipnis tore his right oblique in a game against the Angels on April 29 last season in Anaheim. That injury cost him roughly a month on the disabled list and seemingly sapped him of his power when he returned to the Tribe's lineup. In 129 games last year, Kipnis had six homers and a .330 slugging percentage, following a breakout showing in 2013 (17 homers with a .452 SLG).
Kipnis has not exactly caught fire yet this season (he is batting .232 with one homer, eight RBIs and a .583 OPS through 20 games), but the second baseman has shown some signs of both health and offensive life.
Throughout Spring Training and early this year, Kipnis has sent pitches to the opposite field with more authority and his swing against Ventura put his power potential on display.
"[It's] not a weight off my shoulders," Kipnis said of the home run. "It was a nice feeling -- something I haven't felt in a while. There's going to be pressure on myself to do well no matter what. But just to finally have it happen, to finally see it, is always refreshing. It's a good thing."
Kipnis' blast came after Ventura allowed back-to-back singles to Roberto Perez and Michael Bourn. With the Indians trailing 2-0 at the time, the second baseman was initially planning on bunting. That changed when Ventura quickly fell behind in the count, 2-0.
"In a situation like that, obviously, all I'm worried about is getting [the runners] over," Kipnis said. "Then he threw a couple balls and I got the green light to swing again. I knew I was probably getting a fastball, so it was one you could attack there. I didn't miss this time."
Kipnis helped the Indians take a 3-2 lead and, following a rally by the Royals, Cleveland responded with four late runs to seal the victory.
Given the way things have gone lately for the Tribe, the win allowed the Indians to relax a little.
"We know how long the season is," Kipnis said. "We know that we're going to get rolling here eventually. We just didn't want to shoot ourselves in the foot too bad. We have to fight and win what games we can right now. I think we're doing that."
Jordan Bastian is a reporter for MLB.com. Read his blog, Major League Bastian, and follow him on Twitter @MLBastian. This story was not subject to the approval of Major League Baseball or its clubs.