Zimmermann sporting serious hitting shoes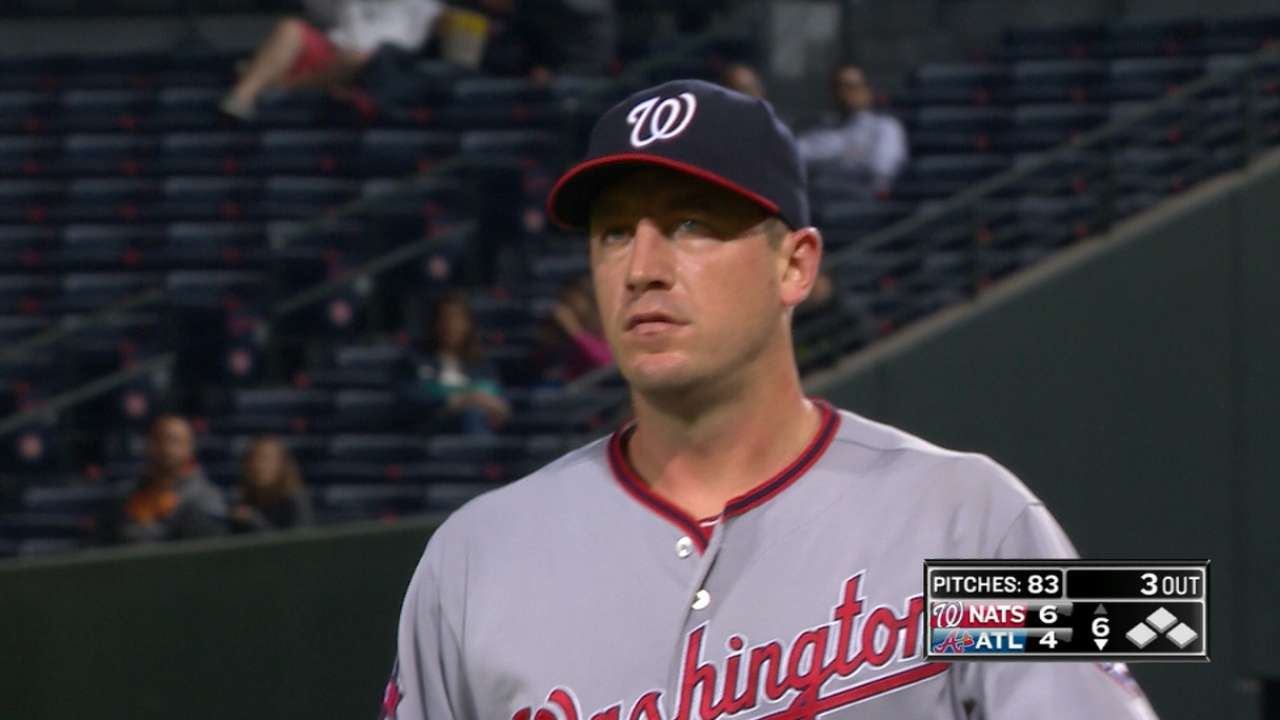 ATLANTA -- Pardon Jordan Zimmermann if he begs to differ with Nationals teammate Max Scherzer on the subject of pitchers hitting and the designated hitter.
"I like hitting and I'm just not as fragile as some guys on this team," said Zimmermann with a laugh following Wednesday night's 13-4 victory over the Braves at Turner Field.
Zimmermann gave the Nationals plenty to like on Wednesday night, as his bases-clearing single off Atlanta starter Alex Wood with a full count, two out and his team trailing, 3-2, turned the tide of the rubber game.
"I fell behind 3-0 and got back to 3-2, and I was just trying to put the ball in play," Zimmermann said. "I think that I got something down the middle and put a good swing on it. I just put the bat on the ball and made something happen."
What Zimmermann made happen was giving the Nats a 5-3 lead in a game that would turn into a laugher and a series-clinching victory.
Zimmermann's three RBIs gave him 15 for his career and matched his total for the previous two seasons combined.
However, Zimmermann's ability to hit surprised no one.
"Jordan can hit," manager Matt Williams said. "He's a weapon for us offensively, too."
Zimmermann hit the ball harder than many of the Braves did off him.
While his hit was enormous, Zimmermann's arm made sure that the Nats kept the lead.
Zimmermann got out of a shaky first inning -- with some help from the Braves -- and pitched a season-high seven frames, allowing four runs (three earned) and eight hits while striking out seven, also a season best. The right-hander walked one and induced a couple of double plays.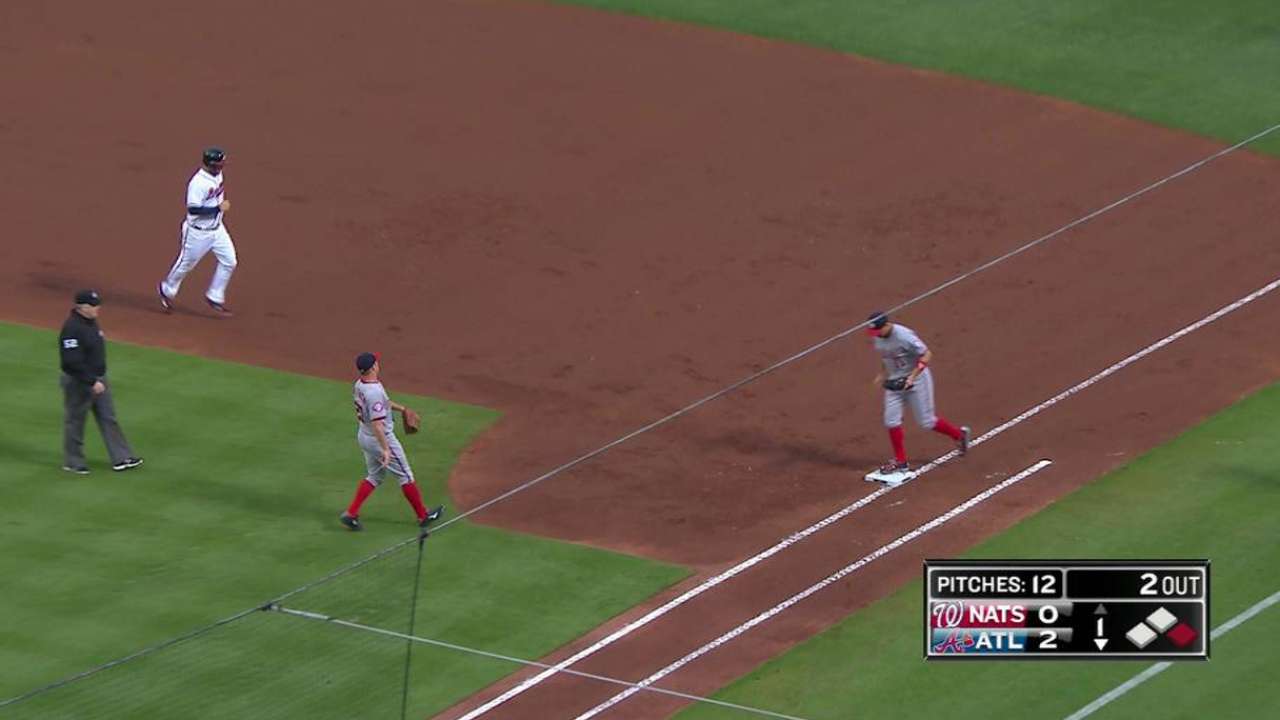 The so-called "pitcher's best friend" certainly had an ally in Zimmermann on Wednesday night. The first one got him out of the first after allowing only two runs and came in improbable fashion -- on a routine flyout to center that turned into an 8-3 putout, when catcher A.J. Pierzynski lost track of outs and was doubled off first. The other came in the fifth against Braves right fielder Nick Markakis, who had been 2-for-2 against him.
"It was big," Zimmermann said of the first-inning DP. "I didn't make very good pitches and had my hands full, and Pierzynski thought there were two outs and we got the double play. I was able to settle in and get some runs and then I was just pitching to the scoreboard, just throwing strikes and letting them put the ball in play."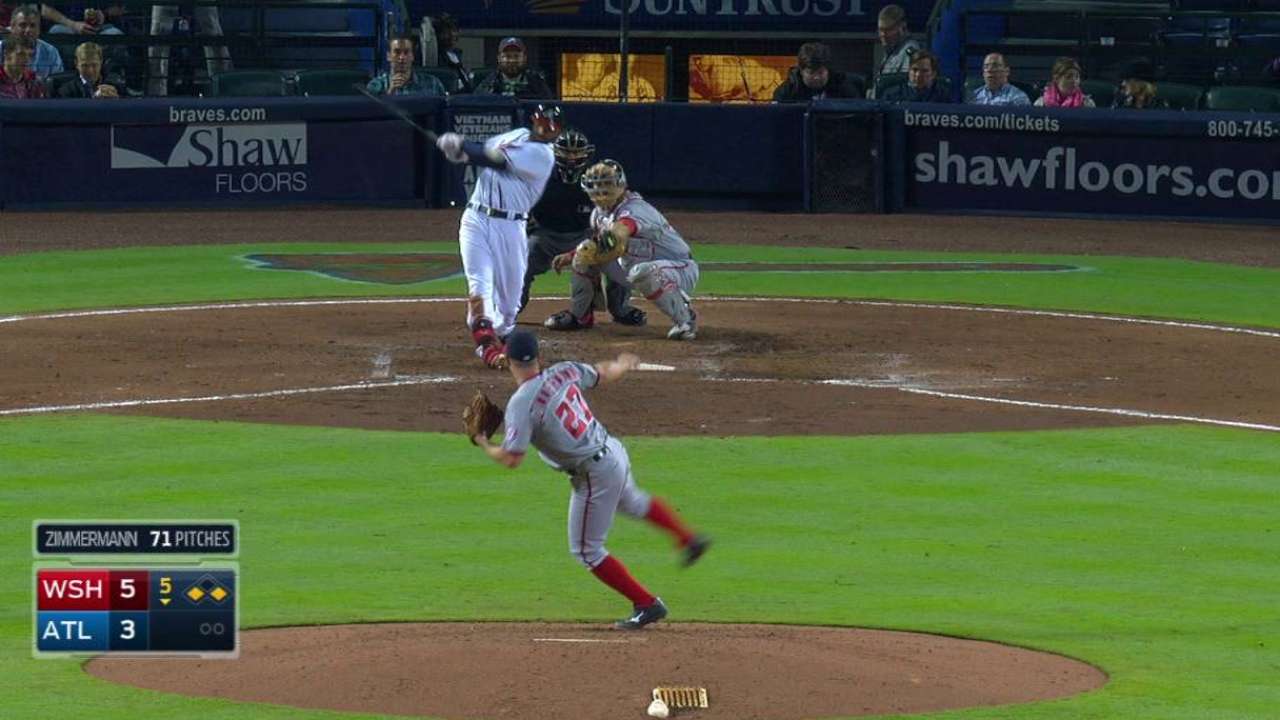 The more conventional 4-6-3 twin killing in the fifth, with first and third and none out in a 5-3 game, also was big.
"I thought I was in some big trouble there," Zimmermann said. "I just wanted to minimize the damage. I threw [Markakis] a little slider down and in and got the double play, and got out of it."
A run scored on the double play, but that was all Atlanta would get that inning and the rest of the way as Zimmermann, and relievers Matt Grace and Aaron Barrett, allowed only one baserunner over the final four innings.
Zimmermann relied on a devastating curveball throughout to keep the Braves off-balance.
"First or second inning, I was throwing it and it was pretty good," he said. "The slider wasn't there today and I had to stick with what was working. That was the curveball."
"His fastball was where he wanted it, curveball better tonight, some sliders, but mostly curveballs to the lefties," Williams said. "He was in command. He pitched well."
That command allowed Zimmermann to earn his third straight quality start and fourth in five outings this season. He likes the direction he's headed.
"I feel like I'm real close right now," Zimmermann said. "Once I get the slider and curveball working in the same game, I feel like I'll be right where I need to be. The fastball's coming back and I feel good. I'm just really close. Hopefully the next start I'll be there."
Jon Cooper is a contributor to MLB.com. This story was not subject to the approval of Major League Baseball or its clubs.