10 impressive feats in Mays' Hall of Fame career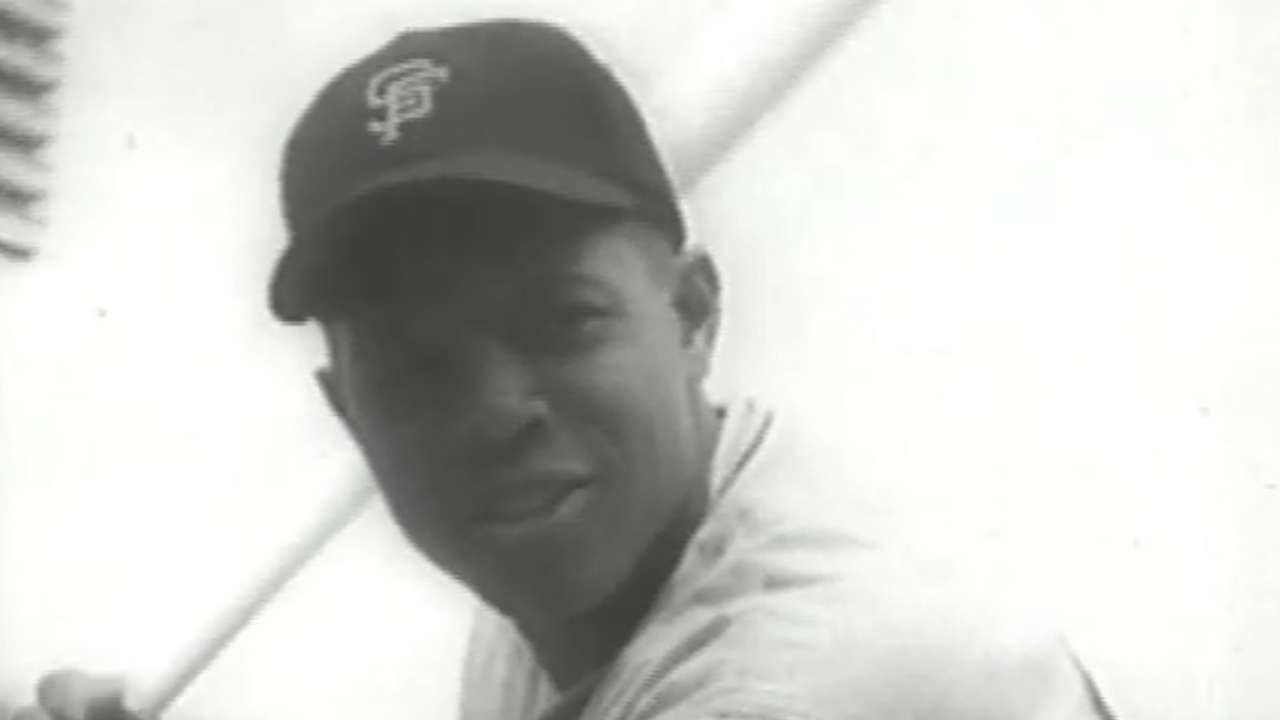 From his sensational catches in the field to his elite hitting abilities and his prowess on the basepaths, Willie Mays is widely considered one of the greatest baseball players of all time.
Today marks the 54-year anniversary of the best individual performance of Mays' career -- his four-homer game on April 30, 1961. Mays was just the seventh player since 1900 to hit four homers in a single game at the time, and even to this day, he remains one of just 14 players to accomplish the incredible feat during that span.
While that contest may go down as Mays' best individual game, the first-ballot Hall of Famer produced plenty of other jaw-dropping facts and figures over the course of his 22-year career.
Here are 10 of the most impressive statistical accomplishments in Mays' career:
• Twenty-seven players have clubbed 50-plus homers in a single season and 51 players have notched 20-plus triples in a single season. Mays is the only player that is part of both clubs, having surpassed 50 homers in both 1955 and '65, and hitting exactly 20 triples in '57.
• Mays recorded 35 homers, 20 triples and 38 stolen bases in 1957, making him the only player in Major League history to hit at least 35 homers and 20 triples, while also stealing 30-plus bases in the same season.
• In 1955, Mays became the first player in Major League history to hit at least 50 home runs and steal 20 bases in the same season. It took 41 years for another player to repeat that type of production, and only three others -- Brady Anderson (1996), Ken Griffey Jr. ('98) and Alex Rodriguez (2007) -- have accomplished the feat to this day.
• Mays recorded at least 70 extra-base hits in 13 consecutive seasons from 1954-66. No other player has 13 such seasons, consecutive or otherwise, in Major League history.
• Mays and Angels phenom Mike Trout are the only players in Major League history to turn in multiple seasons with at least a .320 batting average, 25 home runs and 30 stolen bases. Mays accomplished the feat in back-to-back seasons from 1957-58, posting a collective .340 average while averaging 32 homers and 34 stolen bases over those two campaigns.
• Mays is the only player in Major League history with at least 3,000 hits, 300 home runs and 250 stolen bases. He, of course, exceeded each of those plateaus rather easily, finishing with 3,283 hits, 660 homers and 338 steals.
• Mays is also the only player with multiple seasons in which he recorded at least 10 triples, 20 stolen bases and 30 homers, doing so in both 1955 and '57. Only eight other players have ever accomplished the feat in even one season.
• Mays is one of just four players -- along with Frank Schulte (1911), Jimmy Rollins (2007) and Curtis Granderson ('07) -- to record at least 20 doubles, triples, home runs and stolen bases in the same season. Mays accomplished the feat in 1957 when he hit 26 doubles, 20 triples, 35 homers and swiped 38 bases. His .407 on-base percentage and .626 slugging percentage in that '57 season are also the highest among any of the four players in this exclusive group.
• Mays had at least one hit in 15 All-Star Games. Only five other players have even logged a plate appearance in that many All-Star Games. Needless to say, Mays' 23 overall hits are the most in All-Star Game history.
• Along with winning the NL MVP Award in 1954 and '65, Mays finished in the top six of MVP voting in 10 straight seasons from 1957-66 and won Gold Glove Awards in 12 consecutive seasons from 1957-68. His 12 Gold Gloves are tied with fellow Hall of Famer Roberto Clemente for the most among outfielders.
Paul Casella is a reporter for MLB.com. This story was not subject to the approval of Major League Baseball or its clubs.