New-look Dodgers show off muscle
Pederson, Gonzalez, Ethier homer in first; Rollins goes yard in third vs. Giants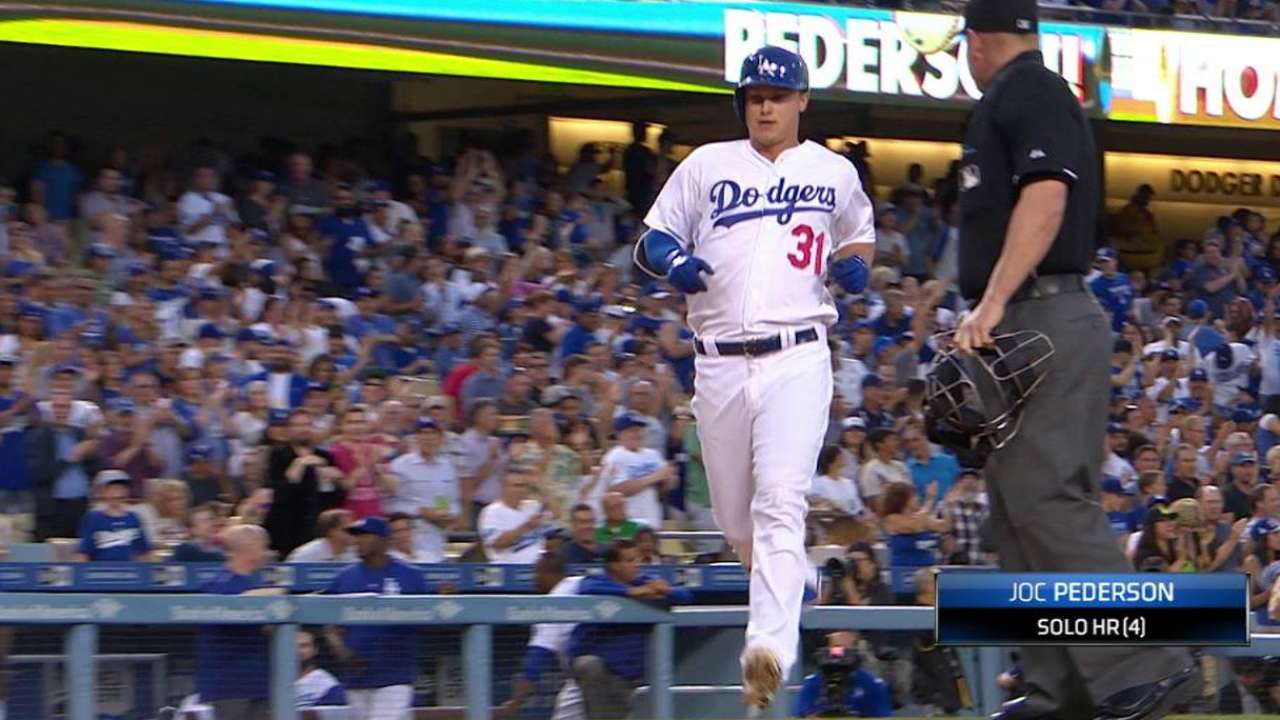 LOS ANGELES -- Why are home runs this season flying out of Dodger Stadium, with its six-decade reputation as a pitcher's park?
"You mean other than global warming?" Dodgers manager Don Mattingly said after his club hit four of them in a 7-3 win over the Giants on Wednesday night. Then Mattingly came up with another explanation from left field.
"It's taken Mac [Mark McGwire, in his third season as hitting coach] this long to get through to the guys. That and global warming, a good combination."
The Dodgers weren't launching home runs Tuesday night against Madison Bumgarner, so opposing pitcher Ryan Vogelsong (filling in for the injured Jake Peavy) helped. The four homers were hit by left-handed hitters who didn't start against Bumgarner.
"For the most part, [Vogelsong] was leaving the ball up and we were taking advantage of mistakes," said Adrian Gonzalez, who finished his Player of the Month campaign with his eighth homer, one of three the Dodgers hit in the first inning.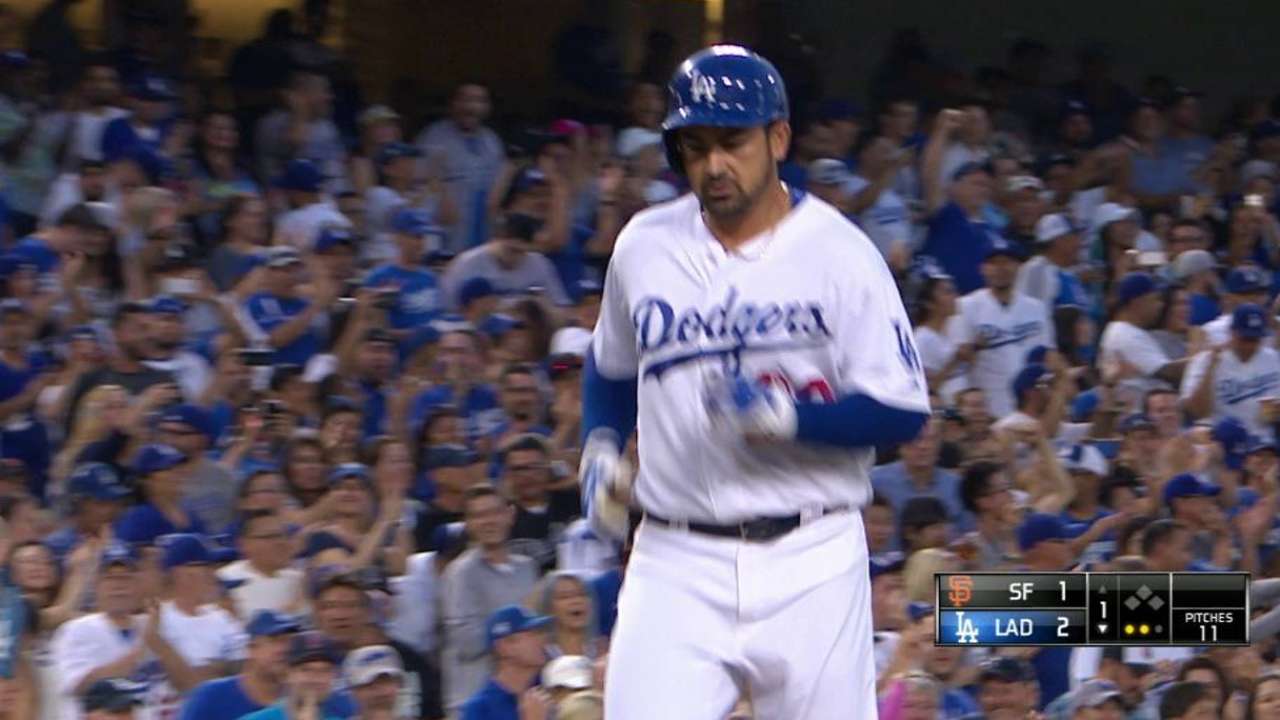 Joc Pederson, in his first at-bat as the new leadoff hitter in a revamped batting order, drilled a tying homer. Gonzalez hit a solo shot with two out and Andre Ethier added a two-run blast before the inning was over.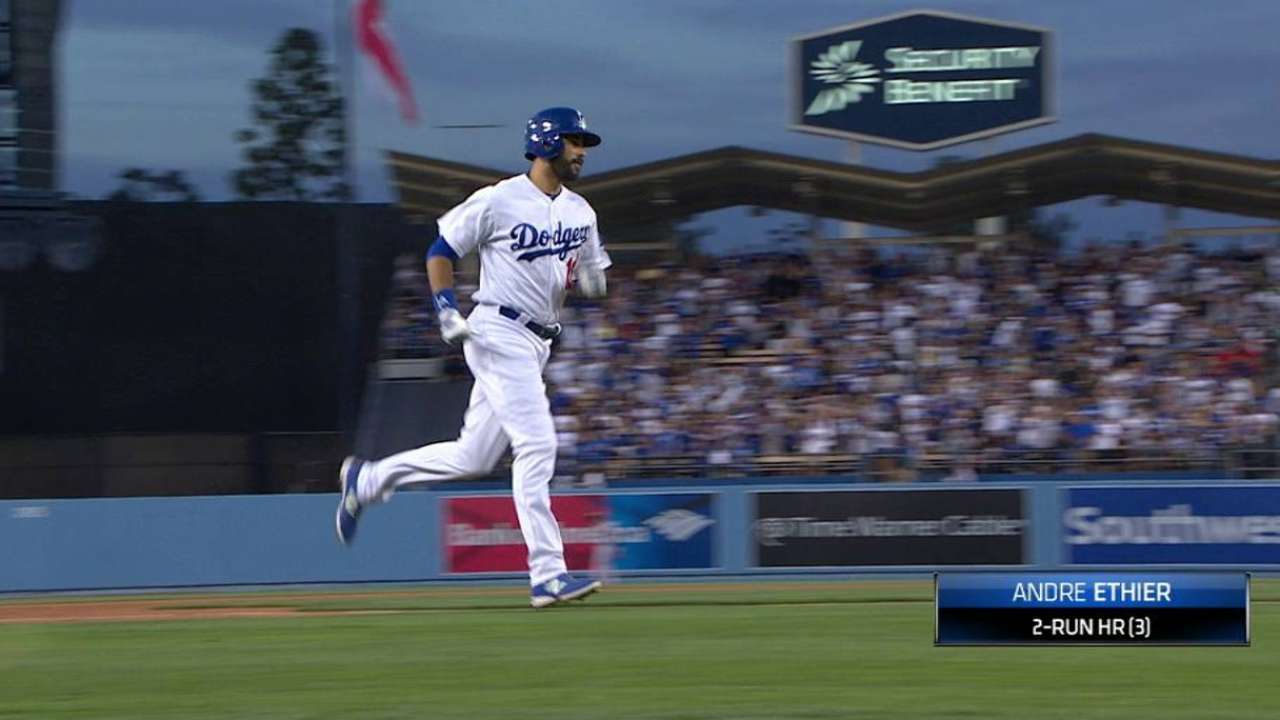 "He's playing way over his skis, but as long as he does, we're going to enjoy it," Gonzalez joked of Pederson.
Jimmy Rollins, dropped to second in the order, led off the third inning with a homer. The Dodgers added two runs on sacrifice flies by Scott Van Slyke and winning pitcher Zack Greinke (4-0).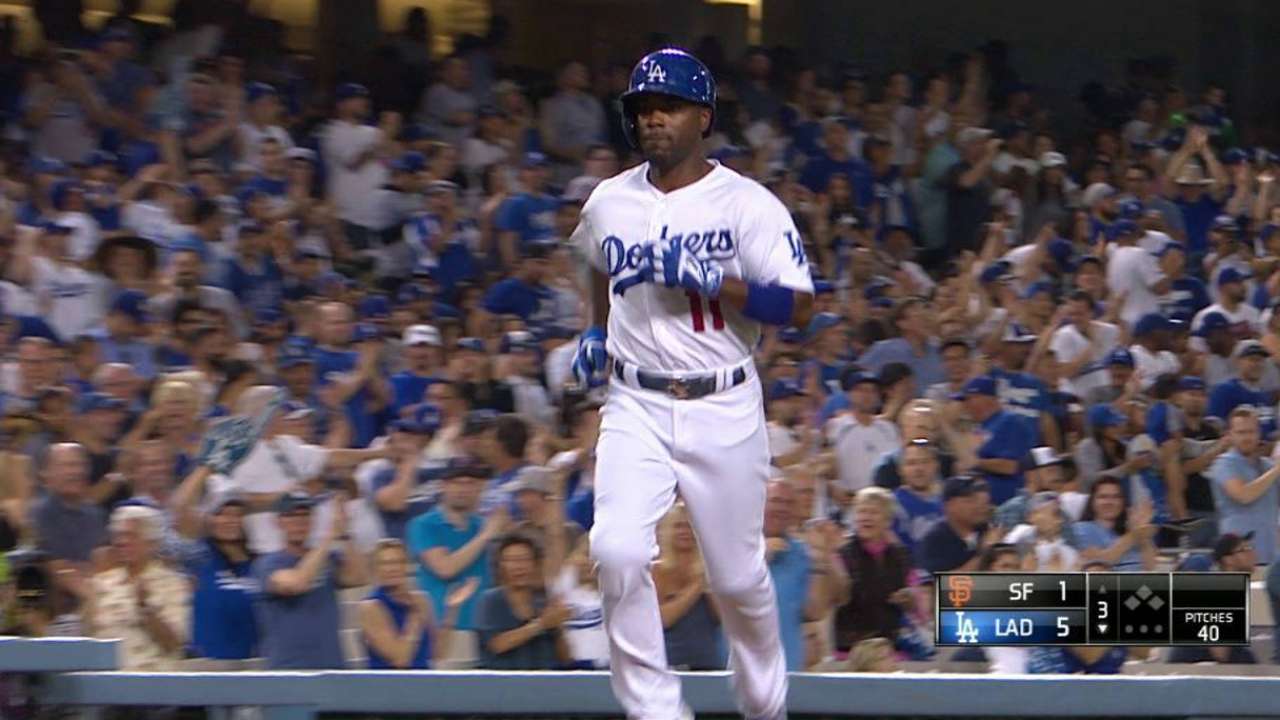 Greinke made so many pitches through four innings (86) he thought it already was the fifth inning. But the offense gave him a comfortable lead and he got through six innings with three runs before handing it off for three hitless bullpen innings.
Greinke said he doesn't believe balls are flying out of Dodger Stadium as much as the stats say, but he does say he's surprised at the potency of the offense.
"We traded away a lot of power and our offense has been as good as ever so far," he said. "With Howie [Kendrick], and then Joc is better than anyone imagined, they've taken over for Matt [Kemp] and Hanley [Ramirez]."
Mattingly said he was just glad the club kept scoring.
"A lot of games last year, we'd score early and wouldn't do anything else and the other team would get back in it," he said. "I'm glad to see us keep tacking on."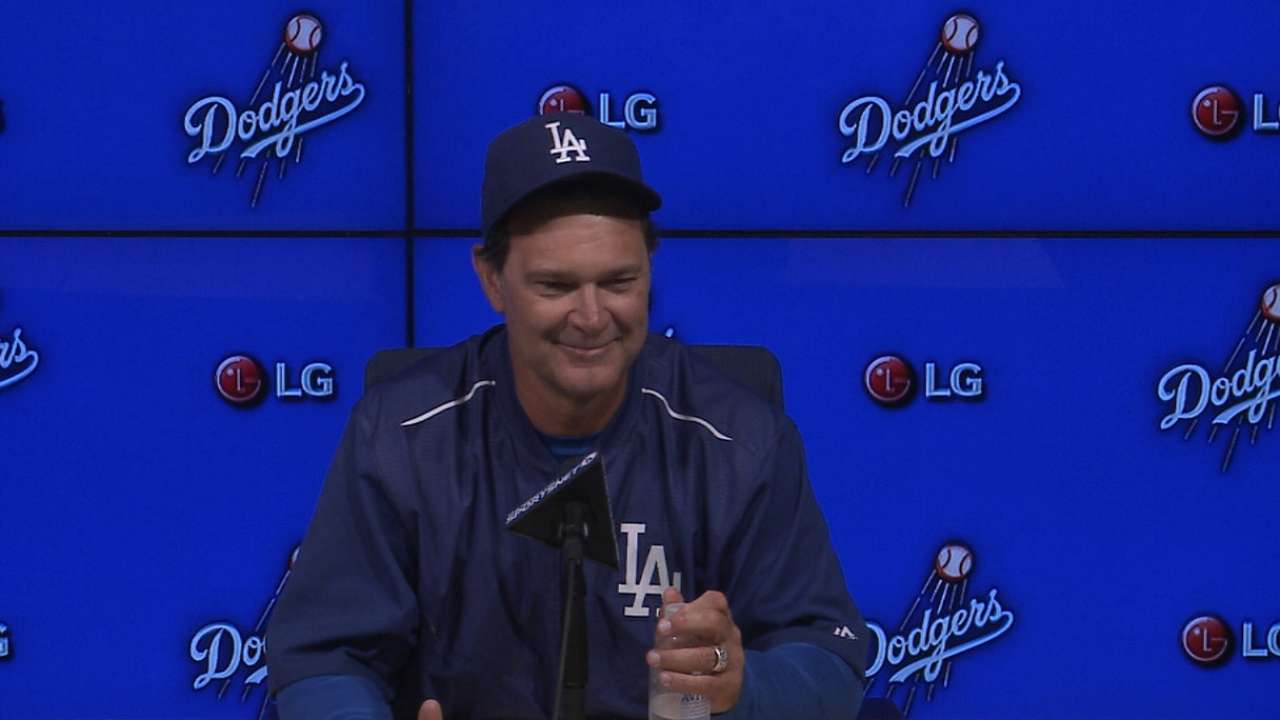 He was glad to see Pederson make a good impression in his leadoff debut, but didn't sound surprised.
"I think he's a baseball player," Mattingly said. "From the first time I saw him in instructional league, I knew he had a good swing right away. He fits in nicely, what you like to see from young guys coming up."
Ken Gurnick is a reporter for MLB.com. This story was not subject to the approval of Major League Baseball or its clubs.