Latos strains hamstring after hitting single
Marlins' starter gives way to pinch-runner in 5th inning against Mets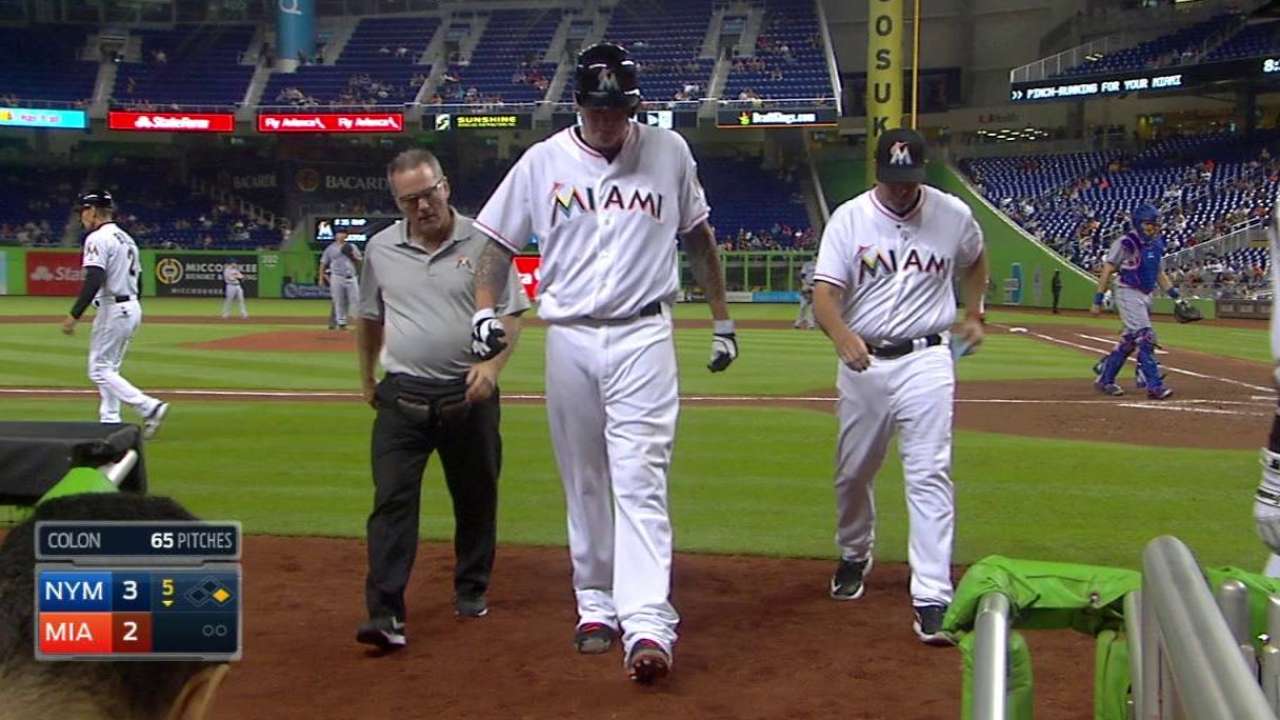 MIAMI -- Marlins right-hander Mat Latos exited the game against the Mets in the bottom of the fifth inning Wednesday night with a left hamstring strain. The Marlins -- who went on to win the game, 7-3 -- said Latos will be re-evaluated Thursday and is day to day.
Latos, who was seeking his first win this season, said he sustained the injury when running to first base after hitting a single to center field. He left the game after consulting with the Marlins' trainer, and slammed his batting helmet against the wall of the dugout on his way out.
Donovan Solano pinch-ran for Latos and scored on a single by Giancarlo Stanton to tie the game at 3. Latos pitched five innings, allowing three runs on five hits with three strikeouts and two walks. He threw 84 pitches, 54 for strikes.
"I felt it running down the line, actually just coming out of the box," Latos said. "There was no pop or anything, so that's good. I can walk on it, I just can't straighten my leg out. It's just real tight."
Latos did not figure in the decision, but said he was glad to see Sam Dyson toss two solid innings in relief and the Marlins take the series against the Mets.
"It was a good series win for us, but it [stinks] to be taken out of a game because of something like that," Latos said, adding that he didn't have a chance to enjoy his hit.
Steve Dorsey is a contributor to MLB.com. This story was not subject to the approval of Major League Baseball or its clubs.