Facing Phillies a 'dream come true' for Cooney
Cards pitcher to debut Thursday against team he loved growing up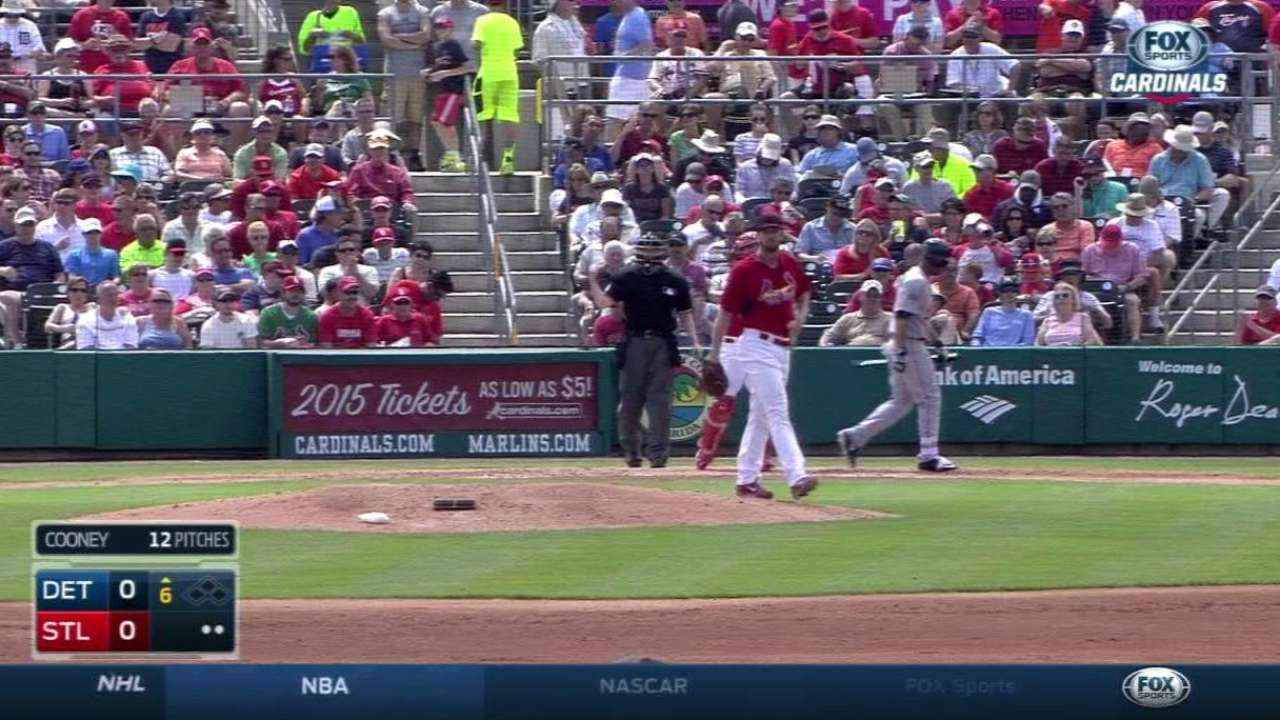 ST. LOUIS -- As a lifelong Phillies fan, Tim Cooney admitted it was a pretty easy decision to skip school on Halloween Day 2008 and join several classmates on a train into Philadelphia. Then a senior at Malvern Preparatory School in Malvern, Pa., Cooney wanted an up-close look at a Phillies team that had just defeated the Rays to capture its first World Championship of his lifetime.
Now, seven years after lining that parade route alongside hundreds of thousands of fans, Cooney will take on that same organization alone.
With Adam Wainwright out for the season, the Cardinals have turned to Cooney in their search for a rotation replacement. The 24-year-old lefty, who still resides just outside of Philadelphia in the offseason, will make his Major League debut in Thursday's series finale against the team for which he has long rooted.
"You could say it's a dream come true," said Cooney, who arrived in town Wednesday. "I think I'm still processing it right now. I don't think it's hit me yet. … There aren't a ton of guys that are there from when I watched [the Phillies], but I think it will be a fun challenge. I'm just going to try to treat it like any other game and pitch my game."
Cooney may face three batters that were key to that World Series run, as Ryan Howard, Carlos Ruiz and Chase Utley remain everyday fixtures in the Philadelphia's lineup. By a few days, Cooney missed matching up against the pitcher he has long idolized, lefty Cole Hamels. He's the reason Cooney chose No. 35 when he joined the Wake Forest University baseball team.
Cooney gets No. 66 on his uniform for now as he tries to prove himself ready for more than a spot start. Three years after being a third-round pick in the First-Year Player Draft and one year after leading the Pacific Coast League with 14 wins, Cooney gets the chance to fortify the strong impression he made with the Major League coaching staff this spring.
He features a five-pitch repertoire -- a four-seam fastball, two-seam fastball, curveball, changeup and cutter -- and gives the Cardinals a lefty option in the rotation for the first time this year. That could be especially advantageous against Philadelphia, which features five left-handed batters and another switch-hitter in its regular lineup.
"Seeing other guys do it lets you know that it's possible, so you don't think it's this crazy step that it takes to up your game or anything," Cooney said of watching other pitchers ascend to the Majors before him. "Those guys were good pitchers in the Minors and when they came up, they just executed and pitched their game. They were successful. It's good to know that in the back of my head."
Worth noting
The Cards optioned catcher Cody Stanley to Triple-A after the game to make room on the 25-man roster for Cooney.
Jenifer Langosch is a reporter for MLB.com. Read her blog, By Gosh, It's Langosch, follow her on Twitter @LangoschMLB and like her Facebook page Jenifer Langosch for Cardinals.com. This story was not subject to the approval of Major League Baseball or its clubs.