MLB.com Columnist
Fred Zinkie
DraftKings picks: Martin, Encarnacion, Donaldson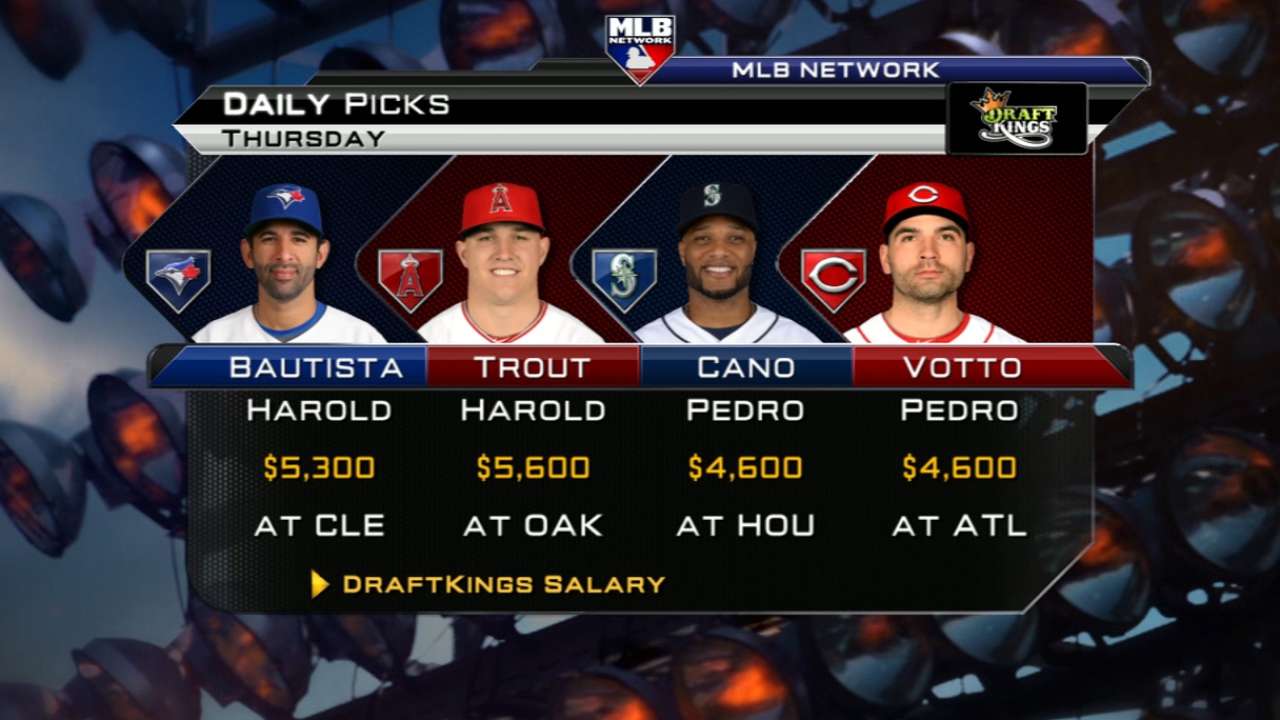 How have you fared in DraftKings fantasy baseball thus far in 2015? We hope well. With a short slate today, fewer stellar options exist. However, the players listed below could lead you to victory.
Edwin Encarnacion (Blue Jays): The slugger has fared best vs. lefties, against whom he has posted a career .881 OPS (.814 vs. right-handers). He could reach base often or rip a homer against Indians southpaw TJ House (career 4.18 ERA, 1.44 WHIP).
Josh Donaldson (Blue Jays): Donaldson is among the best in baseball against left-handers, with a lifetime .295/.378/.581 slash line with one on the mound. The third baseman could be worth a large investment by DraftKings participants, as House has posted a 12.60 ERA and a 2.60 WHIP across three 2015 starts.
Russell Martin (Blue Jays): With a career .795 OPS against left-handers (.740 vs. righties), the Blue Jays catcher should also be in an advantageous position. Wise DraftKings participants may want to consider Martin as part of a Blue Jays hitting stack vs. House.
Carlos Santana (Indians): With multi-position DraftKings eligibility, Santana could help participants when he brings his lifetime .282/.391/.461 slash line against lefties into a matchup with Blue Jays southpaw Daniel Norris (career 4.67 ERA, 1.44 WHIP).
Adam LaRoche (White Sox): The first baseman has ripped 196 of his 246 career round-trippers against right-handers, and he could build on those totals when he faces Twins righty Trevor May, who owns a 7.16 ERA in 60 1/3 big league frames.
Conor Gillaspie (White Sox): Gillaspie has compiled a lifetime .753 OPS vs. right-handers, which exceeds his .515 mark against lefties. The third baseman could be a cost-effective DraftKings asset if he can record multiple base knocks against May (career 1.62 WHIP).
Melky Cabrera (White Sox): If the White Sox succeed against the underwhelming May, Cabrera could easily score multiple runs out of his customary No. 2 spot in the lineup. In his career, Cabrera has accumulated a .291/.341/.419 slash line vs. right-handers like May.
Ian Kinsler (Tigers): Kinsler is one of several Tigers hitters who have historically fared well against lefties. He could spark the Detroit offense when he takes his lifetime .879 OPS vs. southpaws (.761 vs. righties) into a matchup with Royals left-hander Danny Duffy (career 4.10 FIP, 1.35 WHIP).
J.D. Martinez (Tigers): The outfielder could combine with Kinsler, Miguel Cabrera and Yoenis Cespedes in a Tigers hitting stack, as each batter has favorable splits vs. left-handers such as Duffy. For his part, Martinez has posted an impressive career .280/.339/.490 slash line against lefties.
Alex Gordon (Royals): The outfielder could improve his career .800 OPS against right-handers (.745 vs. lefties) when he faces Tigers righty Alfredo Simon. The veteran starter has produced a 1.65 ERA this season, but his lifetime 4.40 FIP suggests that he is not a dominant starter.
Jose Altuve (Astros): With a career .884 OPS against left-handers (.698 vs. righties), the second baseman could reach base often and swipe a bag against Mariners lefty James Paxton, who has compiled a 1.58 WHIP this season.
Evan Gattis (Astros): Because he is off to a slow start this season, Gattis could be a cost-effective option for DraftKings participants. With a lifetime .817 OPS against left-handers (.750 vs. righties), the slugger could go deep against Paxton, who has allowed four homers in as many outings this season.
Stephen Strasburg (Nationals): With few starters on the night schedule, DraftKings participants may opt for the safety of Washington's ace-level right-hander. Strasburg is not off to a great start this season (4.87 ERA), but he has racked up 23 K's in 24 innings and could log several quality frames at Citi Field, which has traditionally favored pitchers.
Jacob deGrom (Mets): DraftKings participants would rarely want to consider a pair of opposing hurlers, but Strasburg and deGrom could lock into a pitchers' duel. The 2014 National League Rookie of the Year posted a 2.69 ERA and a 1.14 WHIP last season, and he has allowed a total of two runs to three Senior Circuit opponents in 2015.
Chris Sale (White Sox): With a 2.75 ERA and 1.07 WHIP as a big leaguer, the left-hander is among the best pitchers in the Junior Circuit. Having whiffed 208 batters in 174 innings last season, Sale could continue to dominate during a start at pitcher-friendly Target Field against a Twins lineup that ranks near the bottom of the American League in OPS.
Shelby Miller (Braves): The right-hander has so far fared well with his new club, posting a 2.05 ERA and a 1.09 WHIP in four starts. Possibly one of few moderately priced starters with a chance to deliver a quality performance, Miller has a good chance to hold the Reds in check at Turner Field.
All statistics are accurate through the completion of Tuesday's games.
Fred Zinkie is the lead fantasy baseball writer for MLB.com. Follow him on Twitter at @FredZinkieMLB. This story was not subject to the approval of Major League Baseball or its clubs.