Phils give Asche reps in left field as Franco promotion nears
Third baseman could be moved when hot prospect is brought up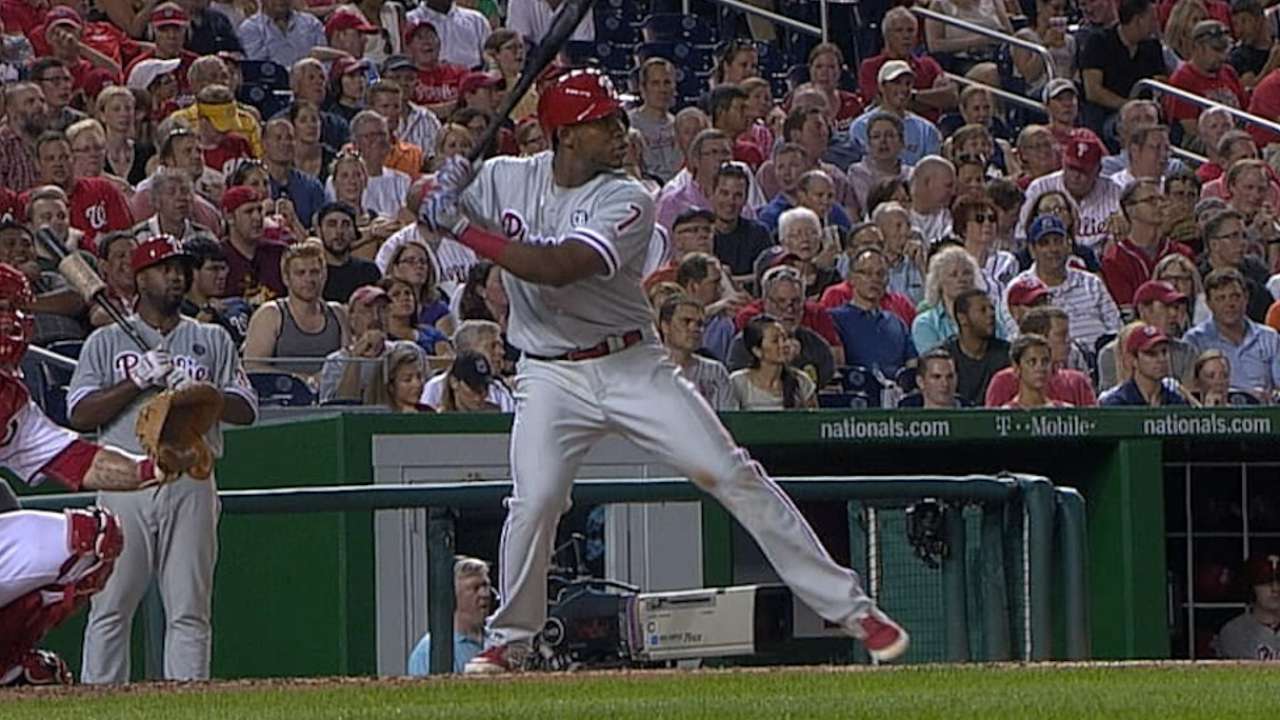 ST. LOUIS -- The Phillies made a significant move Tuesday when Cody Asche spent part of batting practice at Busch Stadium catching fly balls in left field.
Asche is likely headed there in the future, particularly once the Phillies promote Triple-A Lehigh Valley third baseman Maikel Franco, who is hitting .333 (28-for-84) with 10 doubles, one triple, one home run, 11 RBIs and an .883 OPS in 19 games.
"You've got to do what you're asked and play hard," Asche said Wednesday. "I'm a strong enough player. I can handle it. If I'm not good enough to be a big league third baseman I can handle that. If I have a future in left field I'll handle that. You have to roll with it and just play."
The only thing communicated to Asche is that he needs to work more in left field, so it remains to be seen how everything unfolds.
But while Franco's promotion is not imminent, it is inevitable. If the Phillies promote Franco before May 15 he could become a free agent in 2020 rather than 2021, so it would be surprising to see him in Phillies pinstripes before then. The Phillies also could avoid Super 2 salary arbitration status for Franco if he is promoted after the first week of July.
But whether it is next month, close to the All-Star break or some other time, Franco is coming.
"At some point we need to make sure that Cody is prepared," Phillies general manager Ruben Amaro Jr. said Wednesday afternoon. "It's no secret that Maikel is doing very well down there. We want to try to create as much versatility with our guys as we possibly can."
Asche worked a little in left field before Spring Training but the Phillies pulled the plug because they wanted him to prepare to be the team's everyday third baseman. But when Franco joins the team, Amaro wants him playing nearly every day. Franco can play first base, but he is regarded as a strong defensive third baseman, which is why they are seeing what else Asche can do.
"That's his best position," Amaro said about Franco at third. "That's where I think his future lies. But his future could also lie at first. Again, it's about creating as much versatility as you possibly can, particularly with our young guys and particularly with our younger guys who can swing the bat. We're looking for people who are going to help us offensively. The whole point is getting as many of those guys as we can on the field."
Asche has not played in the outfield since he became a professional, so throwing him out there midseason could be a challenge. But it has happened before. The Phillies moved Placido Polanco to the outfield in 2005 after he spent his entire career in the infield. They did the same in 2013 with infielder Freddy Galvis.
"He's a pretty good athlete," Amaro said about Asche. "If it's something we choose to do, we would have to feel comfortable. Will he be a Gold Glover if he gets a chance to go out there? No. But we'll have to decide if he's athletic enough to do that. We think he is."
Franco's arrival and Asche's potential move to left involves other players, too.
For instance, what does this mean for left fielder Ben Revere and first baseman Ryan Howard?
Amaro said Revere can play center field and right field, if needed. Odubel Herrea could be a candidate to move to right, although Amaro said Herrera seems much more comfortable in center. And the Big Piece?
"Howard is our first baseman," Amaro said.
Amaro said Asche is not a candidate to move to second base, despite playing 64 games there for Class A Williamsport in 2011.
"Playing second base is very difficult for someone who has not played on the right side of the field," Amaro said. "He did it briefly, but the pivot and the process of learning that is very difficult and a lot more difficult than people think. Middle infielders are more born. They're not developed, necessarily."
Asche started at third base Wednesday night against the Cardinals. That should surprise nobody. It might be some time before Franco is promoted, plus Asche needs more time to learn left field. The Phillies also need time to figure out how the rest of the dominoes might fall.
Todd Zolecki is a reporter for MLB.com. Read his Phillies blog The Zo Zone. Follow him on Twitter. This story was not subject to the approval of Major League Baseball or its clubs.