#TBT: Mays hits 4 home runs in one game
Players reflect on Giants legend's power display accomplished on April 30, 1961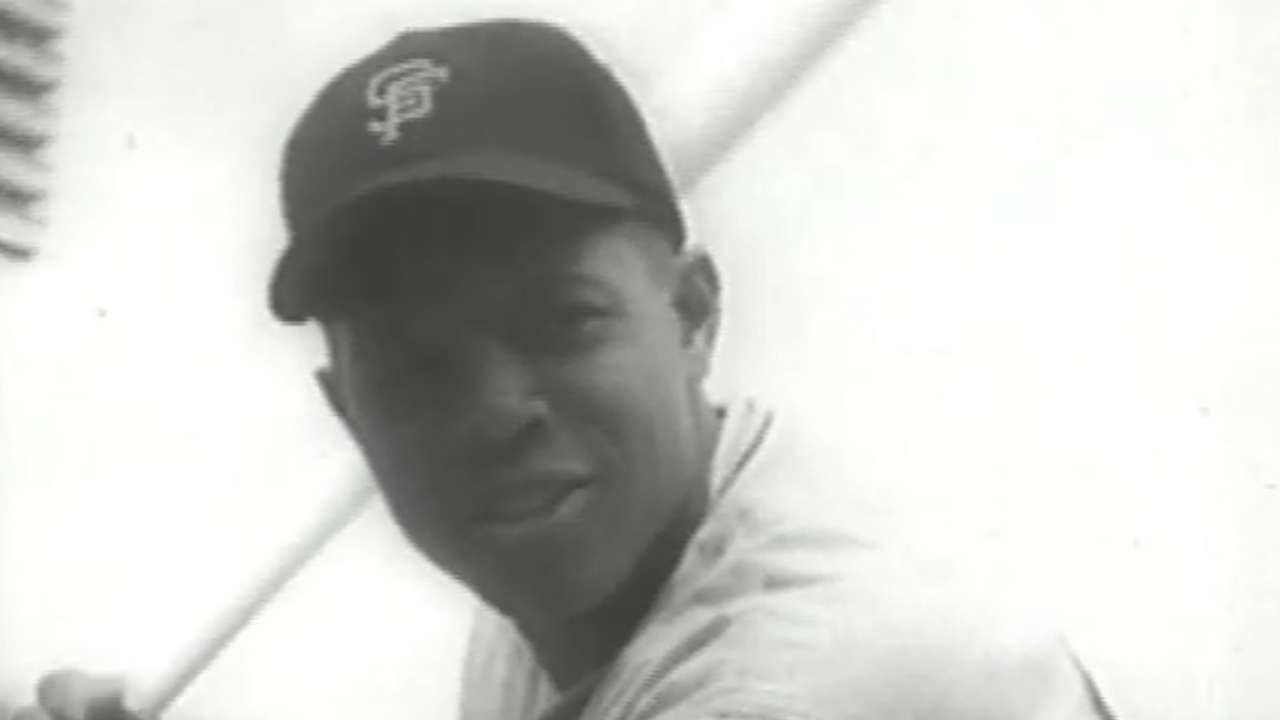 SAN FRANCISCO -- Willie Mays had no business doing what he did on April 30, 1961. Then again, there were certain things that only Mays could do.
Nauseous due to a snack he ingested the night before, Mays reaffirmed his greatness on this date 54 years ago when he hit four home runs for the San Francisco Giants in their 14-4 victory over the Milwaukee Braves. He became the seventh player since 1900 to accomplish this feat. It was the most prolific day of a wondrous Hall of Fame career for Mays, who ranks fourth on the all-time home run list with 660.
10 impressive feats in Mays' Hall of Fame career
Had ESPN's "SportsCenter" existed when Mays played, the program might have needed to devote a daily segment to his baseball deeds. The Giants center fielder was that good.
"Willie did so many great things every day," said future Hall of Famer Orlando Cepeda, one of Mays' teammates. Said former pitcher Ken MacKenzie, then a Braves reliever, "There was Mickey [Mantle] and [Hank] Aaron and Joe DiMaggio -- and then there's Mays. Mays could do everything. There's lots of us who think he's the best ever."
The Giants hit eight home runs that afternoon at Milwaukee County Stadium, tying a Major League record. Also going deep were right fielder Felipe Alou; Cepeda, who started in left field that day; and shortstop Jose Pagan, who homered twice. Milwaukee's Hank Aaron, ascending toward his 1974-2007 reign as baseball's home run king, also hit two out.
But Mays, who turns 84 on May 6, clearly stood alone among the sluggers. He homered twice off Braves starter Lew Burdette and lined out to center field off Moe Drabowsky in the fifth inning before homering again off Seth Morehead in the sixth, a three-run drive that put the Giants ahead, 11-3. Mays connected off Don McMahon in the eighth to hike his RBI total for the game to eight and conclude the scoring.
"It was just an exceptional person on an exceptional day," Giants left-hander Mike McCormick said.
To Mays, the final score was more important than the record. He said in a 2008 interview, "If I had hit four home runs like I did in Milwaukee and we lost the game, what good are those four home runs?"
Eyewitnesses from both teams recently shared their memories of Mays' mashing. It happened to occur in the 1,234th game of his legendary career, as San Francisco Examiner beat writer and Mays biographer Charles Einstein keenly noted. The story begins less than 24 hours before the Sunday afternoon game, when a plate of ribs didn't agree with Mays:
Willie McCovey, Giants first baseman: "Yes, [ribs] is what it was. They were famous in Milwaukee then. We were rooming together at the time. There were doubts about whether he was going to play the next day, to be honest with you. And because I was his roommate, it was going to be my fault."
Joe Amalfitano, Giants infielder: "I asked him, 'What are you from 1 percent to 100 percent?' He said, 'Maybe 70.' I said, 'Well, your 70 is going to be better than whoever goes out there for their 100.' "
Cepeda: "Some parks, you just feel more comfortable in. Milwaukee was a great hitters' ballpark. You could hit it out anywhere -- left field, right field, left-center, right-center. I hit the longest ball ever in that ballpark. I hit it to the freeway, off Lew Burdette in 1959."
MacKenzie: "Milwaukee today would be considered a small ballpark. I don't think center field was much over 400 feet [402 feet, actually]. And left and right field were certainly reachable. Nobody was concerned about it because there was some good pitching there. Warren Spahn, Burdette, Bob Buhl, Joey Jay, Carlton Willey and Juan Pizarro, that's a pretty good sixsome."
Amalfitano: "He had a 35-inch, 33-ounce Adirondack bat that was too light for him. I used it in batting practice because it was heavier than mine and I could try to get my hands going. When I hit it right in BP, the ball would come off that bat much better than it did off of mine. It had two or three knots in the barrel and a nice, wide grain. I said, 'Willie, you oughta try this.' "
McCormick: "At that point in his career, Burdette was a sinker/slider junkballer. He really was not an overpowering pitcher at all. He had all the tricks, one of which was his spitter. And he knew how to nick up a ball."
MacKenzie: "In Spring Training, Burdette was trying to show me how to throw a spitter. He was showing me how he wet his fingers. I said, 'You don't have much on there.' And he said, 'It doesn't take much.' "
Frank Bolling, Braves second baseman: "Pitchers are human beings, and they do make mistakes. I hit a grand slam off Sandy Koufax. How often is that going to happen? Mays was the type of guy who, if you got it in his wheelhouse, he didn't miss it that much. He didn't foul them off or anything. If he got a ball to hit, he hit it."
McCovey: "All I know is, I was hitting behind him and I kept shaking his hand when he crossed home plate."
McCormick: "Each time he came up, he'd hit one more, you'd wonder when it might stop. We were all in awe. Pagan hit two, huh? That's something interesting in itself."
Amalfitano: "After he hit the third one, he said, 'Don't let anyone touch that bat.' "
Alou: "I hit a home run that day and never made the newspapers. I didn't mind. He would always outshine the team."
Jim Davenport, Giants third baseman: "I batted second in front of him. In the ninth inning, he was going to come up again and I made the last out. Of course, the fans booed me."
MacKenzie: "My recollection is that it was so spectacular that nobody had their chins down at the end of the game."
McCovey: "Mays was Mays. Nothing he did was a surprise to us."
Chris Haft is a reporter for MLB.com. Read his blog, Haft-Baked Ideas, and follow him on Twitter at @sfgiantsbeat. This story was not subject to the approval of Major League Baseball or its clubs.