Bucs to experiment with 'bundling' time for reserves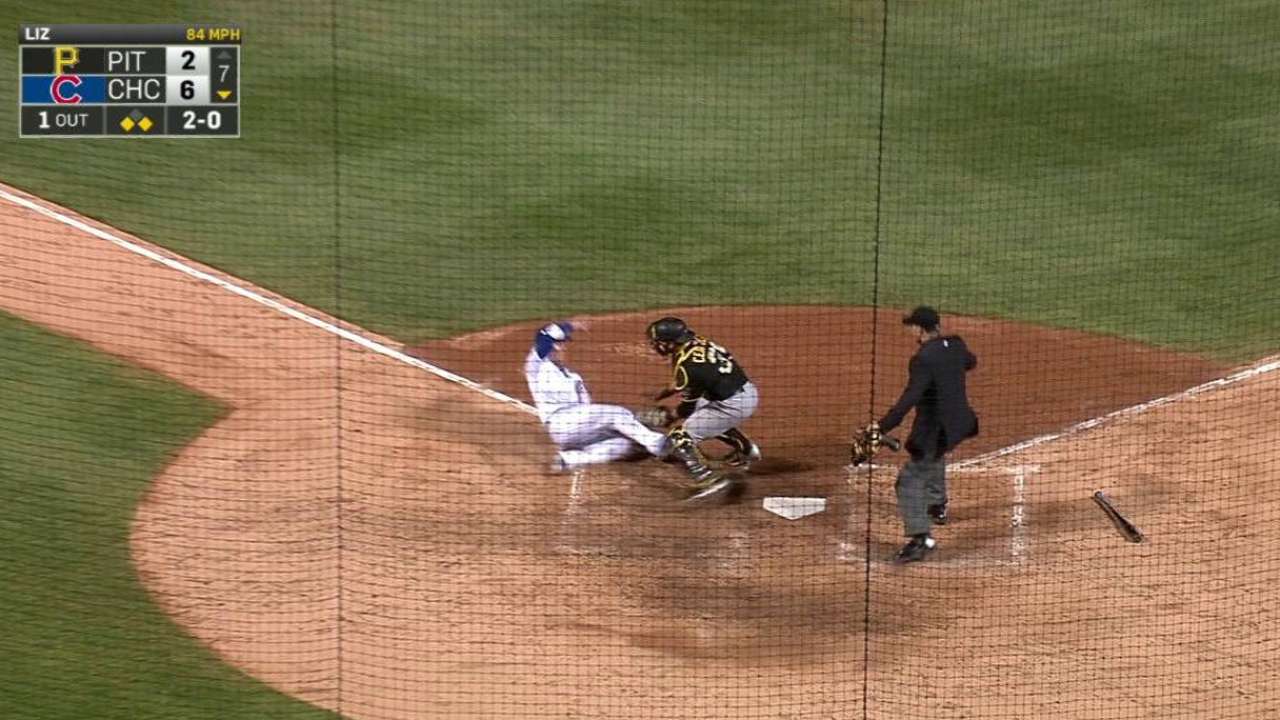 CHICAGO -- Manager Clint Hurdle said earlier this month that the Pirates hoped to "bundle" playing time for their reserves, providing more consistent at-bats when players are brought off the bench.
So far the Pirates have stuck to a more traditional method of deploying their reserves, but Hurdle said on Wednesday that the concept could become more prevalent as the season progresses.
"I think we bundled when we felt it was appropriate and we could take advantage of some situations," Hurdle said. "I think we're keeping guys in rotation as far as at-bats in games, consecutive at-bats and some pinch-hit at-bats. It will happen, I would believe, more as the volume of play picks up, the season starts to grind a little bit."
Part of the issue is that the Pirates are trying to break out of a team-wide slump, and the everyday hitters are perhaps less likely to get on track while receiving sporadic playing time.
Infielder Jung Ho Kang, who started at third base on Wednesday, has been the best example thus far of the "bundling" strategy, though some of that was forced by an injury to shortstop Jordy Mercer. Kang started back-to-back games April 11-12 and three straight from April 20-22.
Kang entered Tuesday night's game in the fifth inning and got two at-bats before starting on Wednesday.
"So that maybe is almost bundling," Hurdle said, smiling.
Around the horn
• With Josh Harrison getting a break on Wednesday night, Gregory Polanco moved into the leadoff spot and Mercer moved up the lineup to bat second. Mercer entered the night with a .345/.379/.539 batting line in the two-hole, compared with a .225/.299/.313 line hitting eighth.
Hurdle pointed out that the second hitter in the lineup, no matter who it is, tends to benefit from hitting in front of Andrew McCutchen.
• Outfielder Jaff Decker was placed on the disabled list for Triple-A Indianapolis, the team announced on Wednesday. Decker started the season on the Pirates' DL due to a strained left calf and was optioned to Triple-A on April 18.
• Asked what he thought of the atmosphere at the crowd-less game at Camden Yards in Baltimore on Wednesday, Hurdle replied, "It's kind of an oxymoron."
Adam Berry is a reporter for MLB.com. Follow him on Twitter at @adamdberry. This story was not subject to the approval of Major League Baseball or its clubs.