MLB.com Columnist
Richard Justice
Yanks finding way to thrive with unorthodox blueprint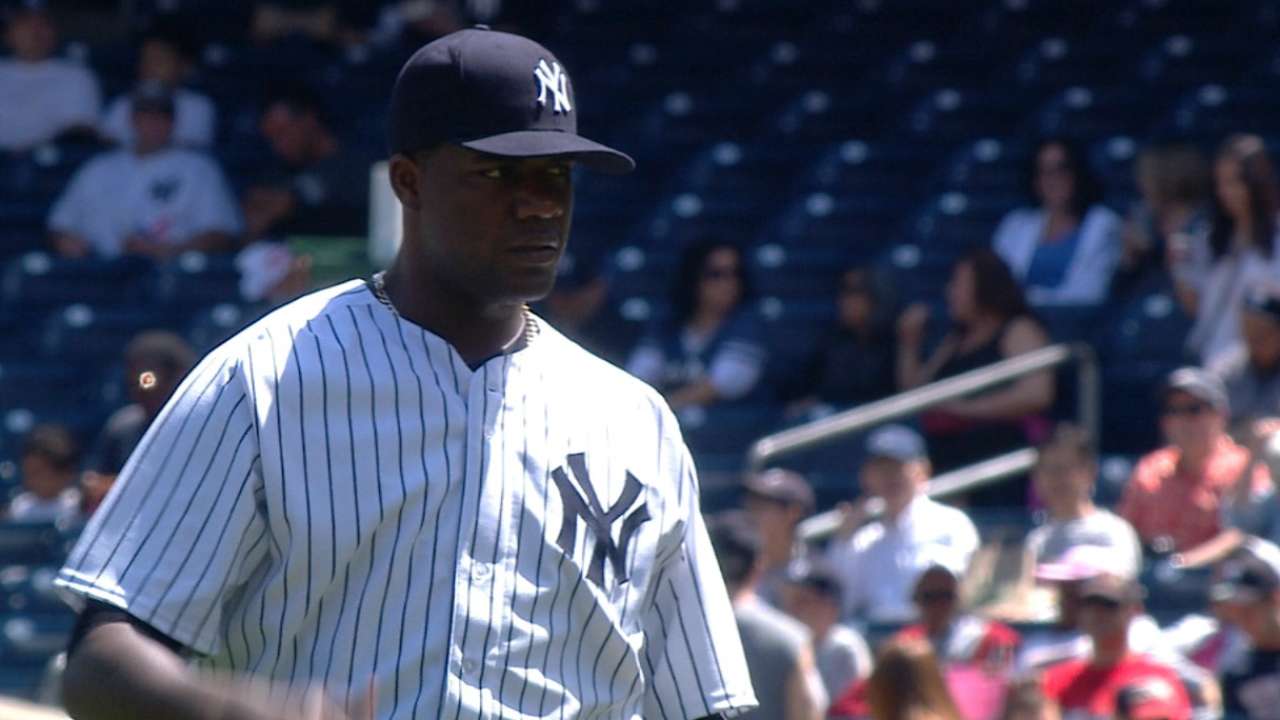 NEW YORK -- This apparently is how the New York Yankees are going to have to do it in 2015. That could be the larger lesson from this recent sprint to the top of the American League East. As blueprints go, it's not the classic one.
On the other hand, baseball's landscape is so wide open that teams must piece together victories an inning at a time, and the Yankees have done a nice job of this, winning 10 of 13 to run their record to 13-9.
Remember when they were 2-6? Better yet, remember when they were 2-4 and headed on the road to play 25 of 35 games? They've won 11 of 16 since beginning a stretch that looked like it might send their season off in a bad direction.
Sometimes, it's not pretty. Style points aside, first place is plenty pretty enough. Anyway, back to the blueprint:
1. Squeeze five or six innings from a starting pitcher -- not necessarily dominant innings, either.
2. Score runs, sometimes lots of 'em. Only the Blue Jays and Orioles have generated more offense. See, I warned you this was a different way of doing things this season?
3. Get airtight bullpen work.
There you go.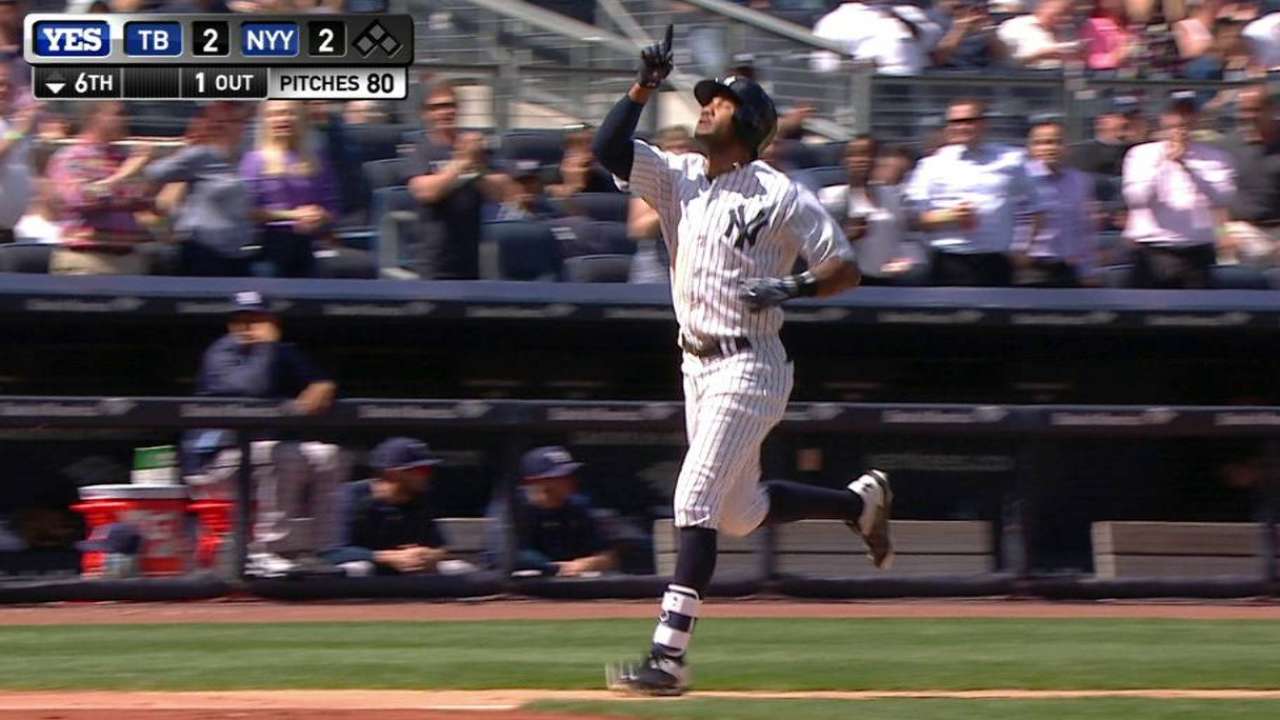 If you don't think it works, check the standings. Because the AL East has no real favorite, we might just roll into September with five teams in contention.
That would be great fun for some of us. For others (managers Joe Girardi, John Farrell, etc.), not so much.
At the moment, Yankees starting pitchers have the 20th-best ERA in the Majors, and with Masahiro Tanaka out indefinitely, that number isn't likely to get better.
But focusing on what the Yanks don't have ignores their strengths. In the areas they're good, they're as good as almost any team.
For instance, their bullpen is every bit as good as general manager Brian Cashman hoped it would be when he overhauled it. And even a 1.75 ERA -- second only to Kansas City's microscopic 0.82 mark -- doesn't tell the complete story.
Girardi has slotted Dellin Betances and Andrew Miller to pitch the eighth and ninth innings. Between them, they've made 21 appearances with this line: 23 2/3 innings, eight hits, 0 earned runs, 11 walks, 39 strikeouts.
Others have been good, too. Esmil Rogers, Chris Martin and lefty Justin Wilson have given Girardi solid options. So if the Yankees can get through five or six innings with a lead, they've got a reasonable chance of bringing it home.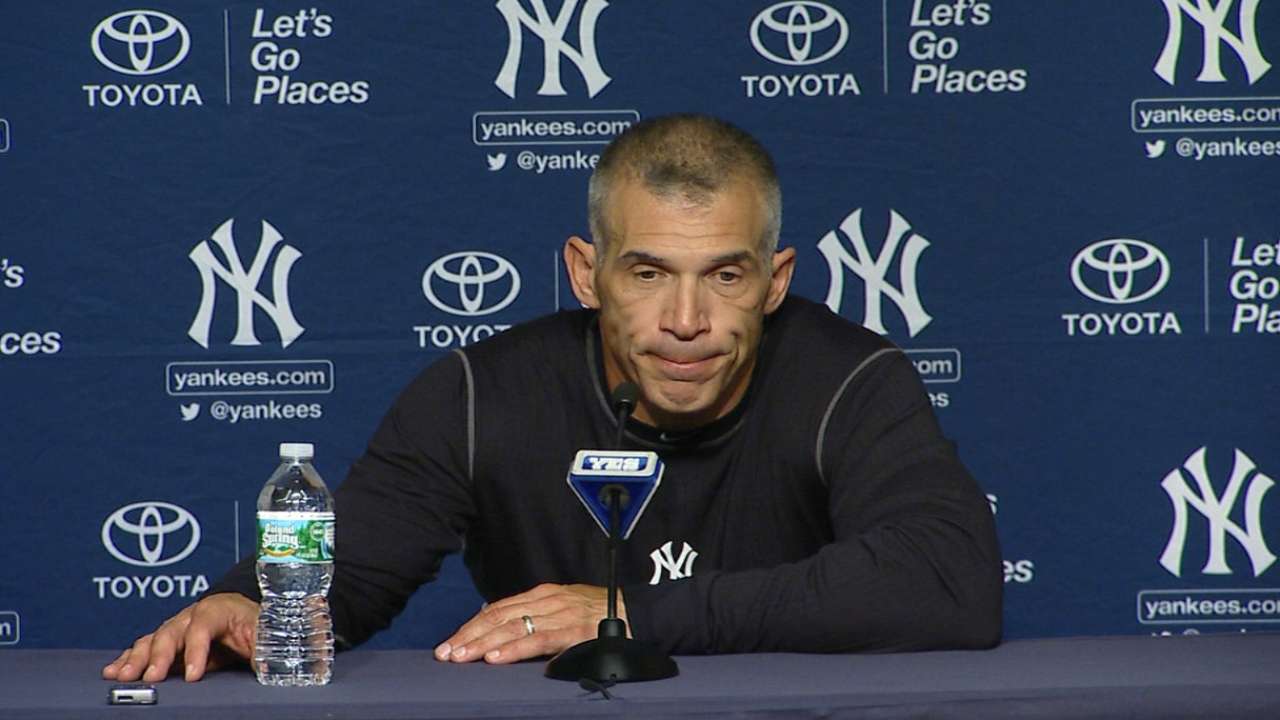 Which brings us to Girardi.
Sometimes, the skipper doesn't get the credit he deserves. Actually, that's true most of the time. Because the franchise spends big, some see it as an easy job. That is wrong, wrong, wrong. Because of the scrutiny and expectations and clubhouse egos, it's one of the toughest jobs in the game.
And in these last couple of years when the Yanks have been hit hard by injuries and aging players, Girardi has proven his worth again and again.
Last season, Girardi kept a team in contention that probably had no business being there. He's also tremendous at managing a bullpen, communicating with players and getting a professional effort every single day.
This season has had its challenges. Mark Teixeira is having a huge bounce-back season, seemingly on his way to putting himself in the AL MVP Award conversation. Alex Rodriguez, Brian McCann, Jacoby Ellsbury and Brett Gardner have been solid.
Elsewhere, though, there are holes. That's true at both shortstop and second base, and also in right field, where Carlos Beltran is hitting .162.
So far, though, it has worked despite Wednesday's 3-2, 13-inning loss to the Rays. On Tuesday, Chase Whitley made his first big league appearance of the season and allowed one run in five innings. That was enough on a night when Ellsbury had three hits, McCann drove in three and three relievers combined to allow one run in the final four innings of a 4-2 victory.
Afterwards, Girardi praised Whitley for his tenacity and his ability to navigate through trouble. All he did was give the Yankees a chance to win, and that's what the Yanks are asking of their starters.
Nor have they lost hope that CC Sabathia will figure out how to succeed with diminished velocity. Also, there's talent in the Minors. Right-hander Bryan Mitchell has been good enough to earn a shot for his work at Triple-A Scranton/Wilkes-Barre, and 21-year-old right-hander Luis Severino is at Double-A Trenton and on the fast track to the Majors.
Are the Yankees back? Not if 1998 is your point of reference. But having missed the playoffs for two straight years, they're certainly back in the mix. In an era when there are no perfect teams, they've got a chance to join the Mets to make it a fun baseball summer in New York.
Richard Justice is a columnist for MLB.com. Read his blog, Justice4U. This story was not subject to the approval of Major League Baseball or its clubs.