Aggressiveness earns Rays hard-fought win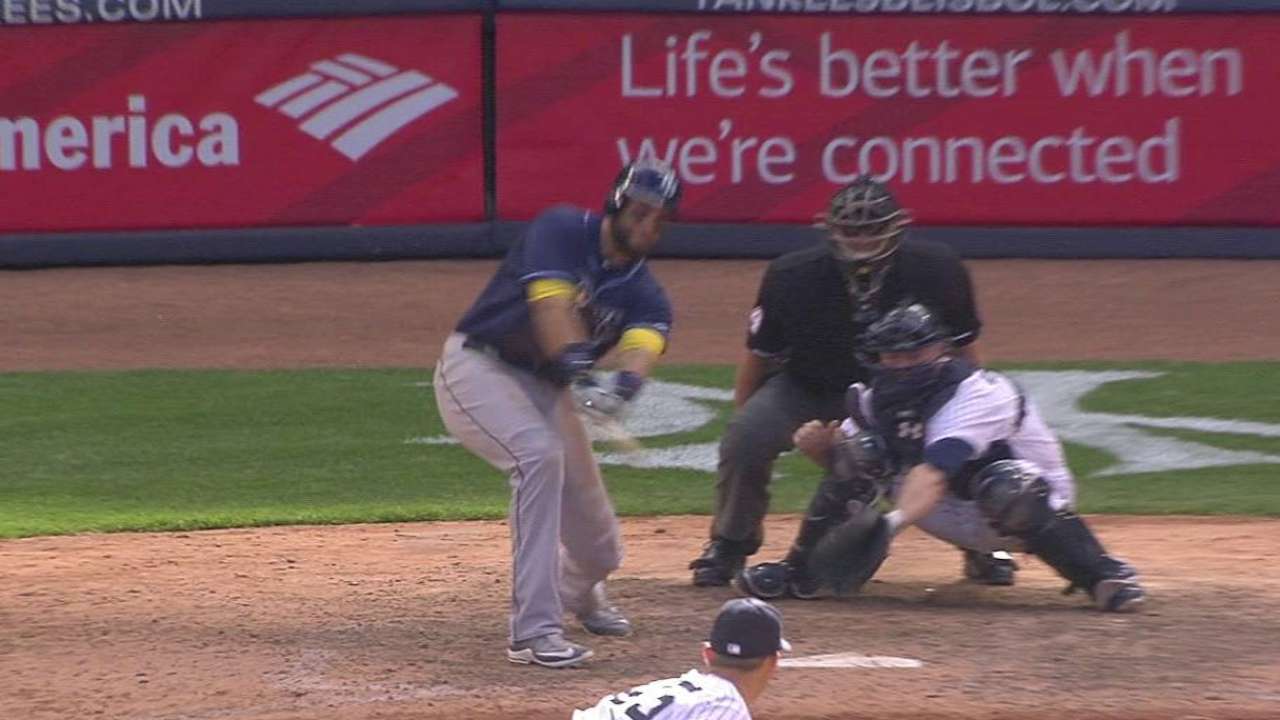 NEW YORK -- The Rays didn't hit the ball out of the infield in the 13th, but they managed to produce the winning run.
That run gave them a 3-2 win in 13 innings over the Yankees on Wednesday afternoon at Yankee Stadium.
Steven Souza Jr. got the winning rally started with a one-out walk from Chasen Shreve and moved to second base when Asdrubal Cabrera grounded out to short. With an open base, Yankees manager Joe Girardi elected to issue an intentional pass to right-handed-hitting Evan Longoria. That decision brought left-handed-hitting James Loney to the plate to face the left-hander.
Loney worked the count to 2-1 before checking his swing on the next pitch.
"From our view, I don't think he went," Rays manager Kevin Cash said.
The umpires agreed, moving the count to 3-1.
Shreve delivered a strike on the next pitch to move the count full, which put the runners in motion on the next pitch. Third-base coach Charlie Montoyo could be seen reminding both runners of the situation before Shreve's next pitch.
Loney swung at the pitch and sent a roller through the right side of the shifted Yankees infield. Second baseman Stephen Drew managed to come up with the ball in short right field, but Loney was already safe by the time he looked to first and his throw home did not arrive in time to get the sliding Souza.
"That was a tough pitch [from Shreve] ... with two strikes," Loney said. "You know you have to swing. I thought it should be [enough to score Souza]. I knew I was going to be safe. ... I figured he had to at least try [to score on the play]."
Souza never broke stride heading home.
"Three-two, two outs, we're running, obviously," Souza said. "So I was full steam ahead. I saw the ball get past Mark Teixeira [at first base], I knew that Drew was deep. So it was either going to be a close play at first or a close play at home. So we went for it. ... I was going all the way until [Montoyo] stopped me and he [waved him home]."
Souza allowed that he thought Loney's hit snuck through the infield.
"Even if I did see him knock it down, I don't think it would have changed what I would have done, because he's so far deep and I'm already rounding the base," Souza said. "I had a good jump.
"It would have been close. He's got to catch that clean and make a great throw. And if he gets me out, you tip your cap. Loney put together a great at-bat there, so all I wanted to do was get home for him and the rest of the team."
Cash complimented Montoyo for sending home Souza.
"Great aggressive send by Charlie and Souza running," Cash said. "It was a big win. We needed that one bad."
Bill Chastain is a reporter for MLB.com. This story was not subject to the approval of Major League Baseball or its clubs.