Francona takes responsibility for bullpen issues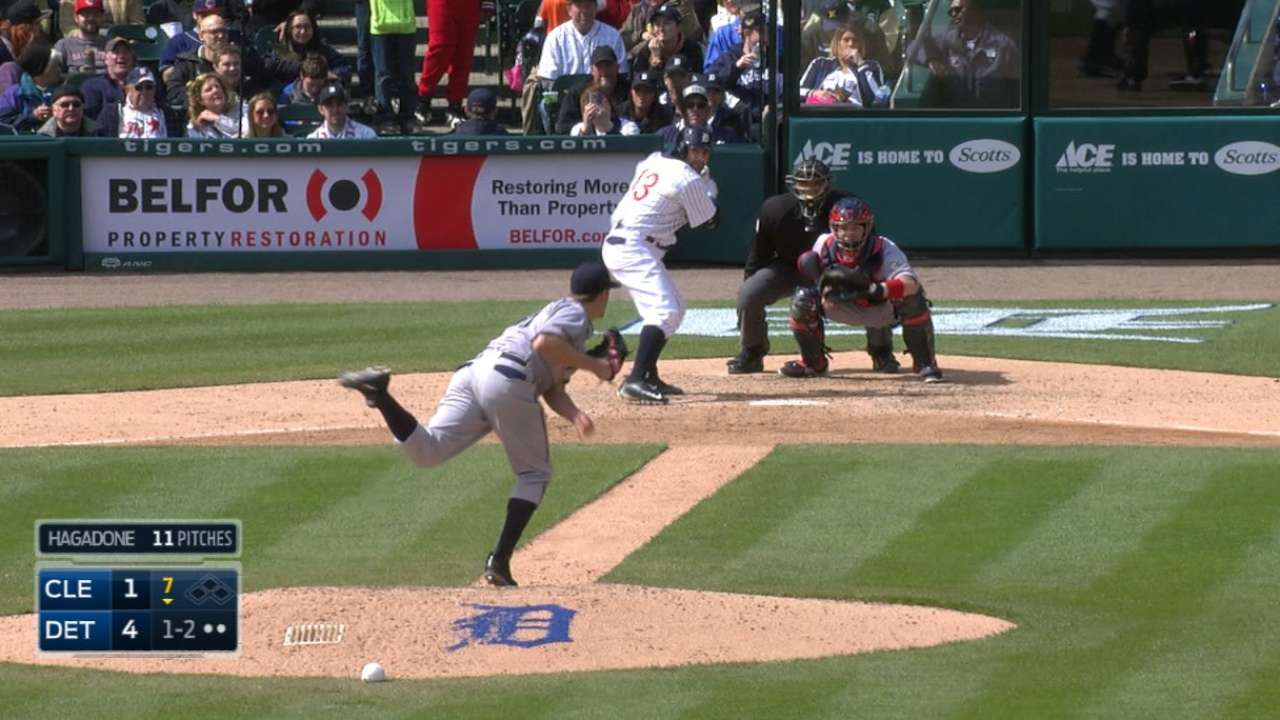 CLEVELAND -- Indians manager Terry Francona has maintained a good sense of humor over the past few years about how often he uses his bullpen. With the relief corps struggling through the first month of this season, the situation is no longer a laughing matter.
On Wednesday, Francona was willing to shoulder the blame, if the bullpen's early struggles were in any way the result of how the group has been used in the past two years.
"If that's the case, that's directly on me," Francona said. "I also know that a couple things we try to live by is, we want to take care of our guys, because we care about them, and winning. The last two years, our bullpen has been a huge part of us at points winning or hanging in there.
"Is this a byproduct of them throwing a lot? If it is, I have to take responsibility for that. And it's something that I don't know how you come up with a concrete answer, but it's something I think about also."
After giving up eight runs in three innings in Tuesday's loss, Cleveland's bullpen ERA ballooned to an American League-high 4.59 through 19 games.
Over the 2013-14 seasons combined, Francona's Indians bullpens have logged a 3.36 ERA (fourth-best in the AL in that span), while throwing the third-most pitches (17,068) and fourth-most innings (1,030) in the league. Last year, Cleveland established a single-season AL record with 573 relief appearances and had the first team in league history to have four pitchers with at least 70 appearances apiece.
Scott Atchison downplayed the idea that the 'pen usage in '13-14 has negatively impacted the team this month.
"We all feel good down there," Atchison said. "I think everybody is where they want to be health-wise and feeling-wise. Obviously, we're not where we want to be performance-wise, but I don't think anything is carrying over."
Worth noting
• Starter Trevor Bauer, who missed a start on Saturday due to a bout with food poisoning, estimated that he pitched at around 30-percent strength on Tuesday against the Royals. Francona felt that might have been a bit of an exaggeration. Said the manager: "Thirty percent? I'd be dead. I think that's probably a little bit much."
• Prior to his three-run home run in the sixth inning on Tuesday, Brandon Moss asked Francona if the manager wanted him to bunt. Said Francona: "I appreciated it, because that means he cares. He's trying to do anything in his power to win. But, I was like, 'No, man, I want you to hit it off that sign.' He about did."
• Outfielder Nick Swisher (15-day disabled list due to surgery on both knees in August) went 2-for-5 with two RBIs in his third rehab game for Triple-A Columbus on Tuesday. Swisher (7-for-14 through three Triple-A games) was scheduled to continue his rehab with the Clippers on Wednesday.
• Catcher Yan Gomes (15-day disabled list due to a right knee sprain) played catch prior to Wednesday's game and has been cleared to begin swinging a bat without contact.
Jordan Bastian is a reporter for MLB.com. Read his blog, Major League Bastian, and follow him on Twitter @MLBastian. This story was not subject to the approval of Major League Baseball or its clubs.