MLB.com Columnist
Phil Rogers
Royals' dedication to putting ball in play pays
With philosophy embraced by hitting coach Sveum, club consistently a tough out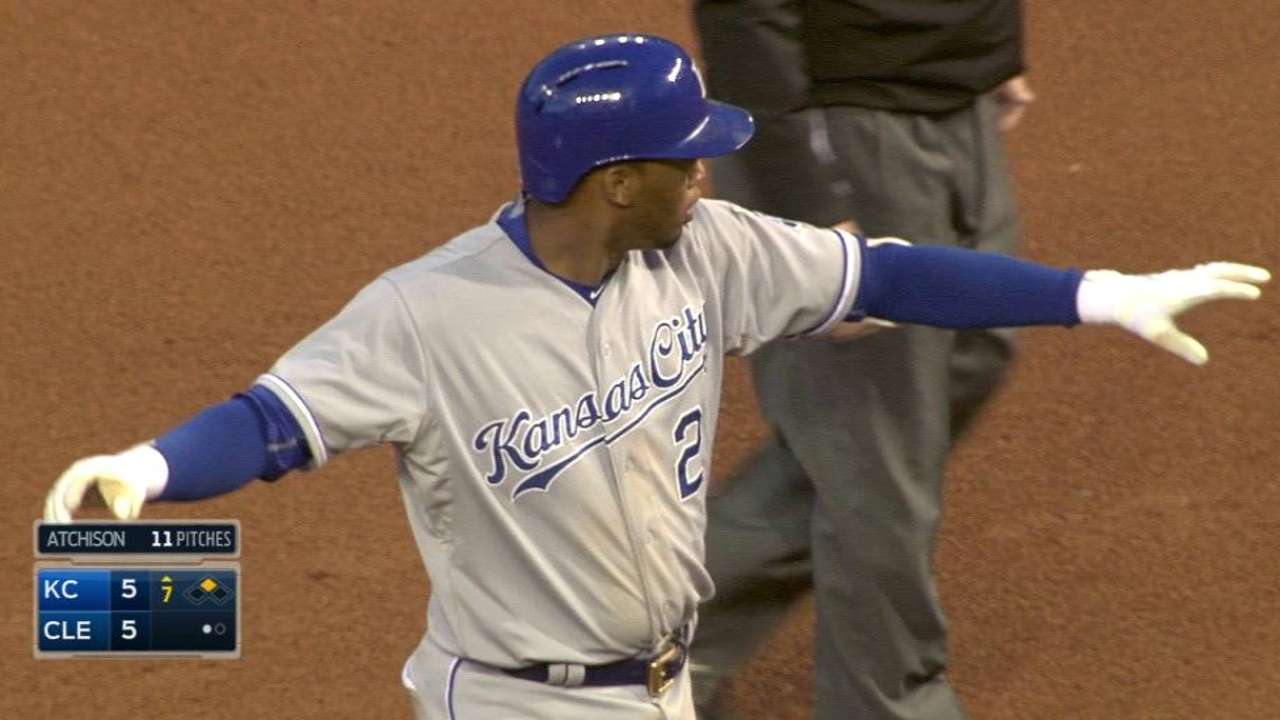 So a strikeout is just another out, right? Don't try that line on anyone with the Royals.
"That was Rob Deer's theory," Royals hitting coach Dale Sveum said about his former Brewers teammate. "He'll say, 'I struck out 200 times a year because when there was a guy on first base, I was afraid I'd hit into a double play, so I just struck out.'"
Has Sveum ever heard an actual baseball person -- front-office guy, manager, coach or player -- say that strikeouts weren't really a negative for a hitter?
"I won't mention his name, but I have had a player tell me that," Sveum said. "In his case, it was completely absurd."
No team makes pitchers work harder than the Royals. Ask the teams that played them last October -- the A's, Angels, Orioles and Giants. Ask the American League Central teams that play them 17 or 18 teams a year.
With a relentless commitment to contact hitting, Kansas City takes advantage of its team speed by refusing to give away at-bats. The Royals are off to a 14-6 start in part because they've been the toughest group of hitters to strike out, with 110 strikeouts (lowest in the Majors) in their 20 games, and 20 fewer than any other AL team.
This is a small sample size, but it will be anything but a surprise if Kansas City finishes as the toughest team to strike out in the AL. The Royals have held that distinction in four of the previous five seasons, improving from eighth in the league in 2009 to first in '10. That was the season that Ned Yost replaced Trey Hillman as manager in mid-May, but Yost says Kansas City's ability to put the ball in play is a result of the personnel assembled by general manager Dayton Moore.
"It's more the guys Dayton put on the roster," Yost said. "Guys that are capable of not striking out a lot, putting the ball in play."
During his three years managing the White Sox, Robin Ventura has seen the Royals improve their approach at the plate. He says there has been a noticeable difference since Sveum was hired to replace Pedro Grifol last May. Kansas City has had a revolving door at hitting coach, with even Hall of Famer George Brett taking a turn, but it was the hiring of Sveum that seemed to help the lineup turn a corner down the stretch and in the postseason.
"For me, Dale's been a big part of that," Ventura said. "Just looking at them since he's been around them, knowing their history. There are people taking a different approach with Dale over there. He's done a great job with those guys. I think early on, there were some guys looking for homers, and if you remember, there were a lot of people talking about they don't hit enough homers. Guys fell into the trap, even with two strikes, of swinging as hard as they could and not understanding that with their athleticism and their speed, if they just put it into play, it makes up for that. I think, approach-wise, he's been a big influence over there."
But Yost points out a downside to the contact hitting. The Royals have ranked among the bottom four AL teams in drawing walks in each of the last four years, and they currently rank 13th, walking just 2.5 times per game.
"We felt last year, we could have done a lot better job of not striking out," Yost said. "We were still swinging at a lot of ball fours when we should have been walking. We're doing a much better job of it this year. We've taken a bunch of 3-2 walks this year that we would have swung and missed at last year."
Yost sees it as a never-ending process.
"You've got to learn patience," he said. "You continue to talk to them every day about it. It comes at its own timetable. You can't say, 'Stop swinging at ball four -- just don't do it no more.' That doesn't work. They have to continue to grow as players."
Sveum agrees.
"The emphasis going into this year and the playoffs [last year] was if we're going to get to walking counts, we have to be more patient in those situations," said Sveum. "Do we have a team that's going to walk a ton? No, but we can get better at it. We're getting into as many three-ball counts as other teams, but we like to put the ball in play with our bats. Sometimes it's counterproductive."
Last season, the Royals walked only about 25 percent of the time that they got into 3-2 counts, while the AL average was about 30 percent walks. Kansas City is walking 37 percent of the time in those counts this year, better than the early-season AL average of 33 percent.
But the Royals still like to attack 3-2 pitches. In their 11-5 victory over the Indians on Tuesday, they got into full counts only five times. Those situations produced three hits (a double by Alcides Escobar and singles by Mike Moustakas and Omar Infante) and one walk (by Escobar).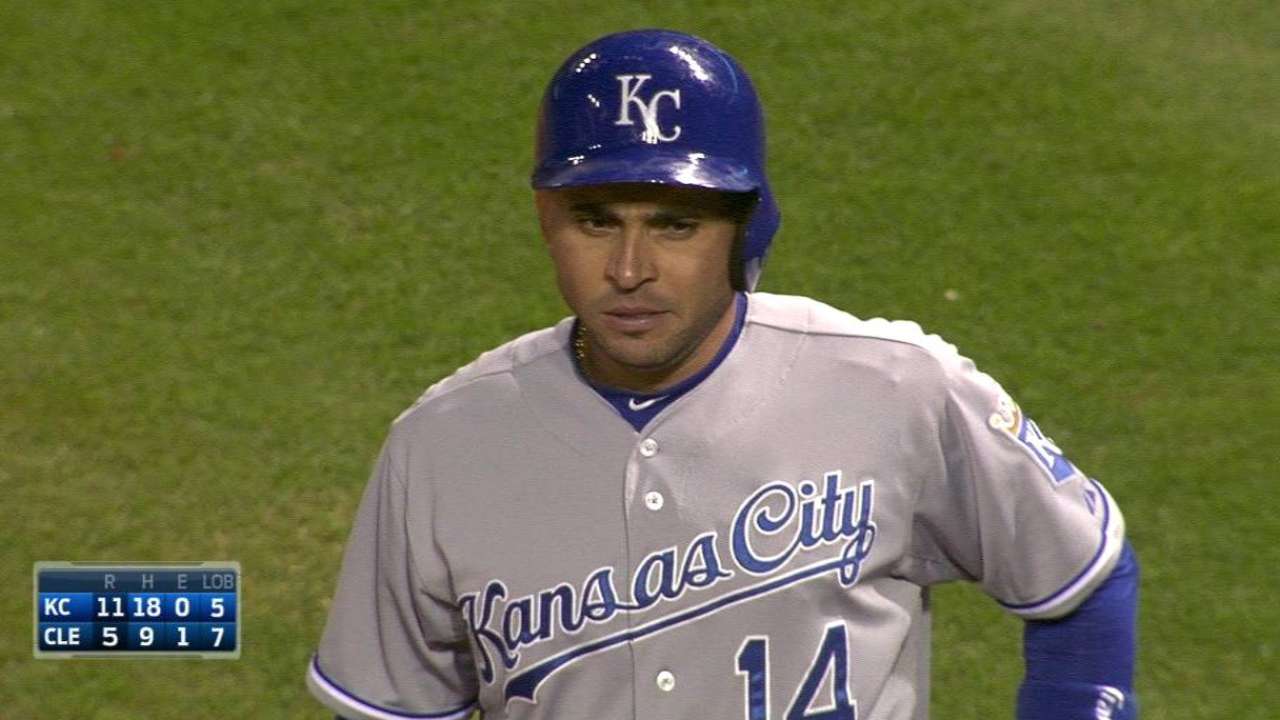 It's safe to say Sveum didn't lecture anyone about being too aggressive after that game.
The reality is that the decisions that hitters have to make in deciding if a pitch is one to hit or to take are always difficult, even for the hitters who might make it look simple.
"It's hard to explain how tough this game really is," Yost said. "There are people who will tell me, 'Tell your players to quit taking strike three and stop swinging at ball four.' I'm like, 'OK, I'll be sure to do that.' It's a hard game to play. Each and every year, you grow and you get better, especially when you've got talent. These kids all have talent, and you see them getting better and better and better every year. It's fun to watch."
Phil Rogers is a columnist for MLB.com. This story was not subject to the approval of Major League Baseball or its clubs.