Orioles willing to adjust to schedule changes
Home series against Rays at Tropicana Field begins 9-game trip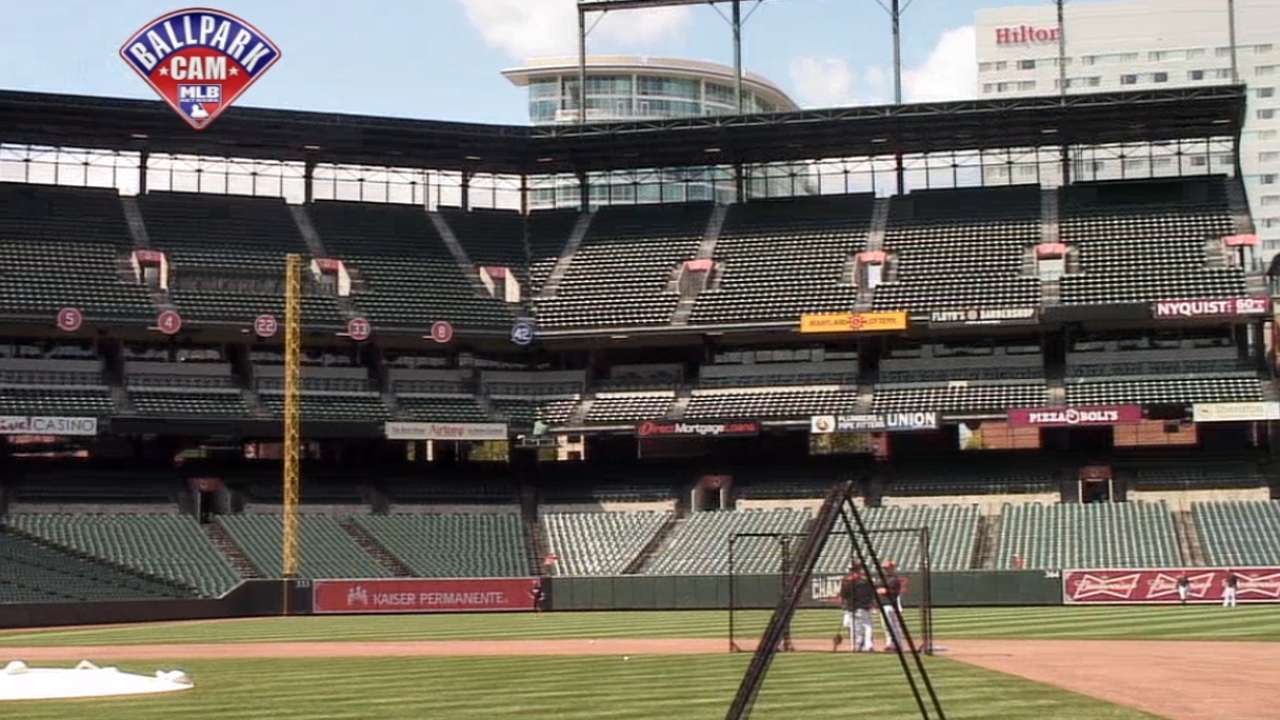 BALTIMORE -- For the Orioles, who played in an empty stadium at Camden Yards in Wednesday's 8-2 victory against the White Sox, the adjustments are just beginning. Because of protests in the city, the Orioles' weekend series against the Tampa Bay Rays will shift to St. Petersburg, though the O's will still wear their home whites and get to bat second.
Baltimore, which will employ the workers at Tropicana Field and pay for any stadium expenses, will get the money from the weekend's tickets -- which are $15 for general admission -- and concessions. But the Orioles will essentially lose five home games -- with Monday and Tuesday's postponed contests now a single-admission doubleheader -- without any revenue or the comfort of their home fans.
"I don't think I just speak for myself, but a couple guys in the clubhouse, too, the unfortunate thing is we can't just swap," Orioles closer Zach Britton said of the weekend series. "[The Rays] won't just come back to our place [in July's scheduled meeting]. You would think they would see the situation we are in and understand that this is a lot more important than baseball and we are doing this for the right reasons. And that they would be willing to go back to our place when we were supposed to be at their place."
Rays owner Stu Sternberg told reporters there wasn't a whole lot of back-and-forth between Major League Baseball and the Rays before the final decision was announced.
"[A series swap] came up," he said. "I wouldn't say [they] asked, 'Will you please do it?' It was up for discussion."
And, similar to playing in a neutral site like Washington or Philadelphia, the swap was deemed not the best solution. Instead, the O's will board a plane big enough to accommodate their families -- which traveling secretary Kevin Buck was able to secure at the last minute -- on Thursday's off-day to start what is now a 10-day, nine-game road trip.
"It's tough, everyone knows how much we like playing in front of our fans, how important baseball is to the city of Baltimore," said Orioles starter Chris Tillman, who will start Friday's game. "It goes to show how bad this really is, that we actually have to move it. You know, better safe than sorry."
And while there's no denying the abrupt change in schedule, Tillman and the rest of the Orioles, who have been closely following the coverage of the Freddie Gray protests on clubhouse TVs, aren't complaining about their plight.
"To say something that we are going to go through on a baseball field playing in the big leagues is difficult is really insensitive to everything else that's going on. It's a small thing for us, comparatively speaking," Orioles manager Buck Showalter said. "One of the things that we all, not just me, tried to do when I came here was eliminate excuses. I don't want to hear about payroll, I don't want to hear about things like that. This is different.
"Some are self-inflicted and, quite frankly, I feel like, the way I look at it, it is self-inflicted. Even though someone in our locker room didn't [cause problems], but we are citizens of this community. And if something is going on here that creates this type of situation, it's a reflection on all of us, and we should look at it that way."
Brittany Ghiroli is a reporter for MLB.com. Read her blog, Britt's Bird Watch, and follow her on Facebook and Twitter @britt_ghiroli. This story was not subject to the approval of Major League Baseball or its clubs.