Results aside, Dickey takes away positives in loss to Sox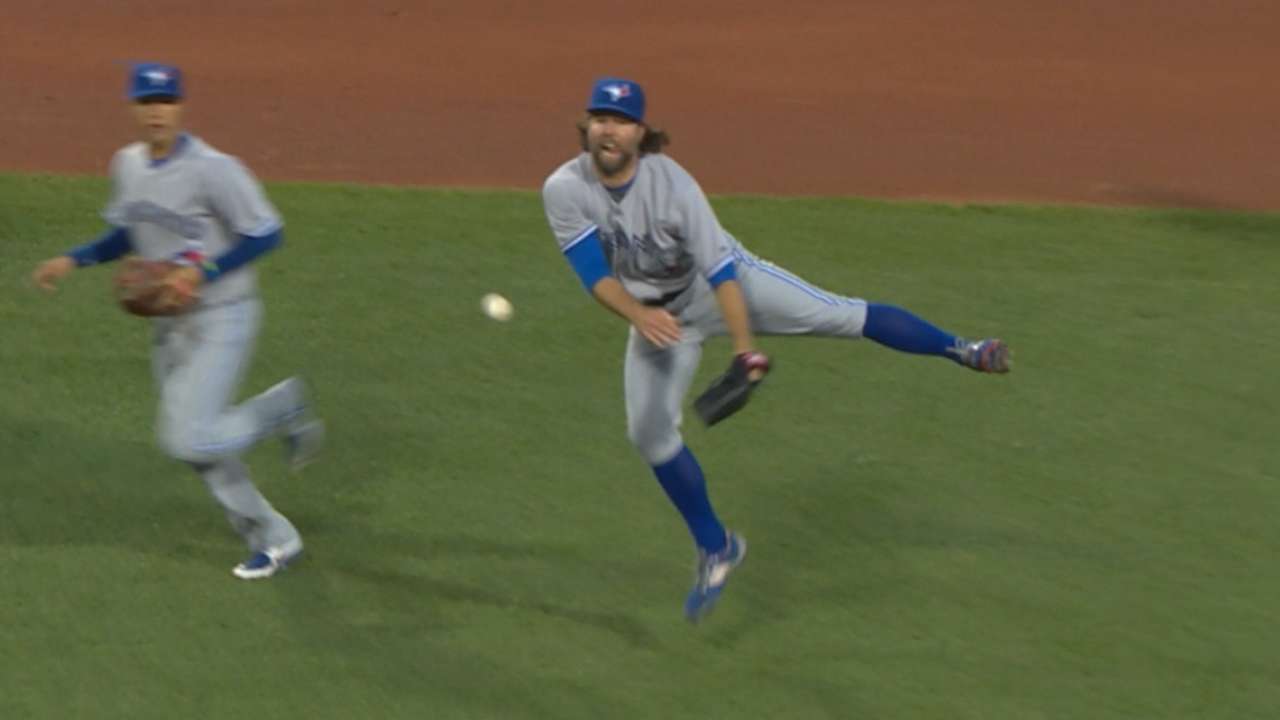 BOSTON -- The final pitching line might not look all that impressive, but R.A. Dickey enjoyed his best start since the first week of the season on Wednesday night at Fenway Park.
Dickey came out on the losing end of a 4-1 game to Boston, and the veteran knuckleballer allowed all four of those runs, but the numbers don't tell the full story. His knuckleball had consistent velocity, and for the first time this season, he didn't walk a batter.
The only real mistake came in the third inning, when he surrendered a two-run homer to Hanley Ramirez, but outside of that it was a strong performance. The problem was Red Sox starter Rick Porcello pitched better and the Blue Jays bats went into hibernation.
"Everything was better tonight," said Dickey, who struck out four over seven innings in the loss. "Mechanically I was better, my body felt better, the ball was reacting well in this climate. It was a better night physically for me, too.
"You're going to have those games like Tampa [Bay, when I gave up eight runs over 4 2/3 innings]. Hopefully you only have one or two a year and you have a lot more games when you look back and you've gone six, seven, or eight innings and you've given up two runs or less. That's the kind of consistency that I hope for, for my team."
Three of Boston's four runs came in that troublesome third inning, and after the game Dickey took the blame. He called the 0-2 pitch to Ramirez "a mistake," and that's not something you hear from a knuckleball pitcher all that regularly.
The knuckleball is a very unpredictable pitch and oftentimes it's impossible to know exactly where it will end up. That's why, traditionally, a lot of those pitchers will shrug their shoulders after a tough loss. Sometimes the pitch works and sometimes it doesn't.
There have been times when Dickey has taken that approach, but not Wednesday at Fenway. He was asked what he meant by saying the pitch was a mistake, and the former National League Cy Young Award winner went into detail about how more should have been done on his part to ensure the ball didn't end up in the middle of the plate.
"It just didn't move," Dickey said. "I say it was a mistake and you have to surrender to the outcome once you let it go. If it had been either of the first two pitches I threw to him, to get to 0-2, it probably would have been a strikeout or a weakly hit ball. But sometimes that's what you have to accept with the nature of the pitch. It may remain flat.
"I'm not using that as an excuse. That's why I say I made a mistake. It was a mistake, because it was in the hitting zone. There are certain things that I could do, like bury it away. When I have 0-2, I could hang onto it a little bit longer, make sure that if I do miss, I miss with a ball. Things like that, that's in my power to do and I did not execute that, so I want to own that."
Gregor Chisholm is a reporter for MLB.com. Read his blog, North of the Border, and follow him on Twitter @gregorMLB. This story was not subject to the approval of Major League Baseball or its clubs.