Red Sox, Blue Jays disagree on call at plate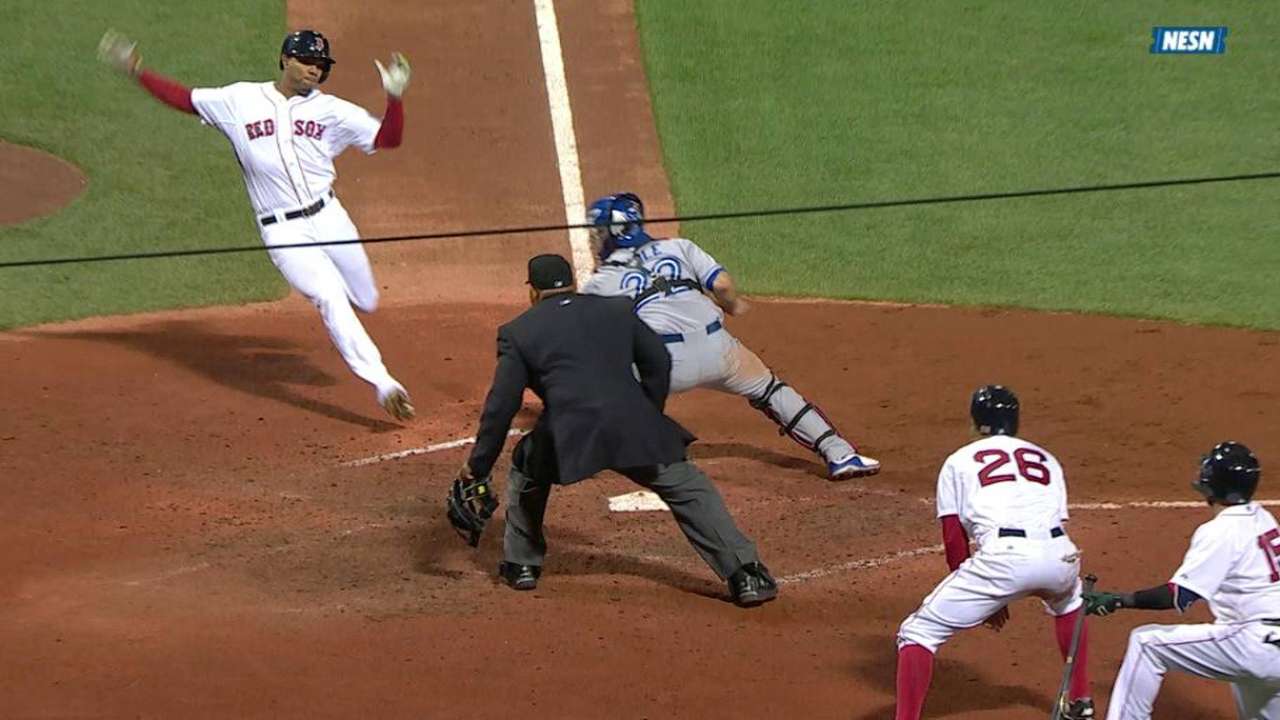 BOSTON -- Red Sox manager John Farrell challenged a call in the bottom of the seventh inning in Wednesday's 4-1 win over the Blue Jays, believing Toronto catcher Josh Thole violated a rule about blocking home plate.
The call was confirmed, meaning the replay official in New York determined that there was no violation of the home-plate collision rule.
Boston plated one run on a single by Mookie Betts, before third-base coach Brian Butterfield also waved around Xander Bogaerts, who was tagged out by Thole.
The review took an extended amount of time -- six minutes and 20 seconds -- because the headphones for home-plate umpire Adrian Johnson and crew chief Bill Miller didn't work.
Thole said his positioning on the play had everything to do with how the throw came to the plate.
"You set up how you normally set up and then adjust to the throw. I had a long hop, so as the throw came in, I dropped my left foot so I could catch the ball," Thole said. "If you say in front of home plate and you get a hop like that, the ball will eat you up. You have no chance to catch it."
"If that had been overturned, that would have been a mockery of the game," Blue Jays manager John Gibbons said. "He did everything right. The throw kind of took him in there a little bit, he backed up on the hop, he's dead out. They weren't going to overturn that one."
The Red Sox had a different take on the call.
"The rule states there has to be a lane to home plate. We challenged it, because Thole was standing in that path," Farrell said. "It was pretty clear to the replay on the big screen that Bogey never had a path to the plate to slide. Unfortunately, not seen that way in New York."
Bogaerts felt he had no choice in how to slide into home plate.
"It could have gone either way. I can't do anything on that slide right there," Bogaerts said. "The only thing I can do is just hit him. ... I had no lane."
The rule has been a polarizing topic since being enacted in 2014, with many believing it has too much grey area.
"It's always going to be up to interpretation," Farrell said. "The throw did not take him into the lane of the runner, which is part of the wording of the rule as well. But you still have to give the runner a pathway to the portion of the plate, which there was not."
Quinn Roberts is a reporter for MLB.com. This story was not subject to the approval of Major League Baseball or its clubs.