Betts yet? Mookie makes yet another highlight-reel grab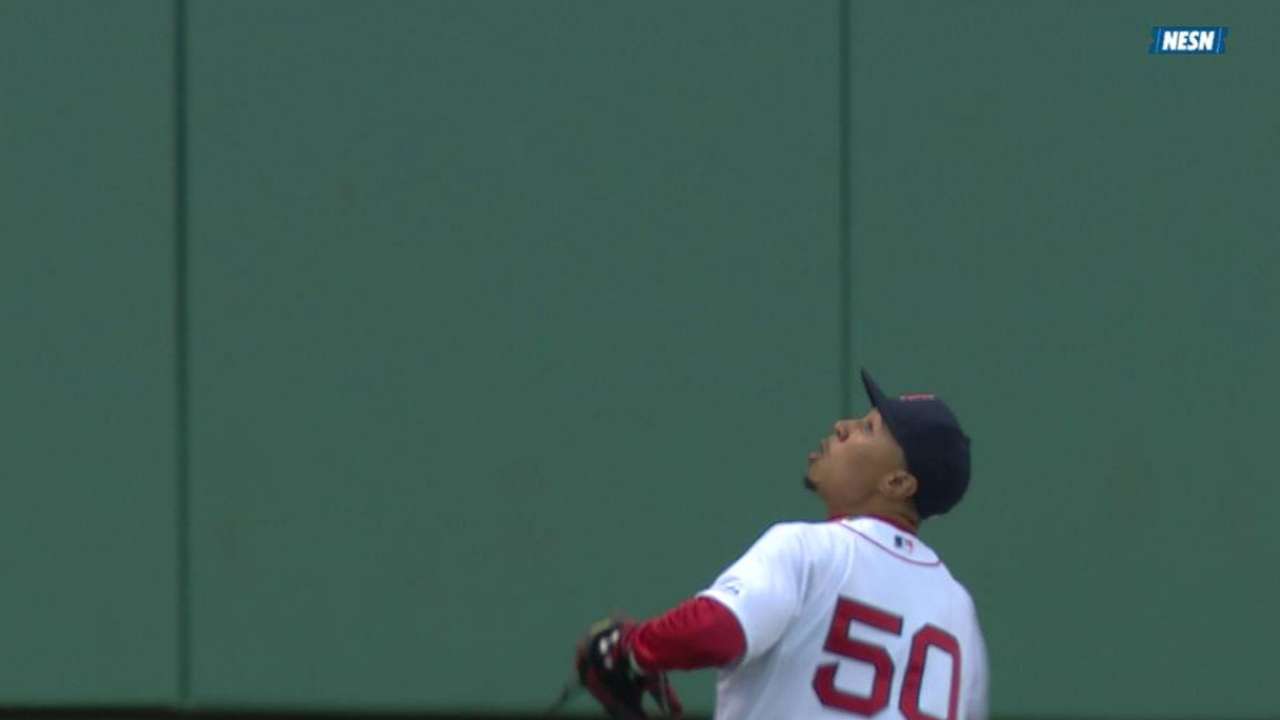 BOSTON -- Mookie Betts may be in his first season as a full-time center fielder, but he looked more than comfortable patrolling the outfield grass at Fenway Park in Wednesday's 4-1 Red Sox win over the Blue Jays.
The highlight of Betts' night came in the third inning, when he robbed hot-hitting rookie Devon Travis of a leadoff hit with an impressive leaping catch. Travis had sent the ball screaming toward the warning track at an exit speed of 101.4 mph, according to Statcast, but the talented 22-year-old Betts sprinted to secure it in his outstretched glove for an out before tumbling into the outfield wall.
"I got a pretty good jump on it," Betts said. "I don't know about my route to it, but I got a pretty good jump on it and was fortunate enough to catch it."
Statcast, a revolutionary tracking technology, tagged Betts at a top speed of 18.5 mph, which he reached in just 3.2 seconds before making the catch. His route efficiency was recorded at 90.8 percent, with 100 being a perfectly straight dash to the ball's landing spot.
For comparison, Mets center fielder Juan Lagares had a route efficiency of 96.4 percent when he made a similar eye-opening grab against the Braves on April 22.
"[Betts] just does everything," Xander Bogaerts said. "Impacts the game in different ways. Really nice catch."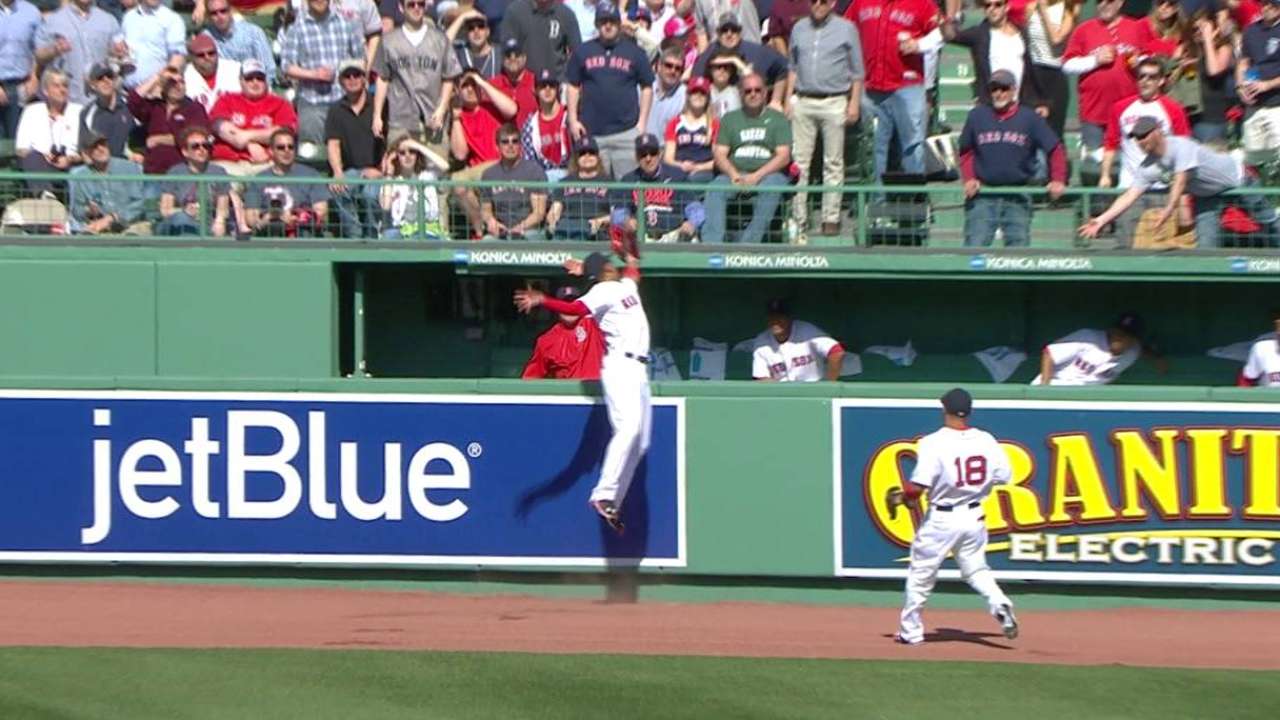 The spectacular defensive plays are slowly becoming part of the norm for Betts. Facing the Nationals during Boston's home opener, he prevented Bryce Harper from hitting a first-inning home run by jumping and reaching high over his head to rob him at the wall in right-center.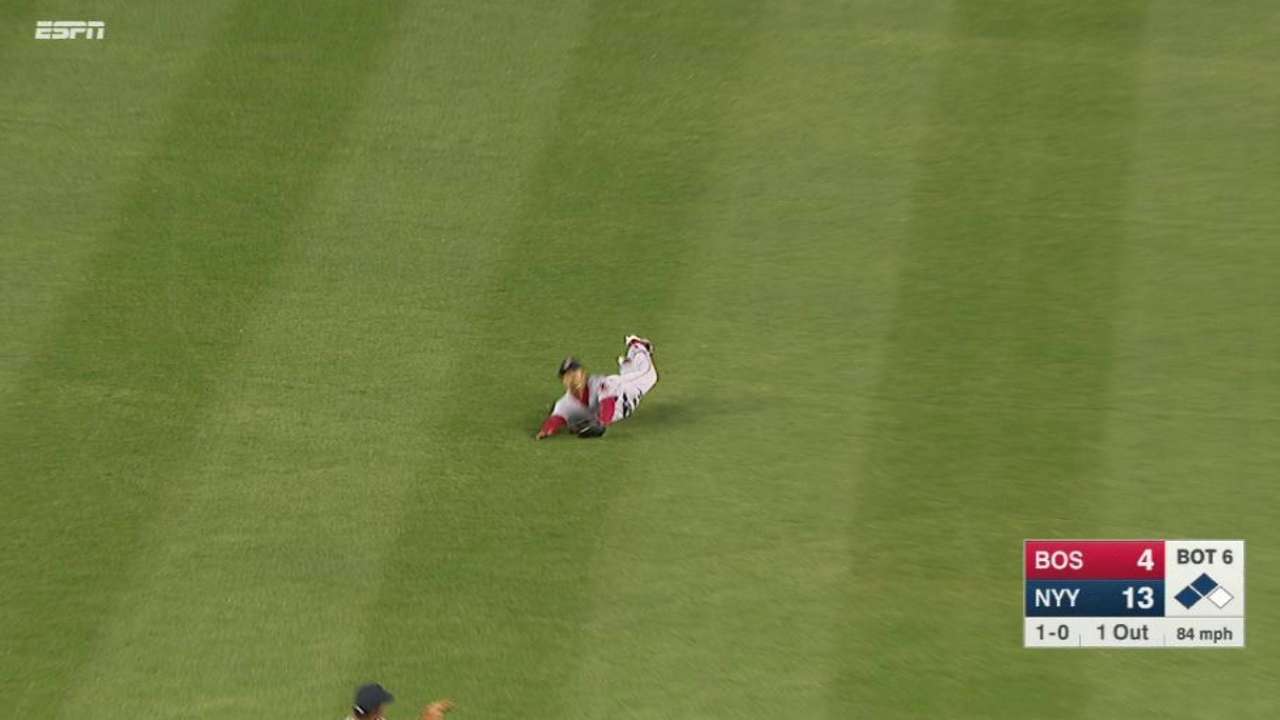 Just one day before that, Betts flashed his electric athleticism against the Yankees on a diving catch that he relayed to second for an inning-ending double play. The highlights, he said, are simply a by-product of dedication to the craft.
"I'm out there doing drill work every day," Betts said. "Credit to [first-base coach Arnie Beyeler] coming out there to work with me. The whole coaching staff, and even in the Minors, those guys working with me a lot. Just happy to be here."
Alec Shirkey is an associate reporter for MLB.com. This story was not subject to the approval of Major League Baseball or its clubs.