Series switch forces Rays to alter logistics on fly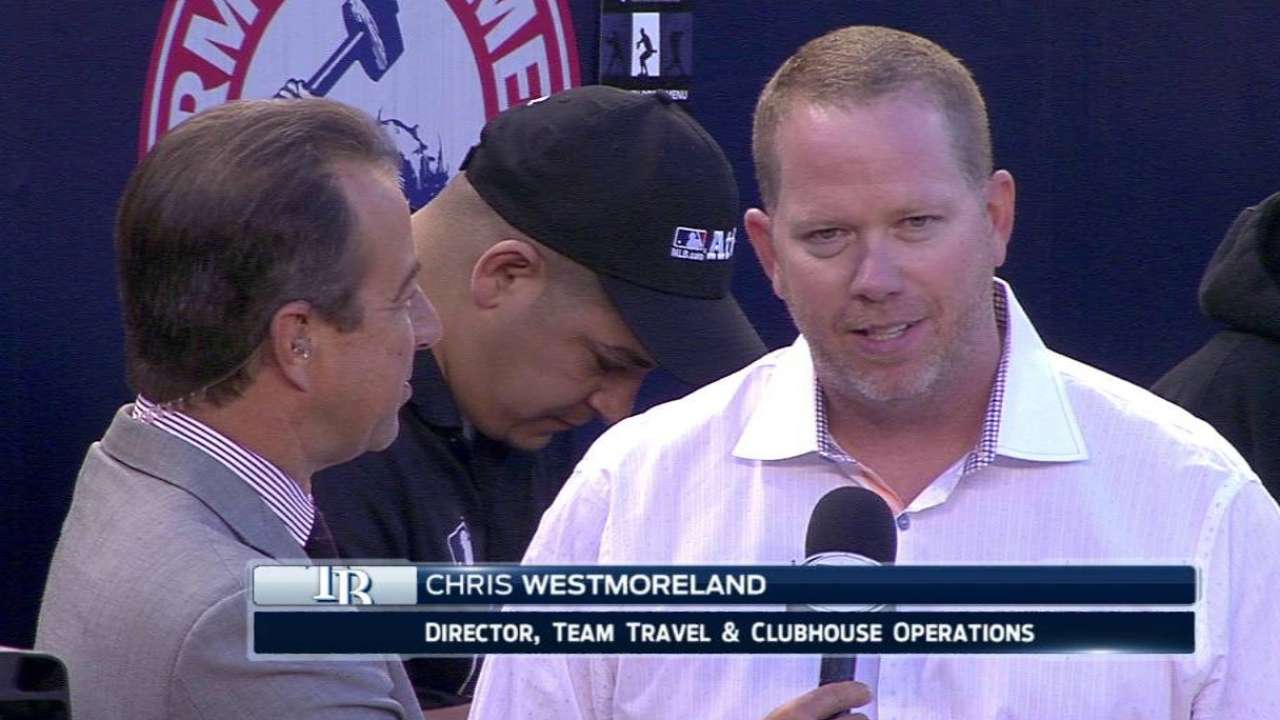 NEW YORK -- Bags resembling pockets formed under Chris Westmoreland's eyes on Wednesday morning. The Rays' traveling secretary's recent duties put them there.
"Yeah, I'm tired," Westmoreland said. "But it's part of the deal, you know."
In the background of the Rays-Orioles series being relocated to St. Petersburg, Westmoreland was the person working on contingency plans for where the series might be played before, ultimately, staging the Rays' change of plans and a return to Tropicana Field.
All of the extra work became necessary due to the current unrest in Baltimore.
When asked if the ordeal had been a nightmare, the low-key Westmoreland shrugged.
"I don't think it was a nightmare," Westmoreland said. "It was the logistical things every team deals with on a normal travel situation. Except we had to deal with it for four cities. The buses and the trucks and the airlines and trains and planes and automobiles in each of the cities. ... I would say between the airlines and the hotels, that was the most time consuming. Just trying to find availability."
Prior to a decision being made to have the series played in St. Petersburg, Westmoreland dealt with contingency plans for scenarios that could have seen the games played in St. Petersburg, Philadelphia, Washington D.C. or Baltimore.
"We were ready to go to Washington, to Philly," Westmoreland said. "At that point, Tampa Bay was up in the air. Then Baltimore, obviously."
Westmoreland had hotels, buses, and equipment trucks lined up for Washington and Philadephia with train travel to both cities.
Booking Washington hotel arrangements presented a challenge for Westmoreland.
"The Ritz-Cartlton where we're going to stay this year was sold out," Westmoreland said. "So we ended up going through Omni. Omni was going to book us there in Washington. Philly, the Westin where we usually stay [and] where we stayed in '08 as well, was ready for us."
Arranging airline plans proved to be the hardest part of the equation.
"Because finding an airplane is not like finding a taxi in New York. So yesterday, we had an aircraft available for today," Westmoreland said. "But we couldn't find a crew for the [Boeing] 737, so we ended up with an [Airbus] A320 for [Wednesday night]."
The Rays had been scheduled to remain in New York on Wednesday night anyway, so they ended up keeping their rooms to return to after the team's afternoon finale against the Yankees. Normally the team would catch its charter directly from the ballpark after the game, but since the charter could not be scheduled until later Wednesday night, they kept their rooms, which would not have been able to be be refunded anyway.
The Rays were able to cancel their Baltimore hotel arrangements.
"There's a clause in the contract that basically, something, anything we cannot control voids all of that out," Westmoreland said. "Same thing with Amtrak."
Bill Chastain is a reporter for MLB.com. This story was not subject to the approval of Major League Baseball or its clubs.