MLB.com Columnist
Bernie Pleskoff
Command -- not heat -- key to Graveman's development
A's right-handed prospect can throw up to six pitches for strikes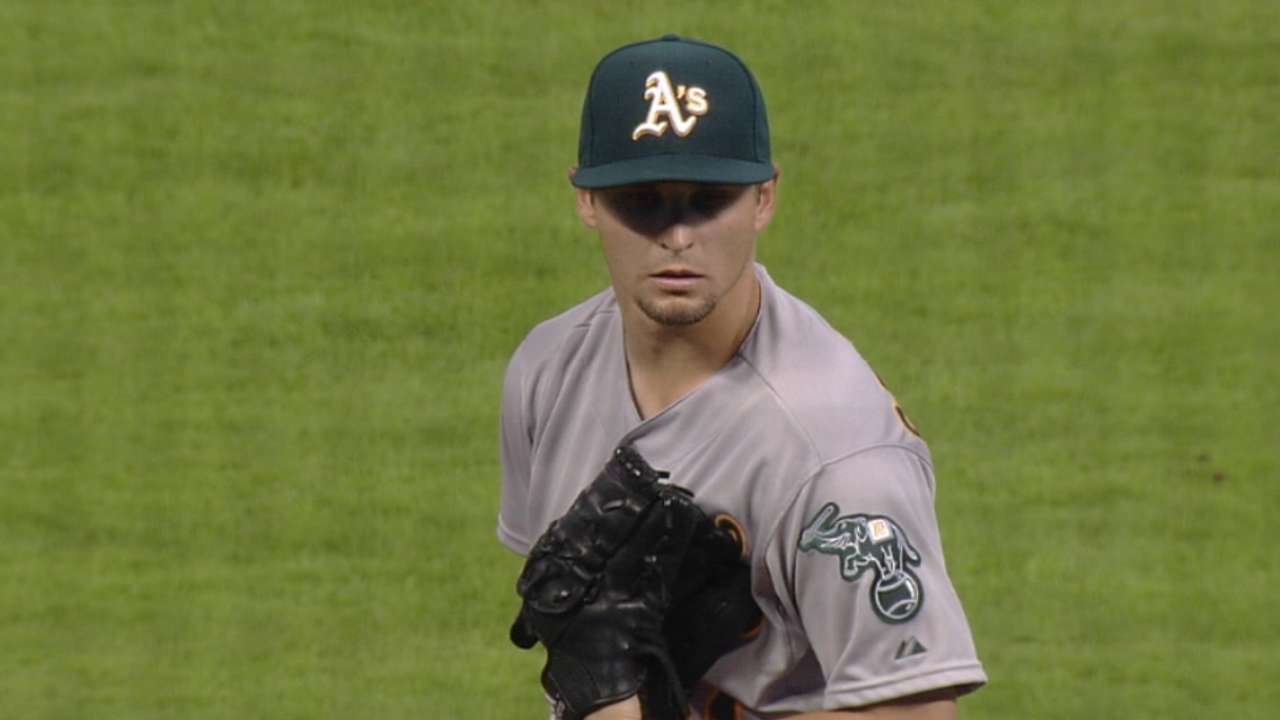 Right-handed pitcher Kendall Graveman was a major component of the trade this past offseason that sent third baseman Josh Donaldson from the Oakland Athletics to the Toronto Blue Jays. Graveman came to Oakland along with third baseman Brett Lawrie, shortstop prospect Franklin Barreto and pitching prospect Sean Nolin.
Graveman, who is the A's No.6-ranked prospect, made four starts with the A's before being optioned to Triple-A Nashville on Sunday.
Graveman pitched and played shortstop at Benjamin Russell High School in his hometown of Alexander City, Ala. He then went on to play baseball at Mississippi State University. He made 49 career appearances in a four-year career for the Bulldogs, with 29 of those coming as a starter. The right-hander was a three-time SEC Academic Honor Roll selection and helped his team reach the semifinals of the College World Series in 2013.
The Blue Jays selected Graveman in the eighth round of the 2013 First-Year Player Draft. He began his career pitching for the Blue Jays' Class A Lansing club in Midwest League and has pitched only parts of two seasons in professional baseball. -- spending all of his Minor League developmental time as a starting pitcher.
Last year, Graveman pitched at five Toronto classifications. He threw 26 1/3 innings for Lansing, 96 2/3 innings for Dunedin in the Class A Advanced Florida State League, six innings at New Hampshire in Double-A and 38 1/3 innings for Triple-A Buffalo. A September callup to the big league club saw Graveman throw 4 2/3 relief innings in five games for the Blue Jays.
Graveman does not have an overpowering fastball. In fact, he may be best classified as more of a finesse pitcher. He mixes a very complete repertoire that includes a 90-mph four-seam fastball, a 91-mph two-seam fastball, an 85-mph slider, an 84-mph changeup, an 88-mph cutter and a rarely used 76-mph curveball in his arsenal. They all work. He has good enough command and control to use any of those pitches at any point in the count. Graveman goes about his business by establishing the sinking fastball as his basic pitch, then changing the balance and eye level of the hitter.
Graveman wants hitters to make contact, using his defense to his advantage. In fact, as a Minor League pitcher he struck out a tad over six hitters per nine innings, but he walked an average of only two per nine innings. His command and control dictate his success on the mound.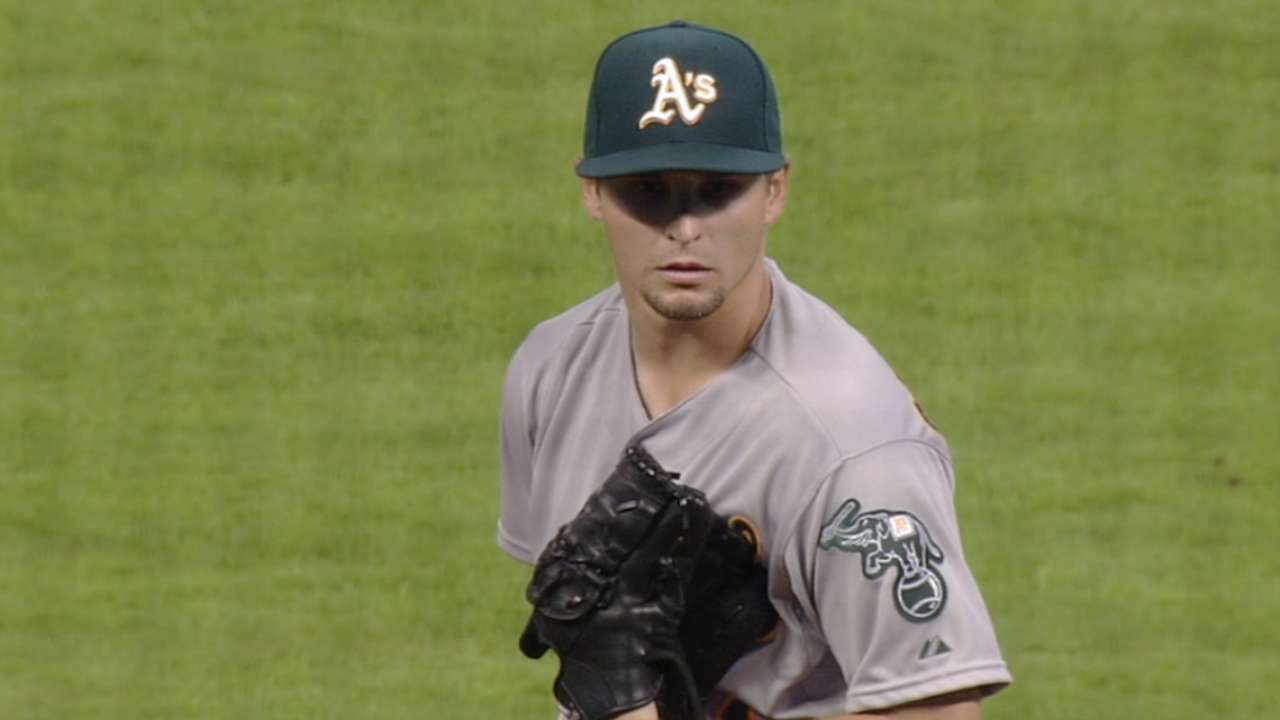 When he consistently pounds the strike zone and gets ahead in counts, Graveman can go deep into games, limiting his pitch count and using that economical approach to stay out of hitter's counts. When he gets the ball up in the zone, he can get hurt. He doesn't have enough velocity to make mistakes with high pitches.
At 6-foot-2 and 185 pounds, the 24-year old Graveman is strong and durable on the mound. His sinking fastball sets the tone for his pitch sequencing. One of the keys to his success is having hitters chase his breaking balls after he has established the fastball low in the strike zone. His newly found cutter only helps further alter the confidence of the hitter.
In an era when power arms get the most attention, Graveman is showing that pitchers with good command of a fastball with average velocity but late movement -- not to mention sound secondary pitches -- can be successful.
In Spring Training last month, Graveman started six games for Oakland and threw 25 1/3 very solid innings. He yielded a mere 12 hits and gave up only one earned run, striking out 17 and walking only seven. Opponents hit only .141 off him while he had an ERA of .036 and a WHIP of 0.75. That fantastic spring in the light Arizona air was extremely noteworthy. It earned him a role at the back end of the Athletics starting rotation to begin the season.
It remains to be seen if Graveman can return to the Athletics rotation after being sent down to gain more seasoning. He has to continue to refine all of his pitches and be able to throw them for strikes against big league hitters.
Bernie Pleskoff has served as a professional scout for the Houston Astros and Seattle Mariners. Follow @BerniePleskoff on Twitter. This story was not subject to the approval of Major League Baseball or its clubs.