Altuve, slugging trio lead Astros' prolific outburst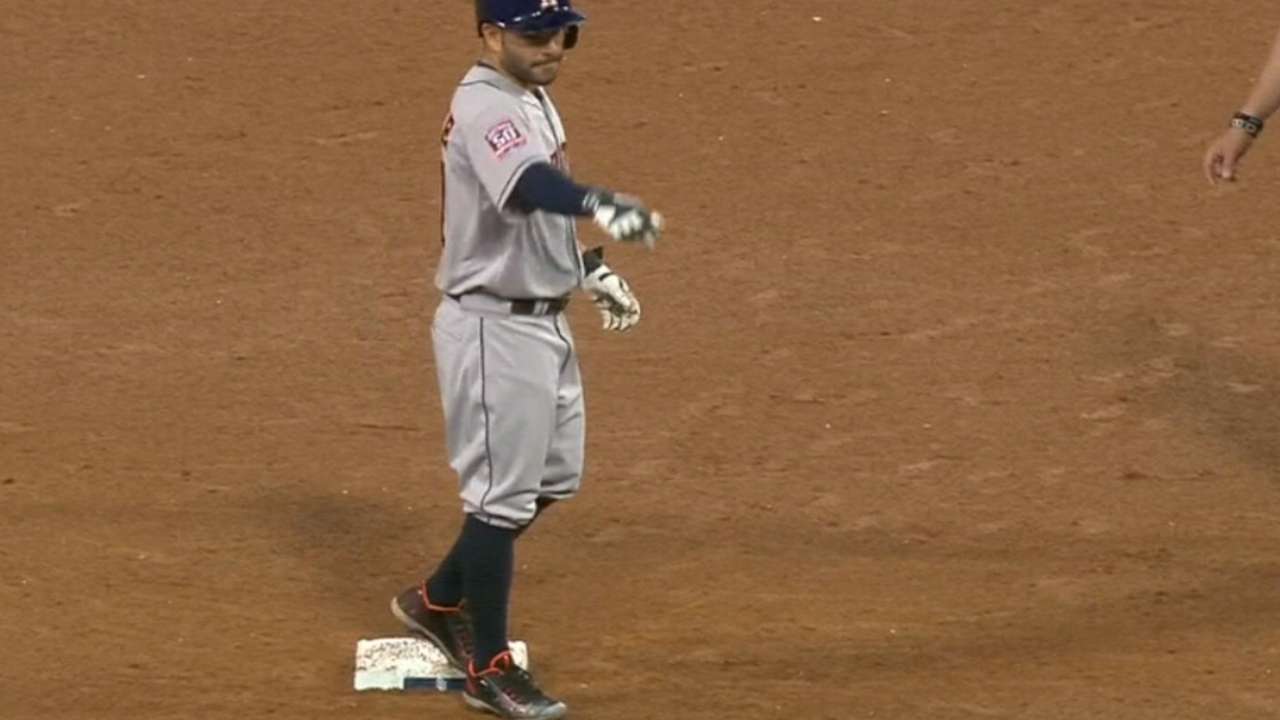 SAN DIEGO -- The three sluggers the Astros have been counting on to provide their power -- Evan Gattis, Chris Carter and George Springer -- each went deep on Tuesday night, but that was only part of the fun.
The Astros enjoyed their biggest offensive outburst of the season, bashing 17 hits, including four by reigning batting champion Jose Altuve, en route to a 14-3 rout of the Padres at Petco Park. The Astros have won five in a row and nine of 10 games to improve to 13-7.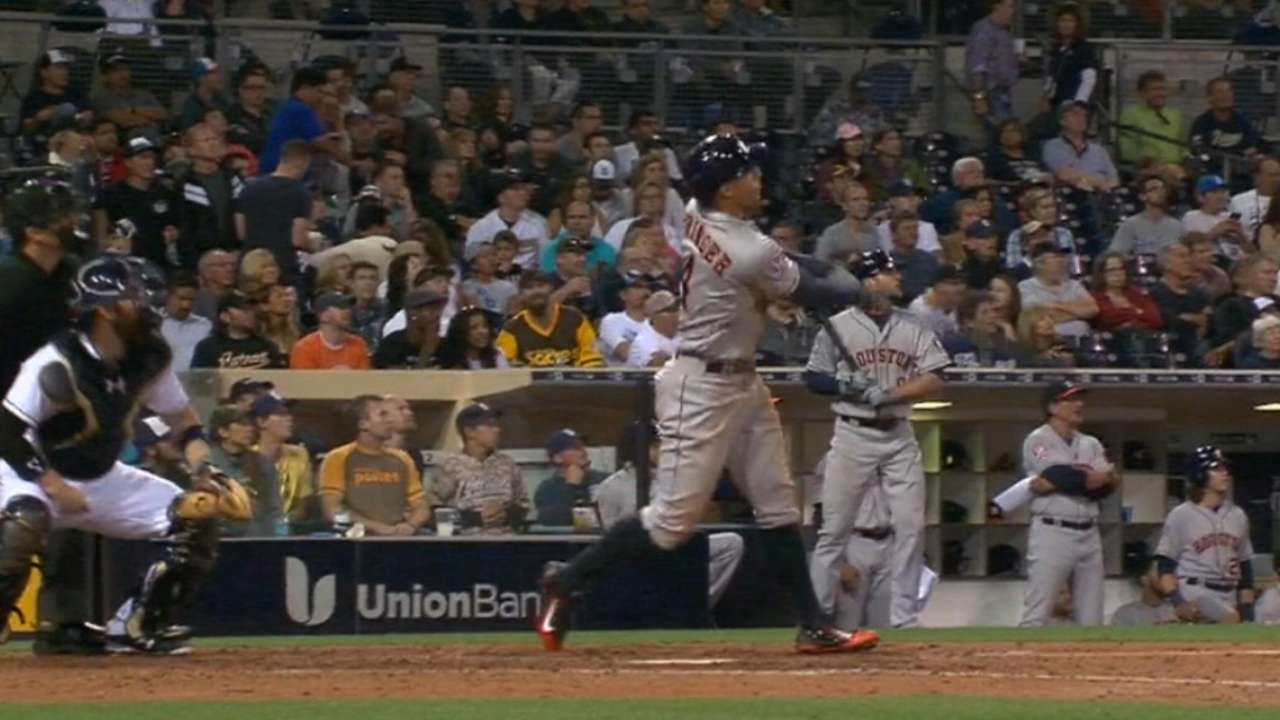 "It's fun to score runs. And when you're winning, everybody is having fun and playing loose," Carter said. "Me, Springer and Gattis have been struggling a little bit, and as a result we all clicked tonight and scored some runs."
The Astros have scored 39 runs over their last four games, hitting .308 with nine homers and 36 RBIs in that span. They scored in each of the final six innings on Tuesday, including a four-run ninth that came to an end when relief pitcher Will Harris batted and made the final out.
"We never stopped," manager A.J. Hinch said. "We put up really, really good at-bats as the game went on, and you know those nights are hard to come by. It's contagious, guys going up there and getting good pitches to hit and doing damage. ... When we extended the lead and we started feeling better, we had them really vulnerable and we took advantage of some pitches to hit."
Carter, who hit a solo homer in the sixth on an 0-2 pitch, is hitting .346 (9-for-26) during a seven-game hitting streak. Gattis, who blasted a two-run homer in the first, is hitting .385 (5-for-13) in his last four games played. Springer is hitting .273 (6-for-22) with two homers, seven RBIs and four steals in his last five games. His two-run blast in the seventh put the game out of reach. He had five RBIs on the night.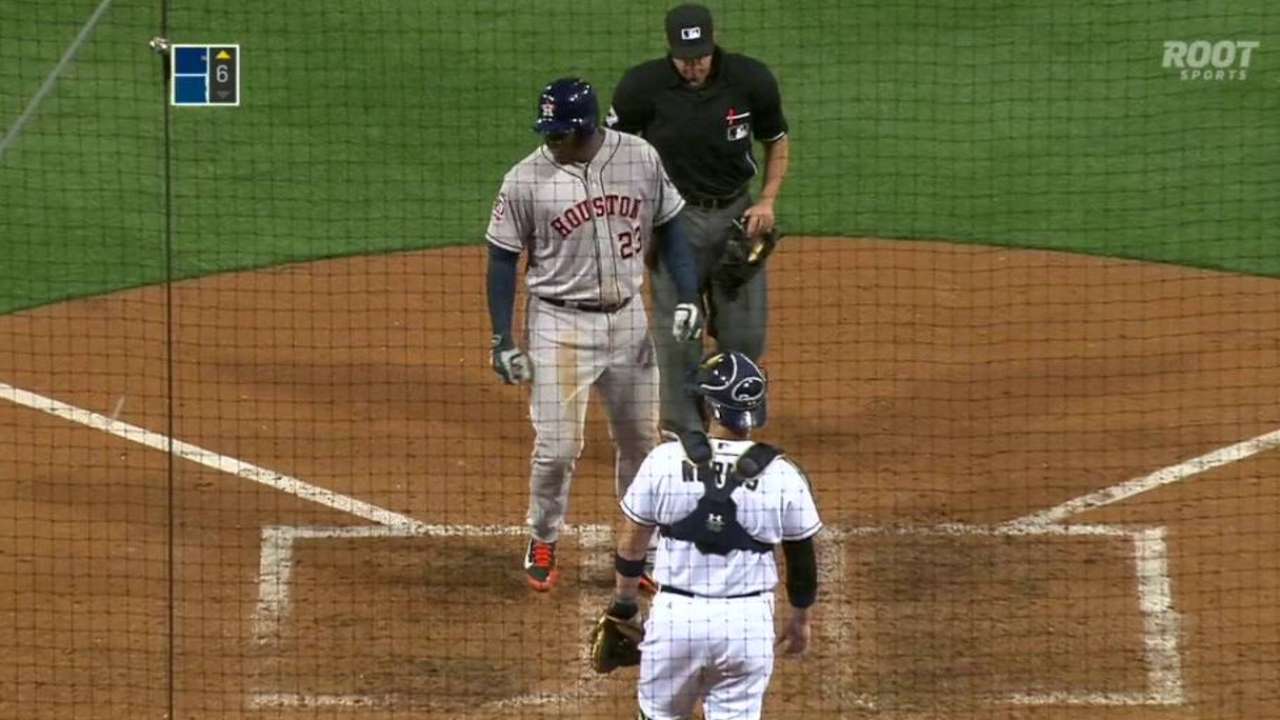 "This is the real team," said Altuve, who went 4-for-6 to raise his batting average to .348. "I've been saying the last couple of days we have a lot of power and we have guys hitting homers, doubles, guys stealing bases like Jake [Marisnick], Springer. Guys like [starting pitchers] Roberto [Hernandez], Dallas [Keuchel], [Collin] McHugh, [Scott] Feldman … everybody is doing their job. The relievers are coming in the game and keeping the game there. It seems we are working as a team, and if we keep doing this we're going be really good."
The Astros have recorded at least 10 hits in six consecutive games, which ties the sixth-longest streak in franchise history. The last time they had a run that long was a franchise-record eight-game streak of 10-plus hits in 2007.
"We've got an explosive offense when things are clicking," Hinch said. "Obviously, it gets contagious and we haven't busted out like this a lot this season, but the threat's always there. We're a difficult team to pitch to because we can have some empty at-bats and take some pitches and do damage on them the very next time up. So we're hard to predict, but it's fun when we're shaking hands as often we did."
Brian McTaggart is a reporter for MLB.com and writes an MLBlog, Tag's Lines. Follow @brianmctaggart on Twitter. This story was not subject to the approval of Major League Baseball or its clubs.