MLB.com Columnist
Phil Rogers
Caminero thriving under Searage's tutelage
Righty the latest Bucs hurler to improve with help from pitching coach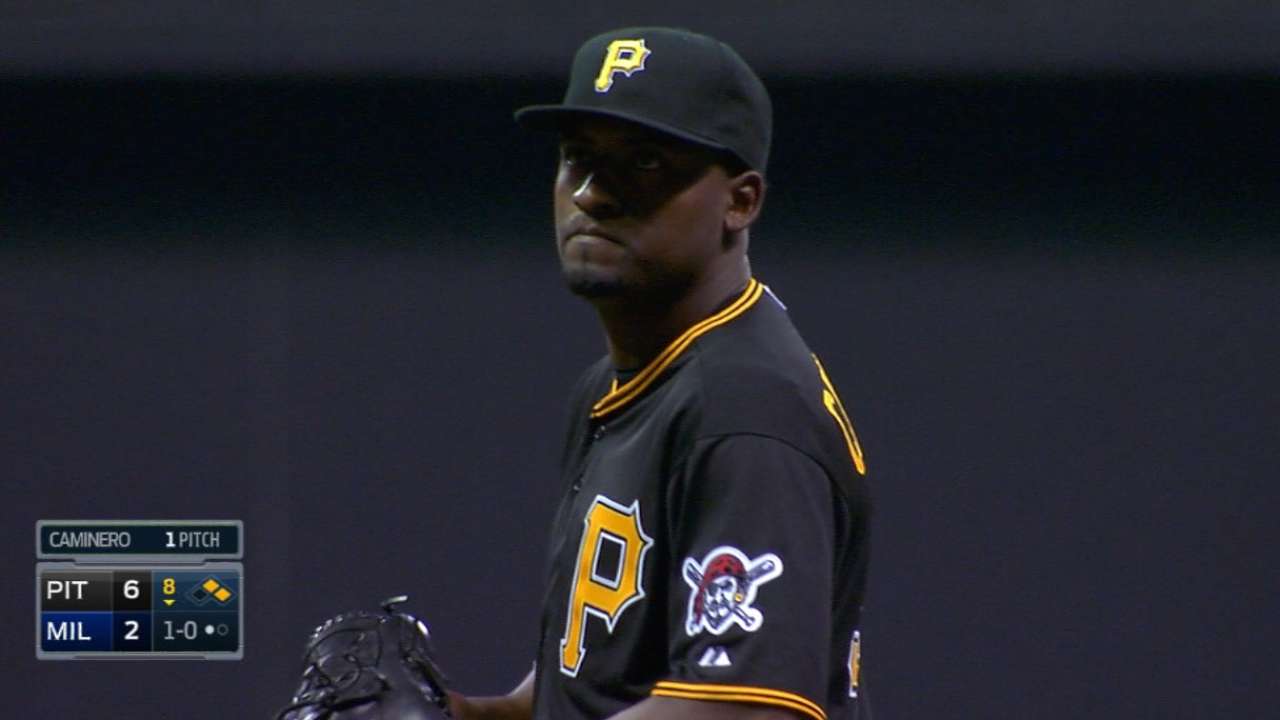 CHICAGO -- Arquimedes Caminero was never the second coming of Rick "Wild Thing" Vaughn, the Charlie Sheen character in the movie "Major League." But while he wasn't spectacularly wild, his trouble consistently throwing strikes left him unable to ride his 100-mph heater to success.
Then Caminero caught a break. The Marlins designated him for assignment to make room for Ichiro Suzuki on the 40-man roster, and the Pirates pounced on him.
That meant Caminero would get his chance to benefit from working with pitching coach Ray Searage and his trusted lieutenants, just as the likes of A.J. Burnett, Francisco Liriano, Jason Grilli, Edinson Volquez, Mark Melancon and Joel Hanrahan had done before him.
No team in the Major Leagues has turned around more pitchers' careers the last few years than Pittsburgh. The work of Searage, assistant to the general manager Jim Benedict, pitching coordinator Scott Mitchell and bullpen coach Euclides Rojas has allowed the Bucs to have a consistently strong pitching staff without spending heavily on free agents or trading for pitchers in their prime.
"We identify guys we believe can be in bounce-back situations, whose present history might be a little sketchy," Pirates manager Clint Hurdle said. "You're not going to get 'em when they're good. When they're on, you don't get 'em. You've got to profile guys."
Caminero, 27, had been signed by the Marlins from the Dominican Republic in 2005. He had developed slowly, a step at a time, but had been unable to get past a ratio of 4.5 walks per nine innings in his nine Minor League seasons. Caminero was summoned to the Majors by Miami in 2013 and '14, but he never nailed down a lasting spot.
Caminero is establishing himself with Pittsburgh, thanks to a new-found ability to locate his fastball to set up a power slider and a deadly split-finger pitch. Hurdle could hardly believe his eyes in Spring Training, when Caminero piled up 21 strikeouts against only one walk in 11 outings. He's been almost as good during the season, putting together a 0.93 WHIP in 10 appearances, with 11 strikeouts and three walks in 9 2/3 innings.
"There were a lot of things to like right away," Hurdle said. "But you look at his history, and there have been some challenges with his command. We said we're going to push him out there, give him the ball and see where he goes. He worked diligently with Ray, with Jim Benedict, with Eucky -- our pitching coaches. From the first out in Spring Training, he was able to repeat his delivery and pound the zone, obviously with some velocity. ... He just continued to get our attention. I think once it got to the point he had 20 punchouts and one walk, you push him to the next level to see where it's going to go. We felt we needed to give him this opportunity."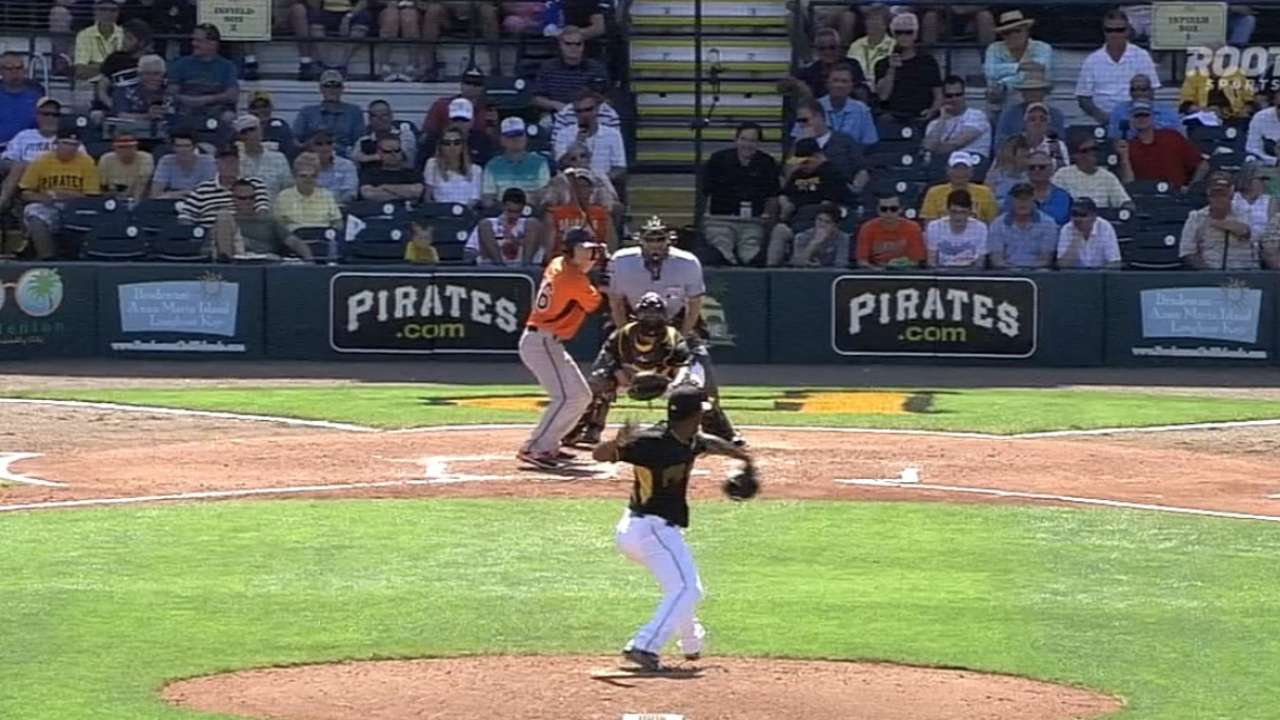 Searage says his approach with Caminero followed the model that had been successful with other projects. He rebuilt his confidence while correcting flaws he had identified in his mechanics through video study with Benedict, Mitchell and Rojas.
"Number one, you have to have a kid believe in himself and his stuff," Searage said before the Pirates' 6-2 loss to the Cubs on Tuesday night at Wrigley Field. "It's not like you're trying to sell him a car or anything. He possesses three quality pitches that are above average. You just keep building his confidence. He made one little tweak with his front side where he used to dive toward home plate and now he's more level or [at] a little bit of a tilt. It freed up his arm and it was able for him to see the strike zone a lot better and command all his pitches because it's in front of him."
Sounds simple, right? That's the beauty of Searage's approach. He understands biokenetics and the mechanics of pitching but learned firsthand the danger of making things complicated during his own career, when he spent seven seasons as a Major League reliever.
Promoted from a Minor League coaching job to replace Joe Kerrigan as pitching coach in 2010, when John Russell was the Bucs' manager, Searage has become a treasured asset for Hurdle.
"Ray has an ability to make you comfortable, like your next-door neighbor," Hurdle said. "He's the old car mechanic down the street. You take your car to him and it's, 'Hey, can you fix it?' 'Sure, let's just take it one day at a time. I'll get to it.'"
Searage makes improvement seem possible even for pitchers who have become discouraged.
"It's just one thing at a time," Hurdle said. "He usually doesn't throw a whole lot at them. It's, 'Let's work on this. All right, we've done that, let's nail that down and maybe we can add this.' His presentation is honest and transparent, and I think they understand there's no agenda in it for him. Other than he's trying to find a way to help them be the best they can be."
Searage says he modeled his coaching style on the late Don Rowe.
"[He] was the guy who really helped me out," Searage said. "He was able to help me get a sound delivery, so I could command all my pitches. He kept it simple, and I draw on him, his kind of teaching abilities. It wasn't like you must, must, must. It was relax, let it happen, try it and see where you go from there. It just happens that I started to get a good feel for it and strikes started going up and balls were minimizing. That's what I try to do with these guys. Have them believe in themselves and their ability and try not to make too many changes."
Liriano might be Searage's most important piece of work. He had been wildly inconsistent in his first seven seasons, pitching like a front-of-the-rotation starter at times and clinging to his rotation spot at times. Liriano had gone 6-12 with a 5.34 ERA in 2012, before the Pirates signed him as a bargain free agent.
Liriano has gone 24-19 with a 3.13 ERA for Pittsburgh in 59 starts, including one on Opening Day this season.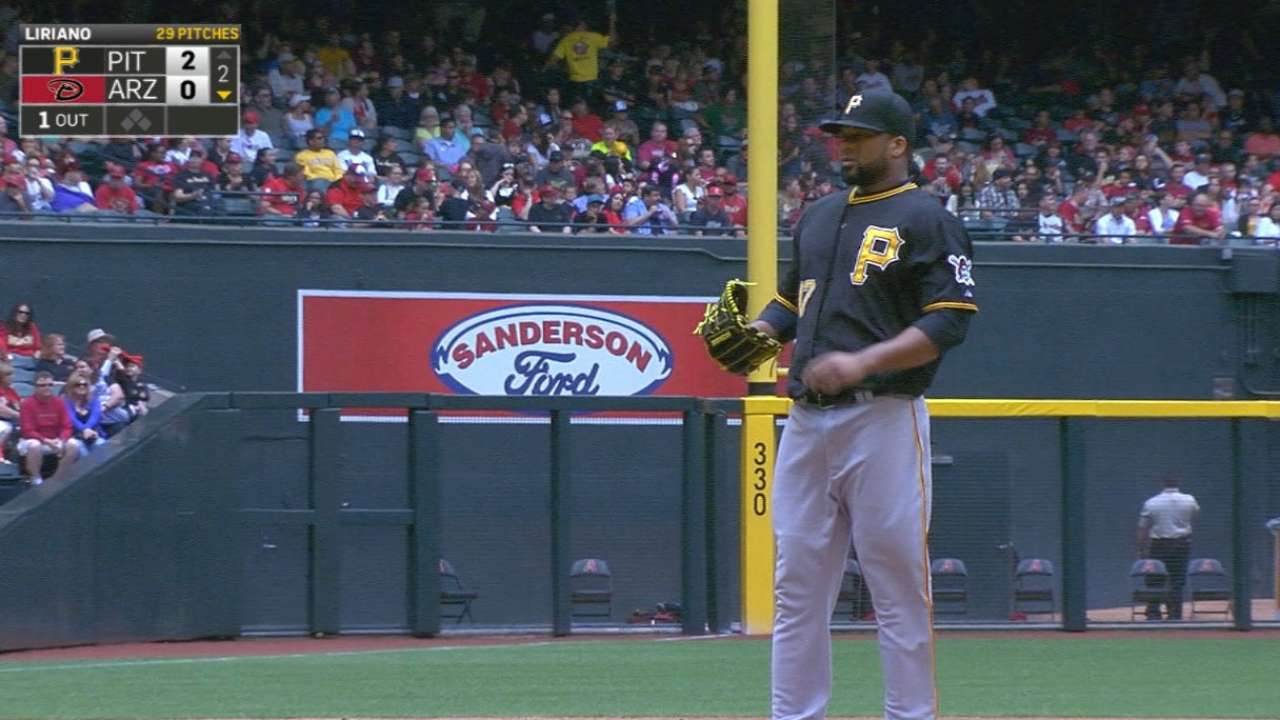 "With Franky, it was two things -- making sure he got his turn and slowing him down," Searage said. "He has a little tilt in his turn, what we call his right hip pocket. He's got to get that facing toward home plate and continue the tempo down the slope at an even tempo, so when the foot does strike, that's when he can accelerate. What Franky did, he would speed up without getting the turn, and that's why the slot would float and his feel for the pitches would be sacrificed."
Another Bucs pitching project, left-hander Clayton Richard, remains in extended spring camp, working toward a comeback that could get him into the rotation at some point down the road.
"We need depth," Searage said. "You never have enough pitching. We've learned that in past years. We've been fortunate to have guys come in and fill it out.''
Fortunate? That's the modest way to put it.
Searage has done wonders with the pitchers he's been given to coach, and based on Caminero's early work, he just keeps going.
Phil Rogers is a columnist for MLB.com. This story was not subject to the approval of Major League Baseball or its clubs.