MLB.com Columnist
Mike Bauman
Going to Realmuto shows Marlins' desire to win now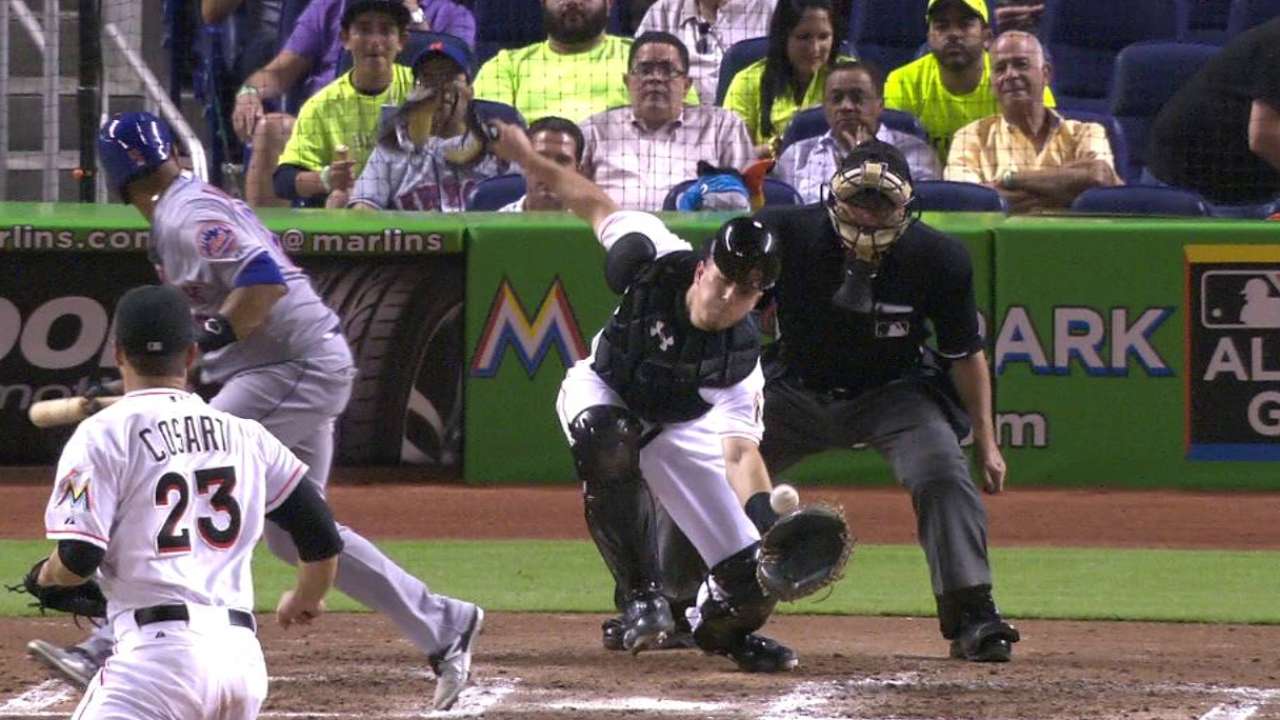 The commitment of the Miami Marlins to winning requires no further evidence.
But further reinforcement for that notion arrived, anyway, when the Marlins designated catcher Jarrod Saltalamacchia for assignment, even though they still owe him roughly $14.2 million.
Saltalamacchia was given a three-year, $21 million free-agent deal by Miami after the 2013 season. He has been, to put it mildly, a disappointment; offensively, defensively, overall.
But the good news for the Marlins is that their own system has produced a catcher who represents what could be a distinct upgrade over Saltalamacchia. That would be 24-year-old J.T. Realmuto, who has stepped into Miami's lineup and demonstrated the ability to succeed at the highest level.
In 2014, Saltalamacchia had a slash line of .220/.320/.362. He also committed 15 errors. Over the winter, the Marlins added to their impressive young talent by fortifying their lineup with impressive additions at third base, second base and first base. "They still need a catcher," a Major League scout said at the time.
That still wasn't Saltalamacchia this spring. He was Miami's Opening Day catcher, but he had only two hits in his first 29 at-bats this season, with 12 strikeouts. Saltalamacchia also committed two errors.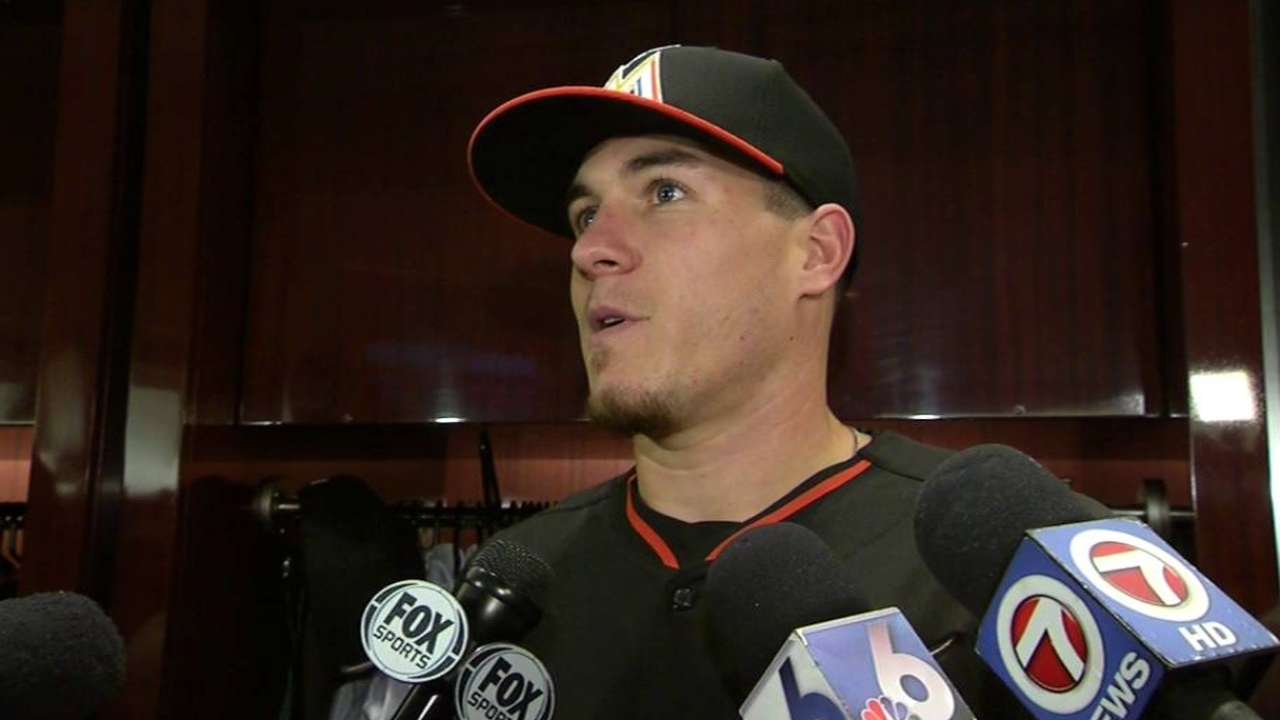 Miami turned to Realmuto, calling him up on April 13 after catcher Jeff Mathis suffered a fractured right hand. The Marlins, who had selected Realmuto in the third round of the 2010 First-Year Player Draft, regarded him as their catcher of the future. He had played in 11 Major League games in 2014. For Miami, Realmuto was a question of when, not if.
Marlins president of baseball operations Michael Hill described the move from Saltalamacchia to Realmuto by saying: "Really, we took a step back and looked at the emergence of J.T. There is no secret he's been groomed as our catcher of the future. We sent him out of Spring Training early, just so he could get regular at-bats for his eventual ascension to the big leagues."
Realmuto has already impressed Miami's staff with his defensive ability and his handling of the pitching staff.
"This way, I think, going forward was the best decision for our ballclub," manager Mike Redmond said. "J.T. has done a great job. He handles our pitching staff well. It's best for us going forward."
Realmuto has also made an impression with his athleticism.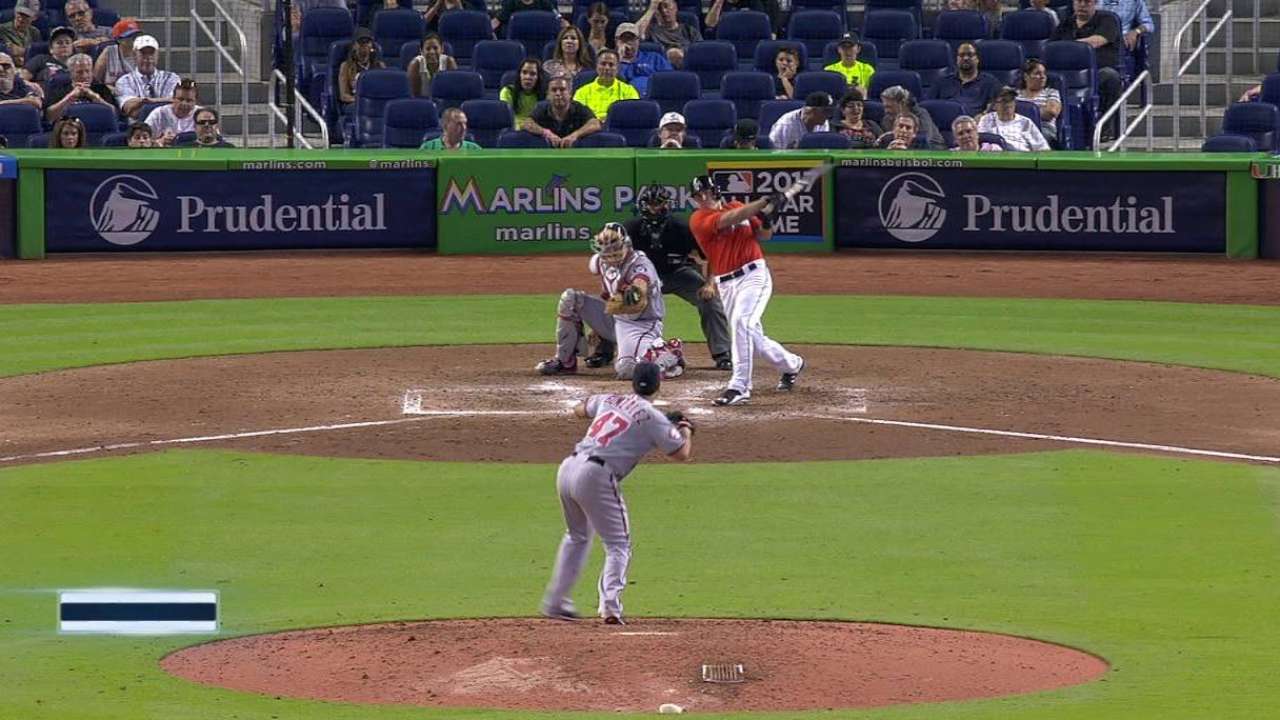 "J.T. looks like a catcher," Redmond said with a smile, "except for the fact that he can really run."
Saltalamacchia, who turns 30 in May, obviously still has time to revive his career. He played 119 games at catcher for the 2013 Boston Red Sox, who won the World Series, thus making him a candidate for a successful free agency.
The Marlins have until next Thursday to either trade or release Saltalamacchia. The Kansas City Star reported that the Royals might have interest in Saltalamacchia as a backup to All-Star catcher Salvador Perez.
Any club that is interested in Saltalamacchia would be more likely to propose a deal with the Marlins rather than claiming him on waivers and taking on his existing contract. In almost any conceivable deal, Miami would probably have to cover a large share of that contract.
This situation represents another example of this club's desire to win now, to win later, to win, period. The Marlins acted decisively at a position where they needed an upgrade. Their organizational depth of talent gave them a ready-made catching upgrade, a situation that most other organizations could only envy.
The Marlins have faith in the ability of Realmuto to handle the catching and the responsibility. Beyond that, the club's commitment to winning made this move not only possible, but completely plausible.
Mike Bauman is a national columnist for MLB.com. This story was not subject to the approval of Major League Baseball or its clubs.