MLB.com Columnist
Lyle Spencer
Posey the difference in clash of lefty aces
Bumgarner battles all-righty lineup as catcher provides offense vs. Kershaw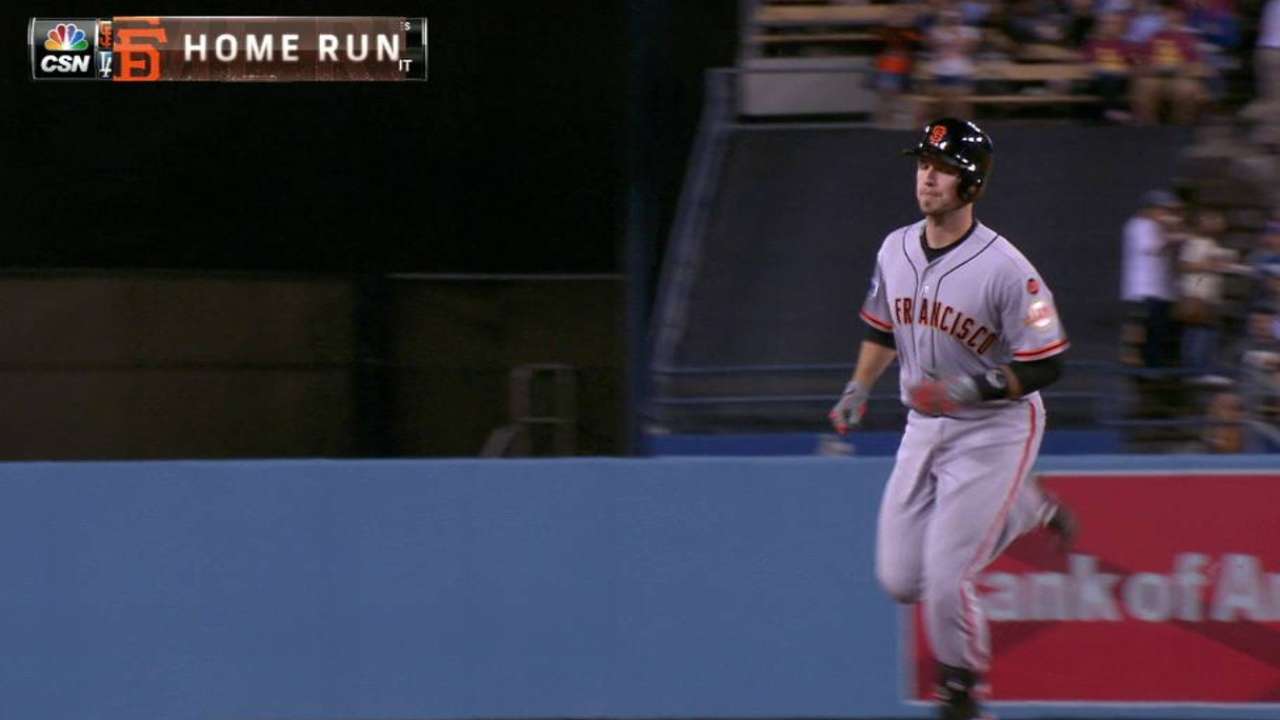 LOS ANGELES -- The powers of reigning World Series kingpin Madison Bumgarner have become borderline mystical. For the second time inside a week, he literally made two of the National League's foremost sluggers this season disappear Tuesday night in his rematch with Clayton Kershaw.
Electing to go with an all-righty attack against the Giants' formidable lefty, Dodgers manager Don Mattingly had Adrian Gonzalez and Joc Pederson on the bench. Gonzalez leads the NL in slugging percentage and Pederson is 10th.
"I was wondering when I was going to face a lefty," Bumgarner said in the afterglow of a Buster Posey-powered 2-1 triumph at the expense of Kershaw, ending the Dodgers' eight-game winning streak at Dodger Stadium.
Only Kershaw swung from the left side against Bumgarner, striking out twice and hitting a grounder resulting in a throwing error by shortstop Joaquin Arias, without further damage.
Bottom line, the Giants prevailed in this showdown of dominant southpaws in large part because Bumgarner had Posey on his side and Kershaw did not.
San Francisco is diminished offensively with Hunter Pence recovering from a broken forearm, but the Giants still have Posey in the heart of the lineup. The 2012 NL Most Valuable Player Award winner was the difference against Kershaw, the 2014 NL MVP Award winner and NL Cy Young Award winner.
Two Kershaw fastballs, in the first and fourth innings, reached Posey's hitting zone and had Bumgarner in command. Posey stroked a first-pitch heater to right field for an RBI single in the first following Angel Pagan's two-out double, and leading off the fourth, he crushed another first-pitch fastball over the wall in left-center.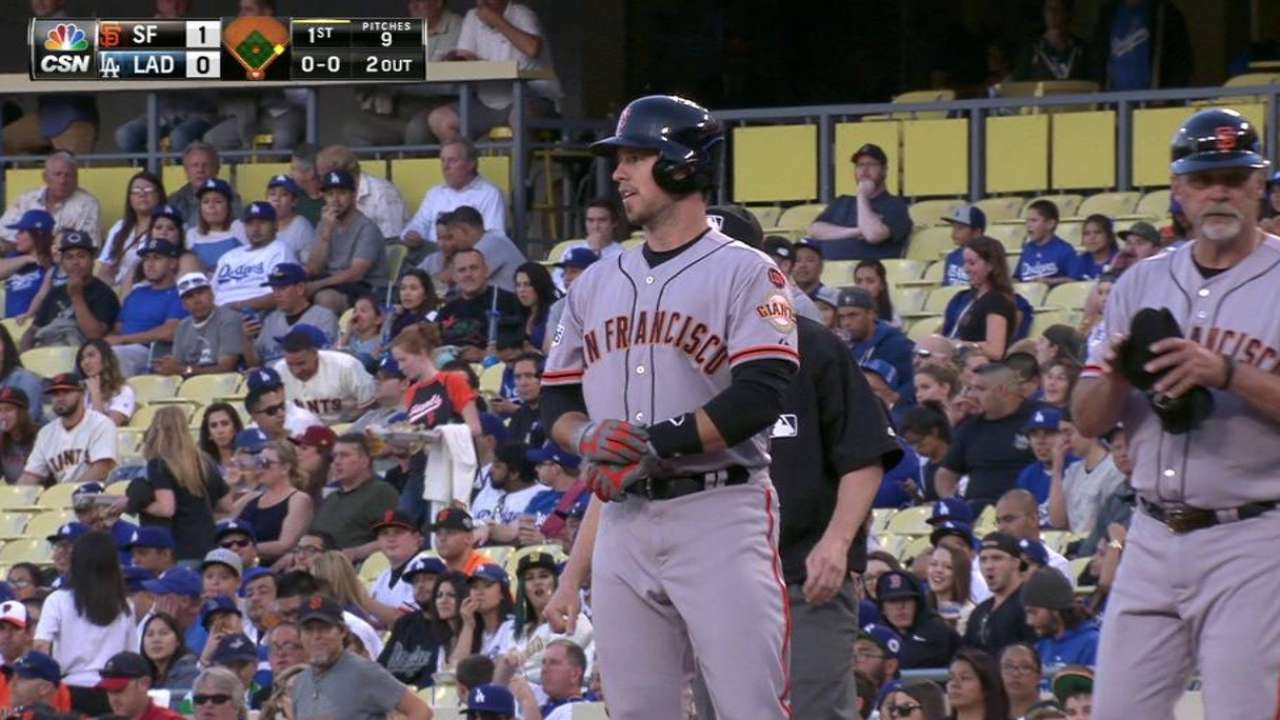 Posey's third homer of the season proved decisive when the Dodgers manufactured a run in the fourth with Pagan unable to track Kiké Hernandez's double to the track in center.
"I love having him back there [behind the plate]," Bumgarner said of Posey, the pair having produced gems together since their 2010 rookie seasons ended in a World Series triumph in Texas. "Everybody knows he's one of the best catchers and hitters in the game."
A three-time World Series champion at 28, Posey has secured a treasure trove of October jewelry these Dodgers can only dream about at this juncture. Since it's not Buster's nature to flaunt his good fortune, he'll probably never show off those rings outside a family gathering.
"His mental toughness, along with great talent, that's what makes Buster who he is," Giants manager Bruce Bochy said. "He's a very humble guy who doesn't show a lot of emotion. But he's as competitive as anybody I've had."
Other everyday stars in the baseball galaxy -- Mike Trout, Giancarlo Stanton, Andrew McCutchen -- are more spectacular, but Posey, in terms of total value, is on a level of his own. He has been San Francisco's heart, soul and conscience during this five-year run of excellence.
Before Tuesday, however, Kershaw had Posey under control: batting average of .177, one homer, 14 strikeouts in 62 at-bats. Buster is up to .200 now against Kershaw thanks to an aggressive mindset.
"They were pitches I thought I could do something with, both those times," Posey said. "You're just trying to be ready to hit -- because you might not get too many mistakes to hit. His deception is what sets him apart."
Posey tore it up in the second half last season, hitting .354 with 12 homers and 43 RBIs after the All-Star break. He became a master of the ambush, finishing the season with a .492 average and .885 slugging mark on first pitches put in play.
Aware that his first-pitch numbers last season were high, but not that high, Posey grinned when they were presented to him.
"I'd like to hit that good on every pitch," he said.
While Posey was driving the Giants, Gonzalez and Pederson were spectators, as they had been in San Francisco last Wednesday when Bumgarner and Kershaw dueled to a draw that eventually went to the Giants.
Gonzalez came into the day hitting .382 and leading the NL in homers (seven), RBIs (18) and slugging (.776). Pederson, who checked in as a pinch-runner in the seventh, was slugging .556 with a .458 on-base percentage, third in the league.
"They have some tough right-handed bats in that lineup," Bochy said. "It wasn't easy for Bum."
With Bumgarner departing after a season-high eight innings, Kershaw going a season-best seven, Gonzalez got the call to pinch-hit with two down in the ninth. The Dodgers slugger swung from the heels but went down on strikes against closer Santiago Casilla, giving the Giants their fourth win in five Bumgarner-Kershaw contests of will and skill.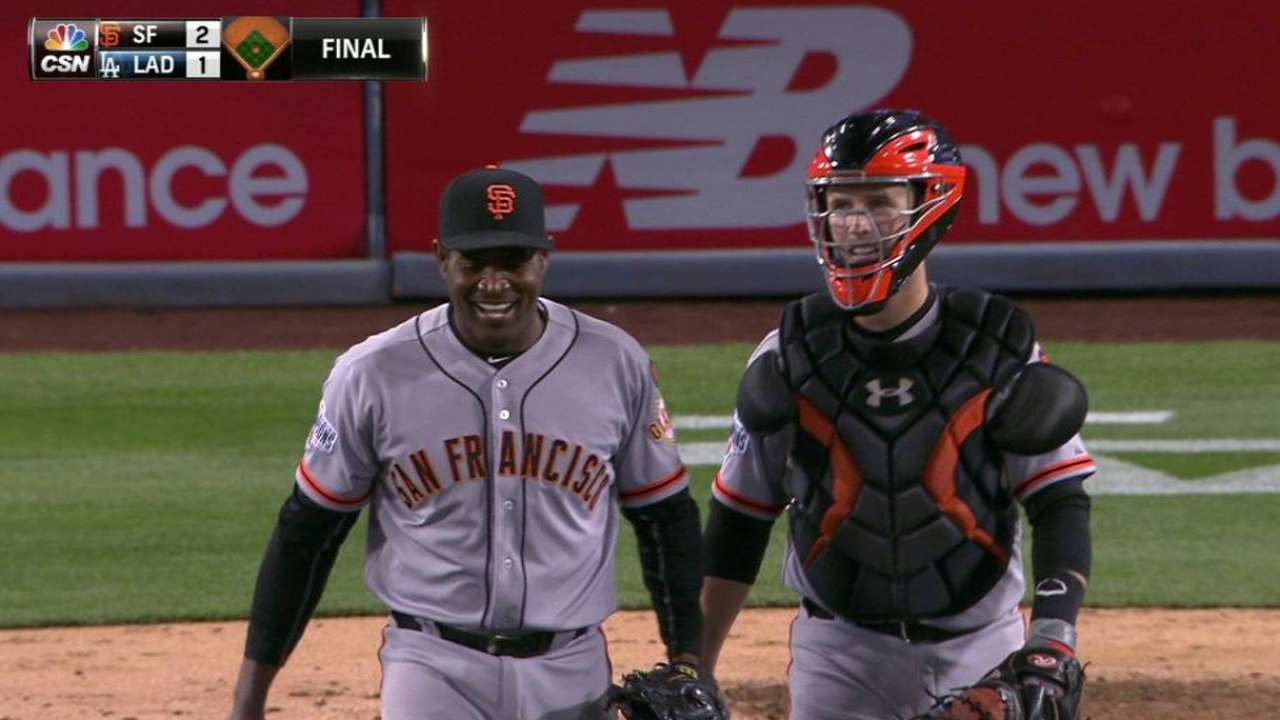 "I love games like this, two great pitchers going at it," Bochy said. "I've always felt close, well-pitched games were more exciting than slugfests."
Bochy didn't need to add that having Buster Posey on his side enhances his pleasure immensely.
Lyle Spencer is a national reporter and columnist for MLB.com. Follow him on Twitter @LyleMSpencer. This story was not subject to the approval of Major League Baseball or its clubs.