MLB.com Columnist
Fred Zinkie
@Fantasy411 fields fans' questions on Twitter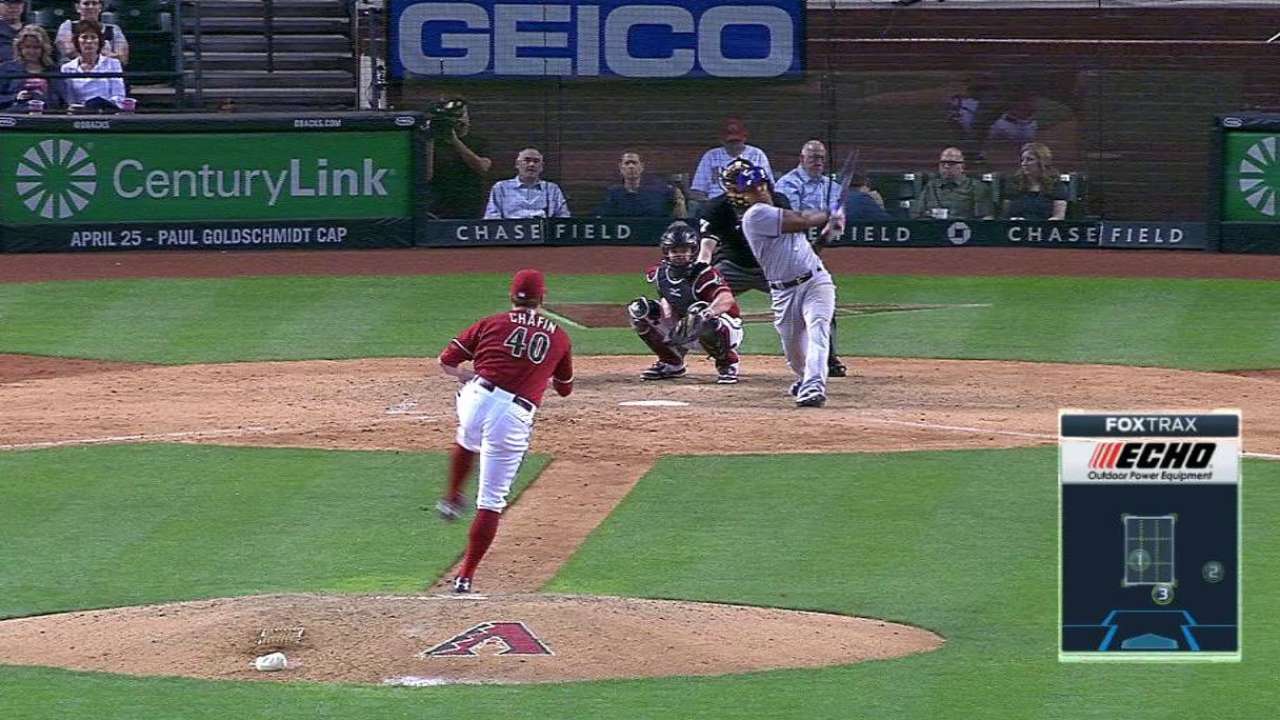 Fred Zinkie: Stick with Beltre.
Question: @lauriekeiko: Time to cut Victor Martinez? What can I get in a trade? Need closers.
Zinkie: Not time to cut. Can be traded for a first- or second-tier closer.
Question: @ryanpurdon: Who's the better speculative closer add at this point, Tony Watson or A.J. Ramos?
Zinkie: Possibly Bryan Morris over both.
Question: @tripppppp: Need to drop 1. Dellin Betances, Brad Boxberger, Francisco Rodriguez or Hector Rondon?
Zinkie: Boxberger, as Jake McGee should return soon.
Question: @jtristanl: Thoughts on Alex Guerrero?
Zinkie: Should be owned in most leagues. Plenty of potential if he receives enough playing time.
Question: @BrittonGray: Should I drop Danny Santana and pick up Adeiny Hechavarria (or another shortstop)?
Zinkie: Give Santana one more week.
Question: @Savannahseniors: Pick a side in a keeper: Troy Tulowitzki /David Ortiz /Evan Gattis vs. Mookie Betts /Rusney Castillo/Freddie Freeman?
Zinkie: Tulo side if competing for 2015.
Question: @yeung_eugene: 2B/SS that you would add to fill in for Jose Reyes?
Zinkie: Depends on league size. Possibly Marcus Semien.
Question: @_tylerdunn: Trade Nick Hundley for Steve Cishek? NL-only league (I have A.J. Ramos).
Zinkie: Could lose the role, but worth the price in that deal.
Question: @samphelps21: Is Jimmy Paredes for real? Or just a hot bat?
Zinkie: He's a hot bat, and he is worth adding to find out if he's for real.
Question: @einstein2u: What would be a good target SP for a player like George Springer or Billy Hamilton? SP2? Ace? SP3?
Zinkie: Low-end ace or high-end No. 2.
Question: @cecil_meyers: Hold onto Alex Guerrero or drop for Brett Lawrie?
Zinkie: Hold Guerrero.
Question: @stanhammer1978: Drop Alcides Escobar for Zack Cozart or another SS?
Zinkie: For now, stick with Escobar.
Question: @C_hermz: Is Ian Kennedy worth holding?
Zinkie: Yes, in 12-team. Barely in 10-team.
Question: @GodSportsFamily: @lauriekeiko What about Devin Mesoraco? Drop?
Zinkie: Hold if possible.
Question: @CeeAych30: Was offered Adam Jones /Edinson Volquez for Jose Abreu /Chris Sale. fair?
Zinkie: Stick with Abreu/Sale.
Question: @TK_Smith3: What should I do with Andrew McCutchen? Time to be worried about his knee?
Zinkie: A little. Explore the trade market.
Question: @KingJared19: Should I be shopping Ryan Braun? What could I get for him? Need pitchers.
Zinkie: Shop for a low-end ace.
Question: @CDub1519: Would you hold on to Devon Travis or sell high?
Zinkie: Sell high. Explore the trade market.
Question: @lilpapito: Would you trade Robinson Cano for Hanley Ramirez?
Zinkie: Yes.
Question: @dmanzuleta: Carlos Gonzalez and Chris Davis for Nelson Cruz?
Zinkie: Would prefer CarGo side.
Question: @legsanity: Is Jeurys Familia the guy for good?
Zinkie: "For good" is a long time for closers. But yes, should be for a while.
Question: @Ynal_Alouri: Should I explore a trade for Shane Greene?
Zinkie: Yes. Consider waiting for him to get back on track (hopefully) this week.
Question: @wfromans: Are you sold Joey Votto is going to have a great year, or sell high?
Zinkie: He could do well, but explore the option of selling high.
Fred Zinkie is a senior fantasy baseball writer for MLB.com. Follow him on Twitter at @FredZinkieMLB. This story was not subject to the approval of Major League Baseball or its clubs.