Gray rediscovers right stuff to remain unbeaten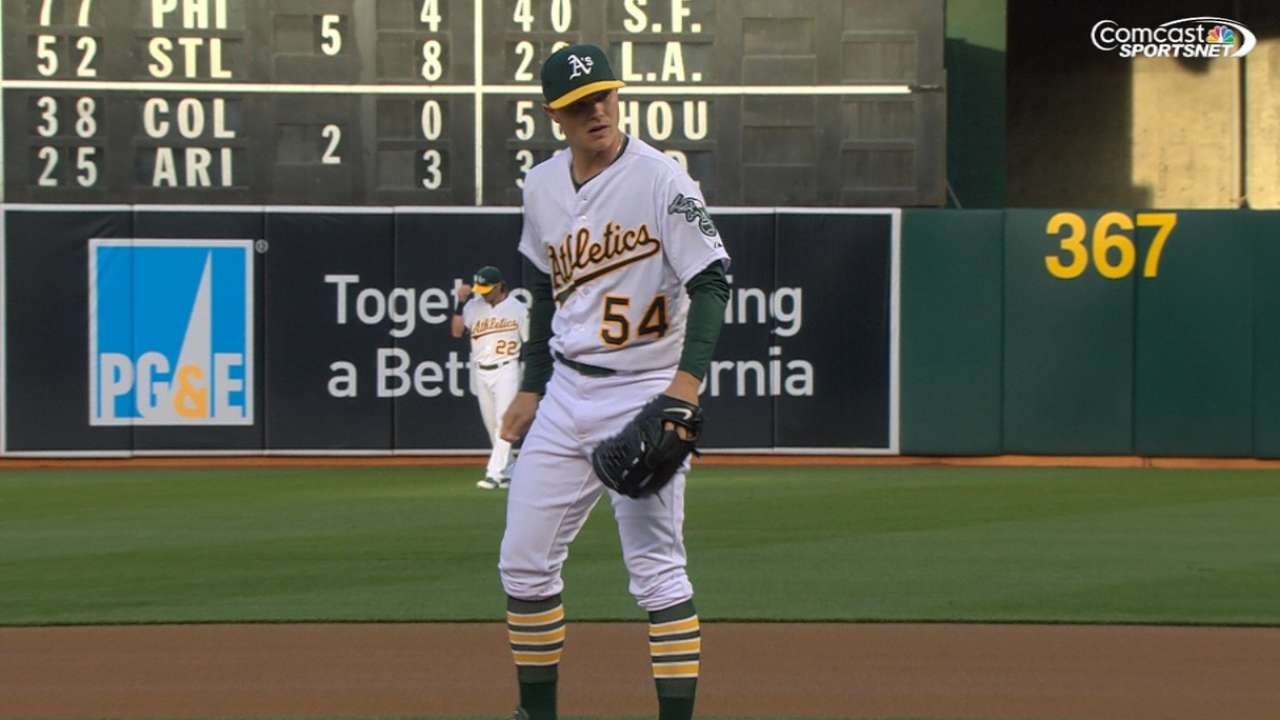 OAKLAND -- Judging by the first inning on Tuesday night, it seemed like it was going to be a long one for Sonny Gray.
The A's right-hander was tagged for a couple of early runs and he had trouble finding the strike zone to begin the evening. But Gray eventually returned to his usual shutdown status by the third inning, as he tamed the Angels and earned his third win of season in Oakland's 6-2 victory at the Coliseum.
Gray (3-0) faced the minimum 18 batters through his final six frames, going eight innings and giving up two runs on six hits and a walk while striking out six. Gray's season has been so good that Tuesday's outing actually raised his ERA to 1.98.
"I didn't feel like I made any different pitches," Gray said. "The first inning, they put the ball in play at the right spot."
While Gray might have left the mound in the first trailing, 2-0, he returned in the second with a three-run lead thanks to quick-strike rally by the A's in the bottom of the first. After Josh Reddick delivered a two-run single off Jered Weaver, Brett Lawrie blasted a three-run homer to give Gray a nice 5-2 cushion.
"It was huge," Gray said. "It actually gave me a little shot in the arm there. Gave up two in the first and made some pretty good pitches. For us to respond with a five-spot, I knew then that I needed to come back out and put up some zeros for the guys. That was what we were able to do."
Aside from throwing strikes more consistently, Gray also benefited from breaking balls with a lot of bite.
"Curveball was back to how it used to be," Gray said. "Slider was good. Threw a lot more four seams this time, because going back-to-back against a team, faced them four days ago. Just tried to show them a little bit of a different look. Once we got into the flow of the game, it went pretty well."
Alex Espinoza is a contributor to MLB.com. This story was not subject to the approval of Major League Baseball or its clubs.