Matheny shakes up lineup and Cardinals respond
Offense sets season highs in runs (11) and hits (15) during win vs. Phillies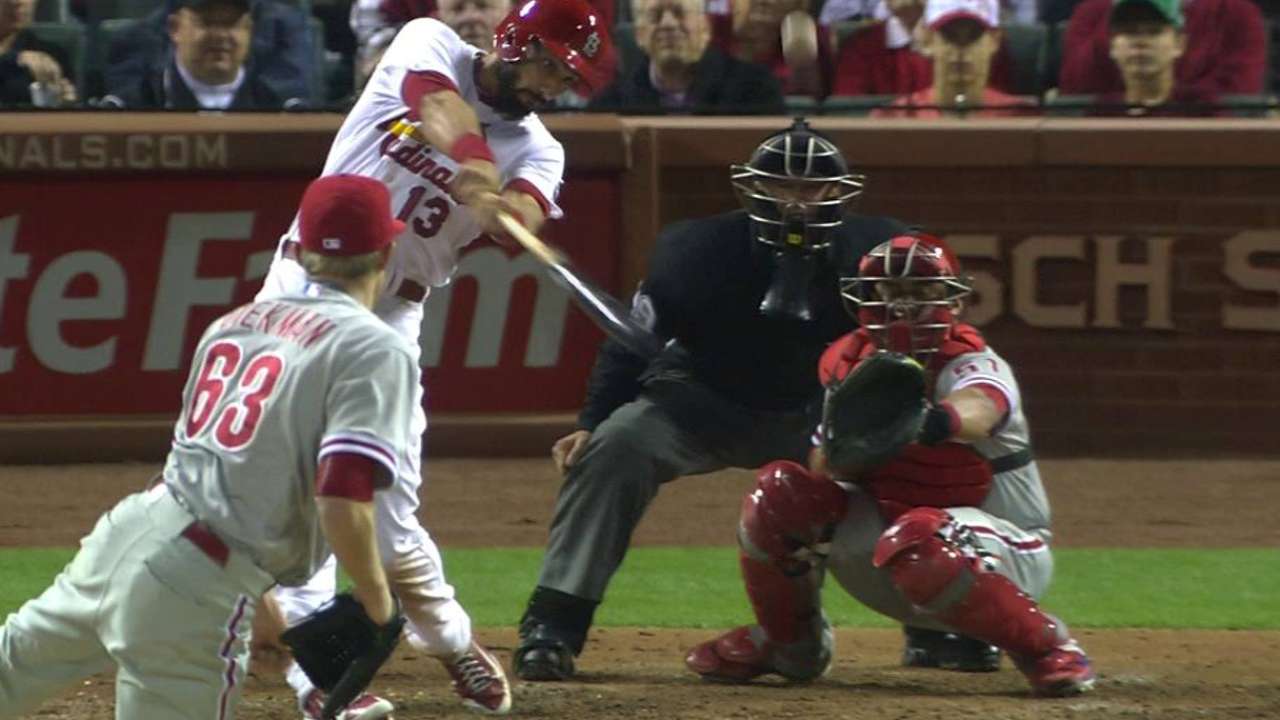 ST. LOUIS -- Though he didn't showcase the batting-order fluidity much in Spring Training, Cardinals manager Mike Matheny spoke repeatedly about the luxury of having the flexibility to place several players in several different places within it.
With some in the offense scuffling, Matheny decided on Tuesday to see what the first substantial lineup shakeup of the season would do. He received an overwhelming response.
The Cardinals' offense burst out to establish season highs in hits (15) and runs in an 11-5 victory over the Phillies at Busch Stadium. Production was balanced, too, as five hitters tallied multihit games, eight different ones scored and four (including starting pitcher Michael Wacha) drove in two. The unit also had a season-best eight hits with runners in scoring position.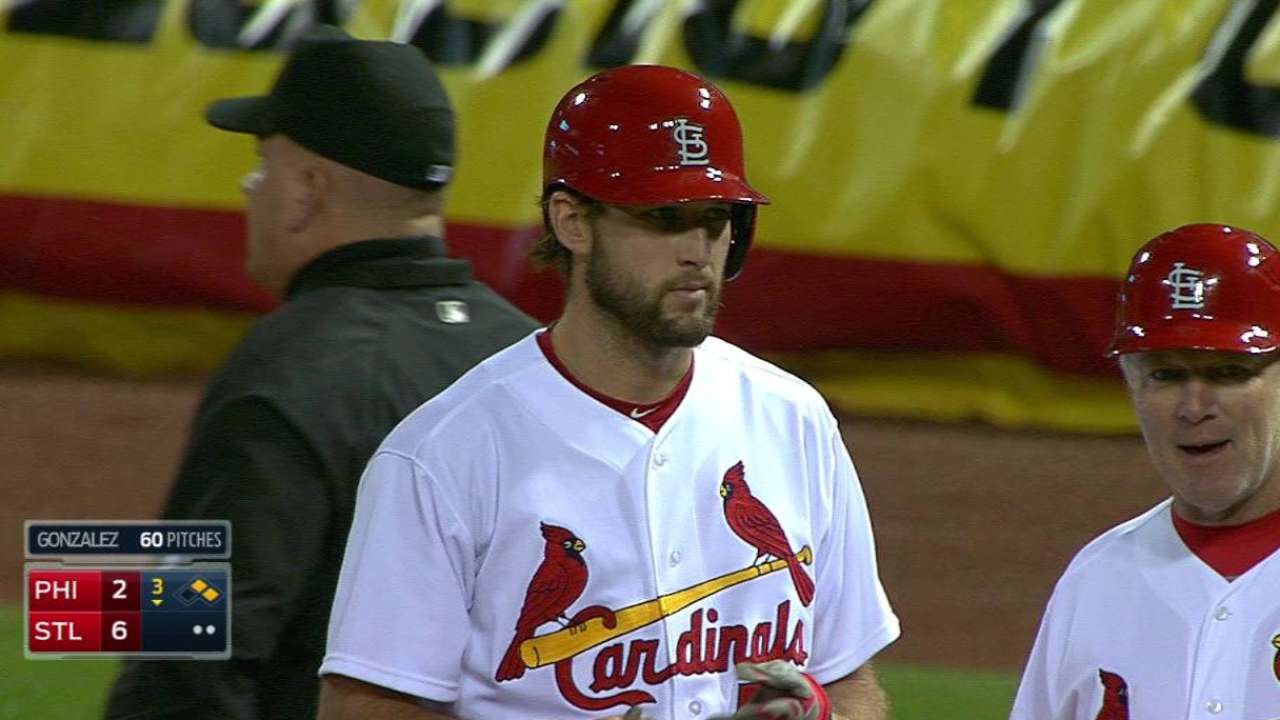 "It's hard to argue with 15 hits and 11 runs," said Jason Heyward, who, in moving from the two-hole to the sixth spot, was part of that shuffle. "I love our lineup. We can do a lot of different things. We can put it a lot of different ways. It's comfortable for everybody right now."
Matheny acknowledged that the impetus behind the batting-order changes was largely Heyward, who entered the night having drawn just two walks while hitting .205 from the second place in the lineup. This marked the 63rd start Heyward has made from the six-hole, though he hadn't been there since September 2012.
He reacted to the move by reaching base four times, three of those with walks.
"It was nice to see Jason taking some good at-bats and having the ability to knock one through there, too, just helps build confidence," Matheny said. "Hopefully it's just something to build on."
With Heyward moving down, Matheny filled the No. 2 spot with Matt Carpenter, whose combination of high on-base percentage and large tally of extra-base hits profiled well for such placement. It was the first time Carpenter had started out of the leadoff spot in two years.
From the new spot, Carpenter delivered a pair of extra-base hits, both coming in run-scoring innings. He also walked and scored as the Cardinals added on late.
And Jon Jay filled the leadoff void admirably, reaching base twice and driving in two. Oddly, it took him moving to the top of the order to collect his first RBIs of the year.
"Obviously, I've led off a lot," said Jay, who had been the team's everyday leadoff hitter until Carpenter grabbed that role in April 2013. "I think we have a lot of guys who can hit anywhere in the lineup. Whatever the lineup is going to be, we're going to have tough at-bats."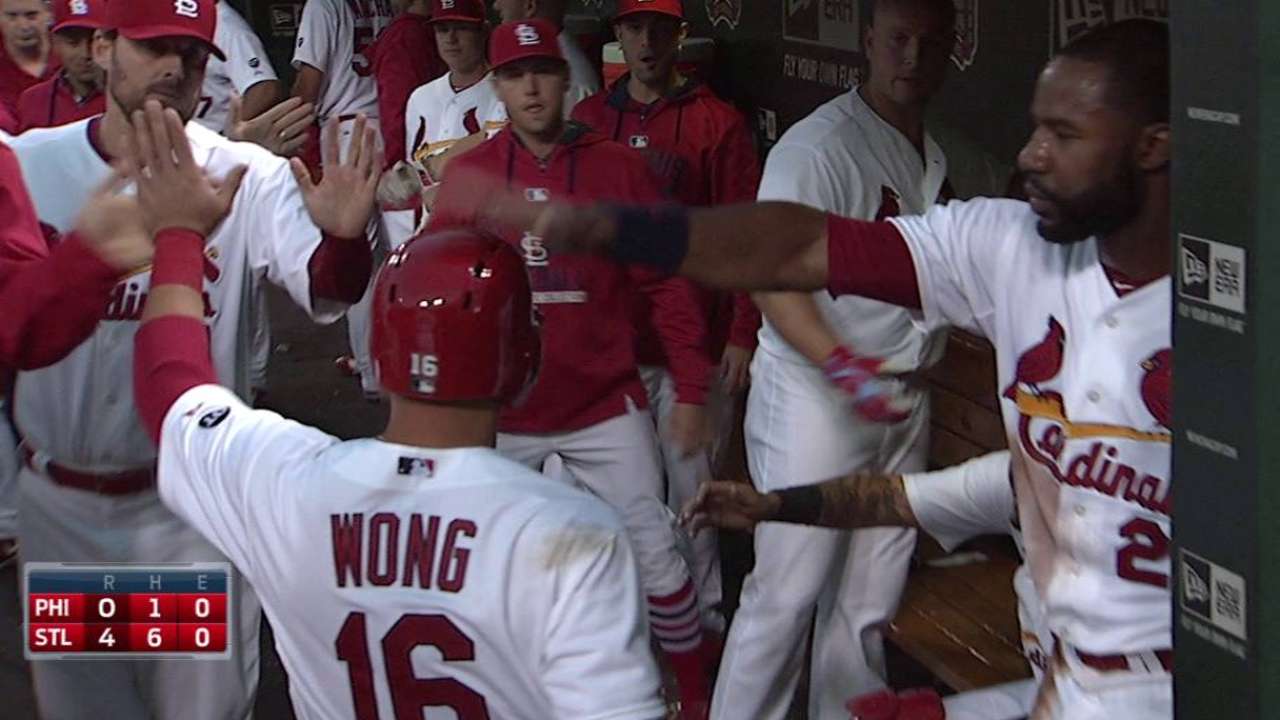 The Cardinals scored in five different innings and had multiple runs each time (a first this season). Entering Tuesday, they had played only one other game in which they had enjoyed more than two multirun innings. It came back on April 12 in an extra-inning win.
So this would all suggest that the new-look lineup deserves more than a one-day tryout, right?
"It's an option," Matheny said, non-committal with his answer. "We like what we saw tonight. Obviously, they're clicking pretty good. We'll have to figure it out. We like the way it went, for sure."
Jenifer Langosch is a reporter for MLB.com. Read her blog, By Gosh, It's Langosch, follow her on Twitter @LangoschMLB and like her Facebook page Jenifer Langosch for Cardinals.com. This story was not subject to the approval of Major League Baseball or its clubs.