No doubt about it, Braves' loss tough to take
Club falls for first time since 1996 when scoring at least 12 runs, but skipper points to resiliency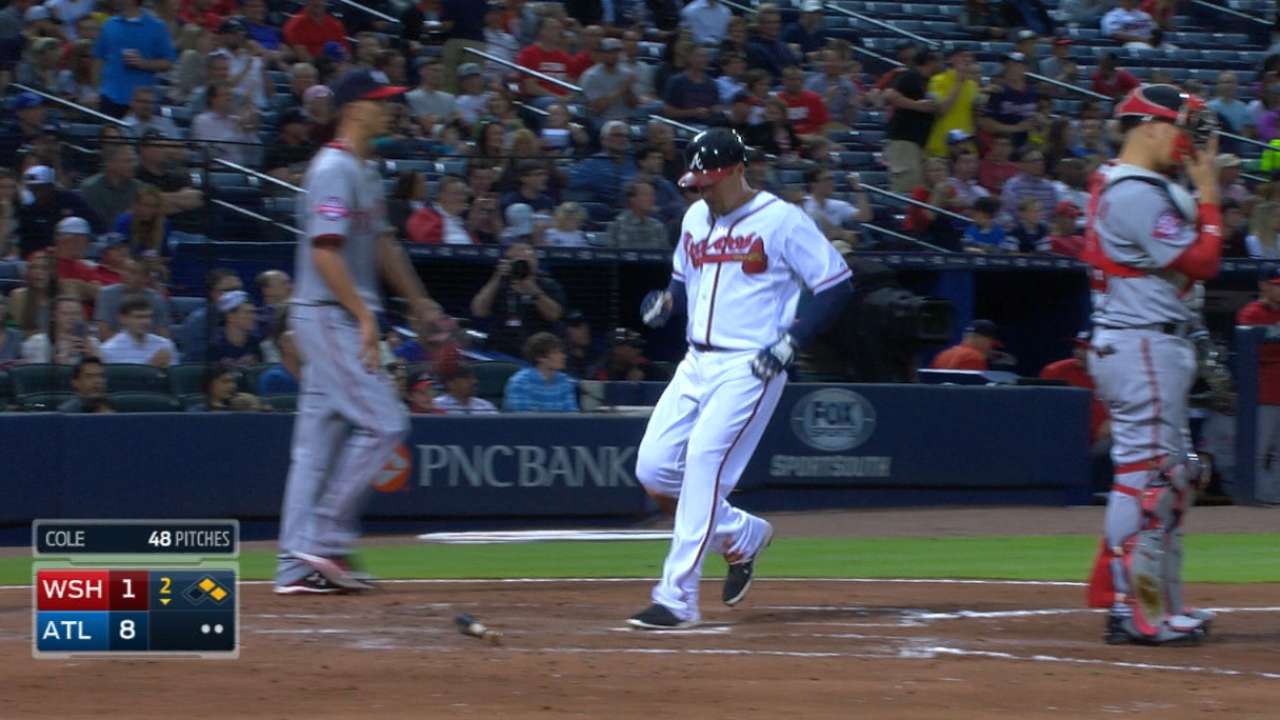 ATLANTA -- As the Braves attempted to digest how they had squandered a pair of eight-run leads before suffering Tuesday night's 13-12 loss to the Nationals, they threw out the usual "turn the page" clichés that are often heard at the conclusion of a tough defeat.
But it will take a while for the Braves to lose the sour taste that developed on a night when Julio Teheran endured a third consecutive shaky start and the highest-paid member of Atlanta's current payroll -- Dan Uggla -- provided the Nationals this victory with his three-run homer in the ninth inning off Jason Grilli.
The Braves had won 99 consecutive games in which they had scored at least 12 runs. This marked the first time they tallied this total and lost since suffering a 13-12 loss to the Rockies at Coors Field on June 8, 1996.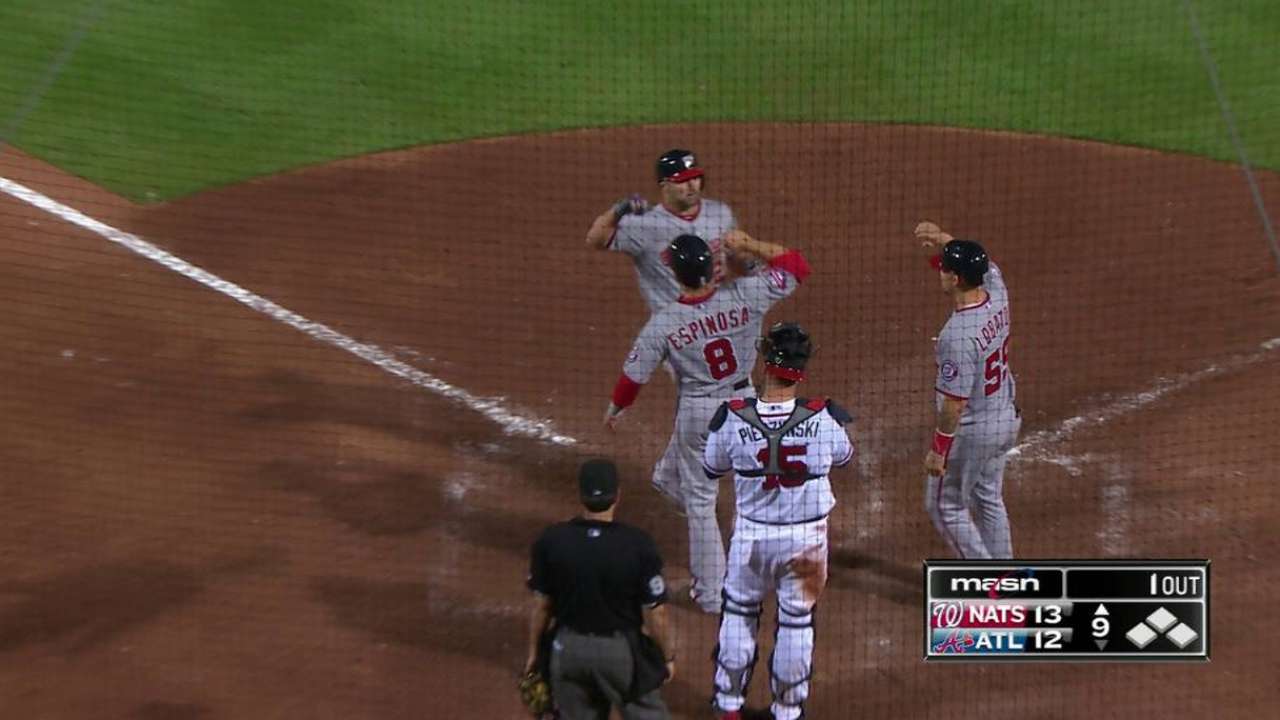 "It doesn't matter if it's Uggla or whoever," Braves manager Fredi Gonzalez said. "It's a hard one. I think our club is pretty resilient. We have some tough guys in there. We'll see how we come out tomorrow."
Playing his first series at Turner Field since being released by the Braves last year, Uggla has heard boos the past two nights from fans, who most likely knew that he is still being paid $12.75 million by Atlanta this year. But the former All-Star second baseman had the last laugh, when he delivered a two-out, two-run triple in the seventh off Luis Avilan and then raised his batting average to .190 with the crushing home run off Grilli, who had been successful with each of his previous seven save attempts before making this mistake on an 0-2 fastball.
"To score 12 runs and to lose with our Opening Day guy on the mound is hard to fathom," Braves catcher A.J. Pierzynski said. "We're up 9-1 in the second inning, and that's a game you're supposed to win. Give them credit, they just kept coming back and chipping away. Unfortunately in the ninth inning, we made a mistake to Uggla, and he didn't miss it. It just [stinks]."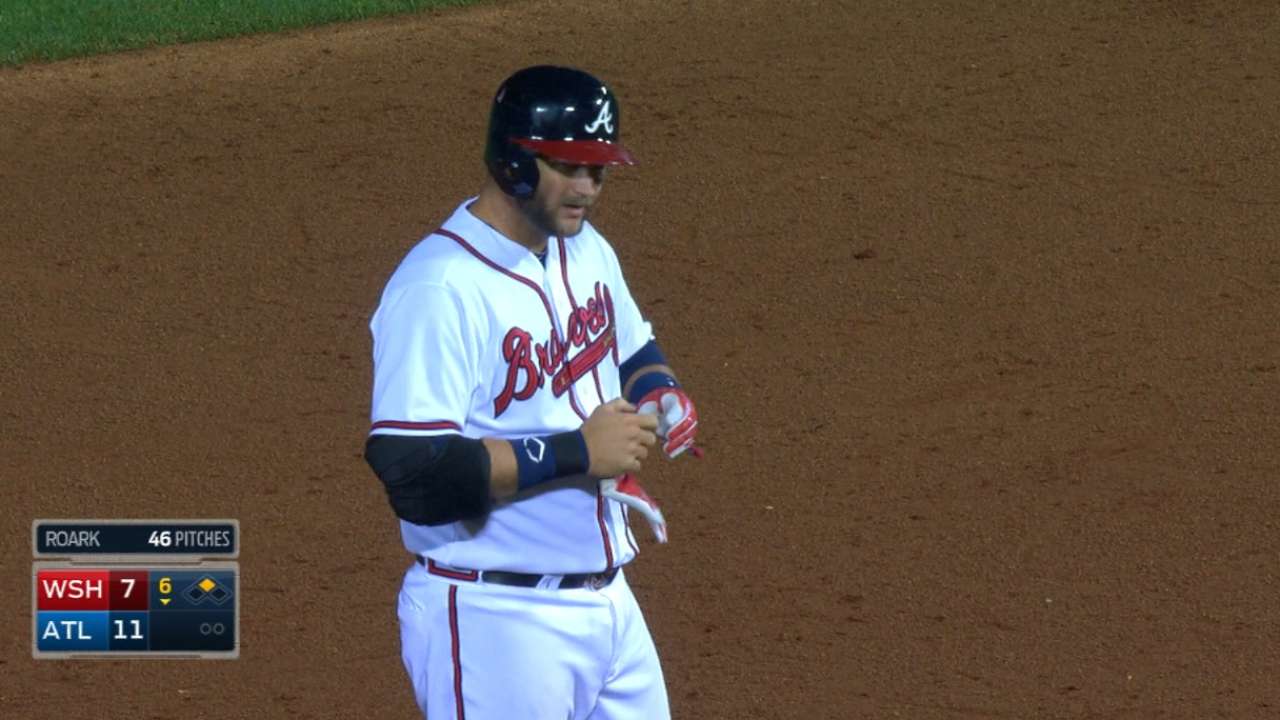 The Braves produced a season-best 17 hits, and even after the Nationals started to eat away at the deficit against Teheran, who allowed seven runs (three earned) on 10 hits in 5 2/3 innings, Pierzynski and Freddie Freeman helped produce a little cushion on the way to producing their own four-hit performances.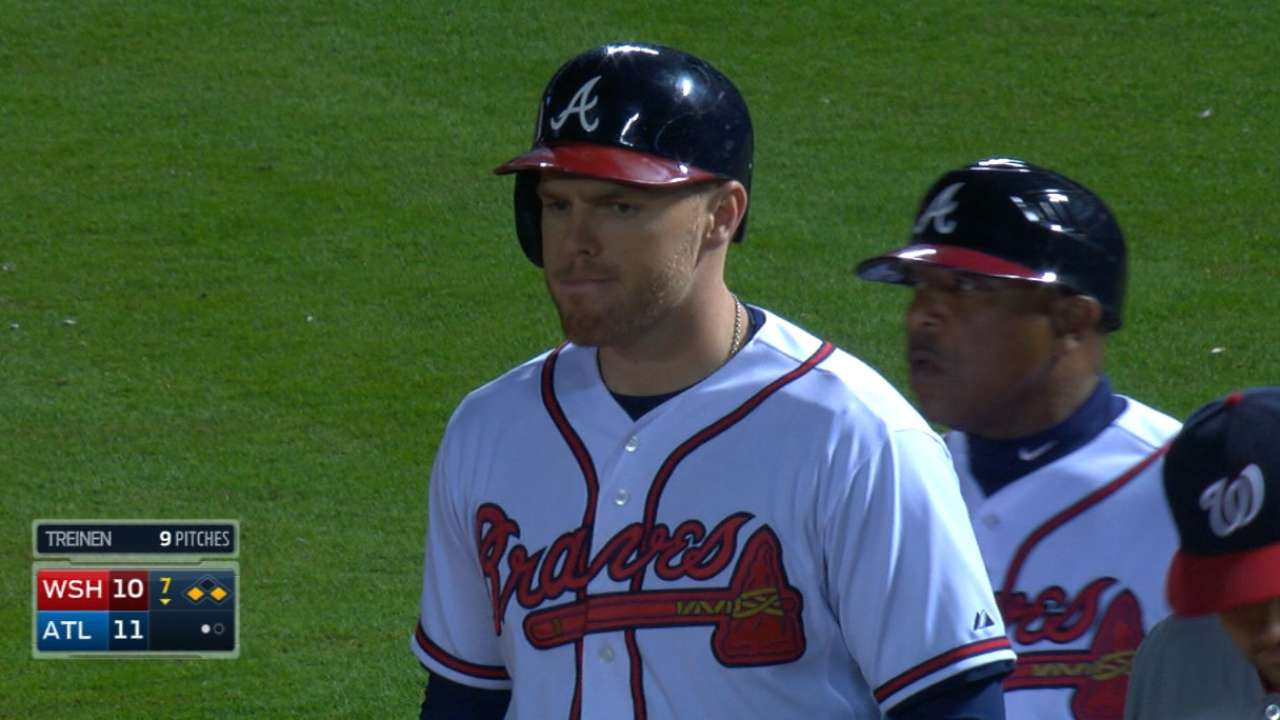 After the Nationals cut their deficit to one with the three-run seventh inning against Avilan, Pierzynski provided another insurance run and capped his four-RBI night with a seventh-inning single. But all of the offensive contributions went for naught when the Braves did what they hadn't done in 19 years.
"When we come here tomorrow, yesterday is in the past," Freeman said. "You play 162 games, so you can't dwell on one. This was definitely a tough loss, no one is going to deny that. But you've got to come out here tomorrow and you've got a series to win against a division rival, and you've got to take care of business, even after a night like this."
Mark Bowman is a reporter for MLB.com. This story was not subject to the approval of Major League Baseball or its clubs.