Teheran's continued struggles raising red flag
Braves starter says he feels healthy after allowing 10 hits; club concerned about location
ATLANTA -- Julio Teheran contends that he has not felt any discomfort in his right knee since tweaking it during his final inning of work against the Mets on April 11. But as he has struggled through each of the three starts that have followed, the Braves right-hander has certainly created reason for concern.
"I'm a little concerned, a lot of home runs," Braves manager Fredi Gonzalez said. "The stuff and miles per hour are there. The location is just not [there]. It looked like they had some pretty good swings all night at him in all kinds of different counts. So, I think it is more location than it is stuff-wise."
Teheran was given more than enough comfort as the Braves provided him a pair of eight-run leads through the first four innings of Tuesday night's 13-12 loss to the Nationals. But instead of breezing through the contest, he surrendered seven runs (three earned) and 10 hits over 5 2/3 innings.
While even the best pitchers are apt to experience rough nights like this, Teheran's other recent outings deny him the leniency to currently elude concern. The All-Star hurler surrendered a career-high four home runs in Toronto on April 17 and then matched a career-high five walks while completing just 4 1/3 innings against the Mets on Thursday.
"I'm still trying to find out what's going on, but I feel really good," said Teheran, who has a 7.20 ERA and has allowed opponents to produce a .408 on-base percentage against him in his past three starts.
When Teheran's velocity was down a tick during last week's start in New York, it was easy to blame the windy conditions that affected his grip. His fastball velocity on Tuesday was back in the normal range between 90-91 mph. But as he allowed the Nationals to produce two baserunners in four of the first five innings, it was apparent that he still was not right.
Alberto Callaspo's inability to field Ian Desmond's grounder in the fifth extended the inning long enough for Jose Lobaton to drill a three-run homer off the second consecutive backdoor slider he was thrown.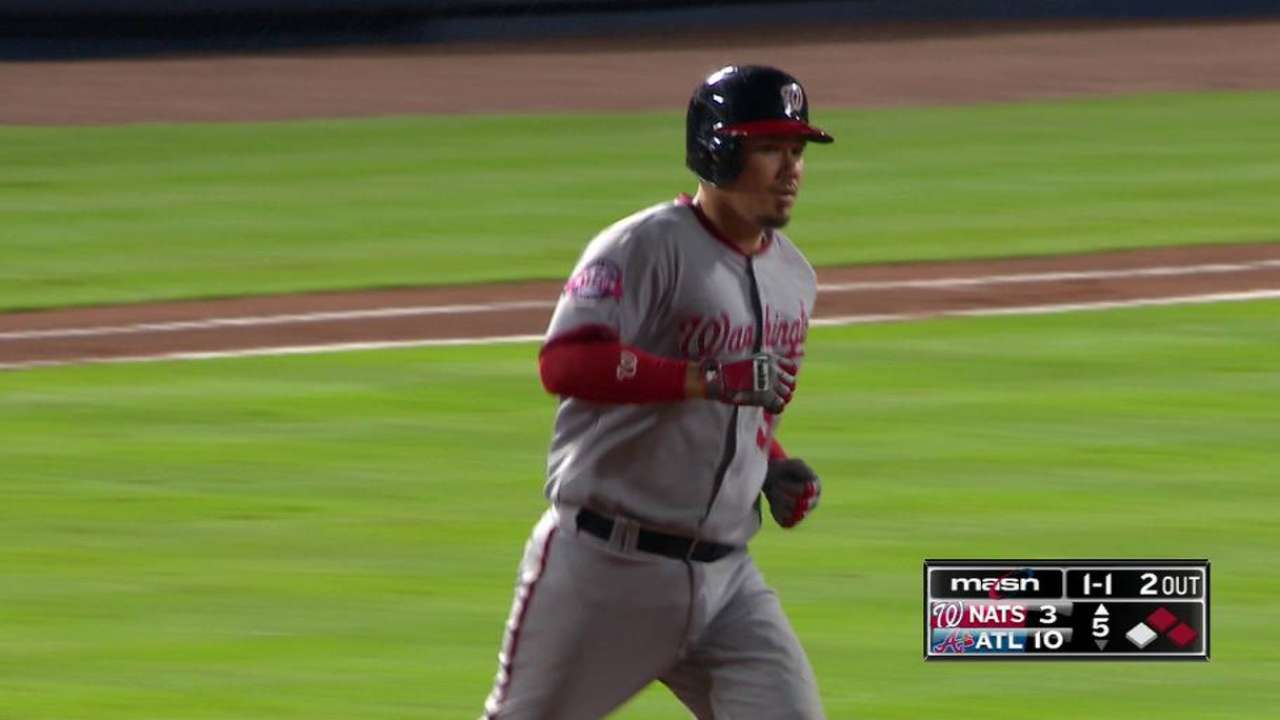 Still, while Callaspo's error made each of the four runs unearned, Teheran never looked comfortable at any point of this ugly outing, which concluded when Denard Span highlighted his five-hit night with a two-out solo homer in the sixth.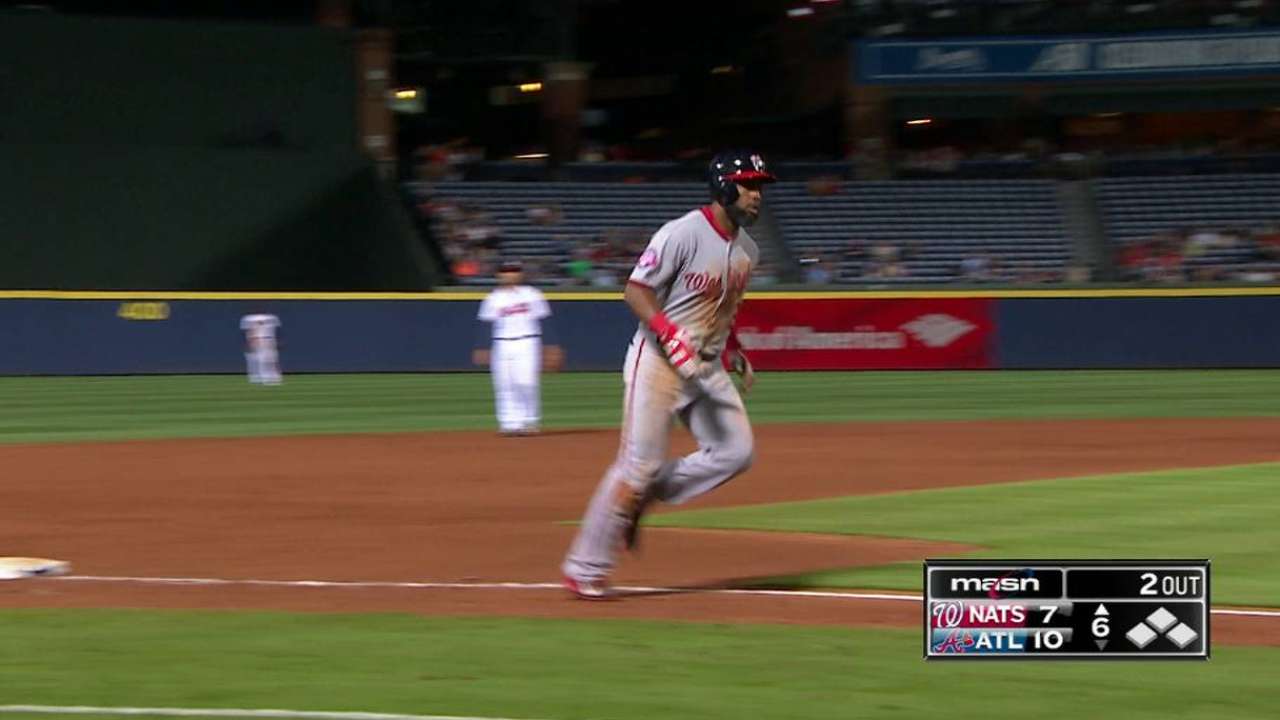 Teheran's struggles fueled the comeback that the Nationals completed when Dan Uggla hit a three-run homer in the ninth inning against Jason Grilli.
"Location is the key," Braves catcher A.J. Pierzynski said. "[The Nationals] have a lot of guys that have a lot of at-bats off him and some good numbers off him. So, it's about location and making pitches when you can. Tonight, he didn't do that. It just didn't work."
Mark Bowman is a reporter for MLB.com. This story was not subject to the approval of Major League Baseball or its clubs.