Bunt mishap turns Mets' hopes in 8th inning
Tejada unable to advance Murphy to third base after leadoff double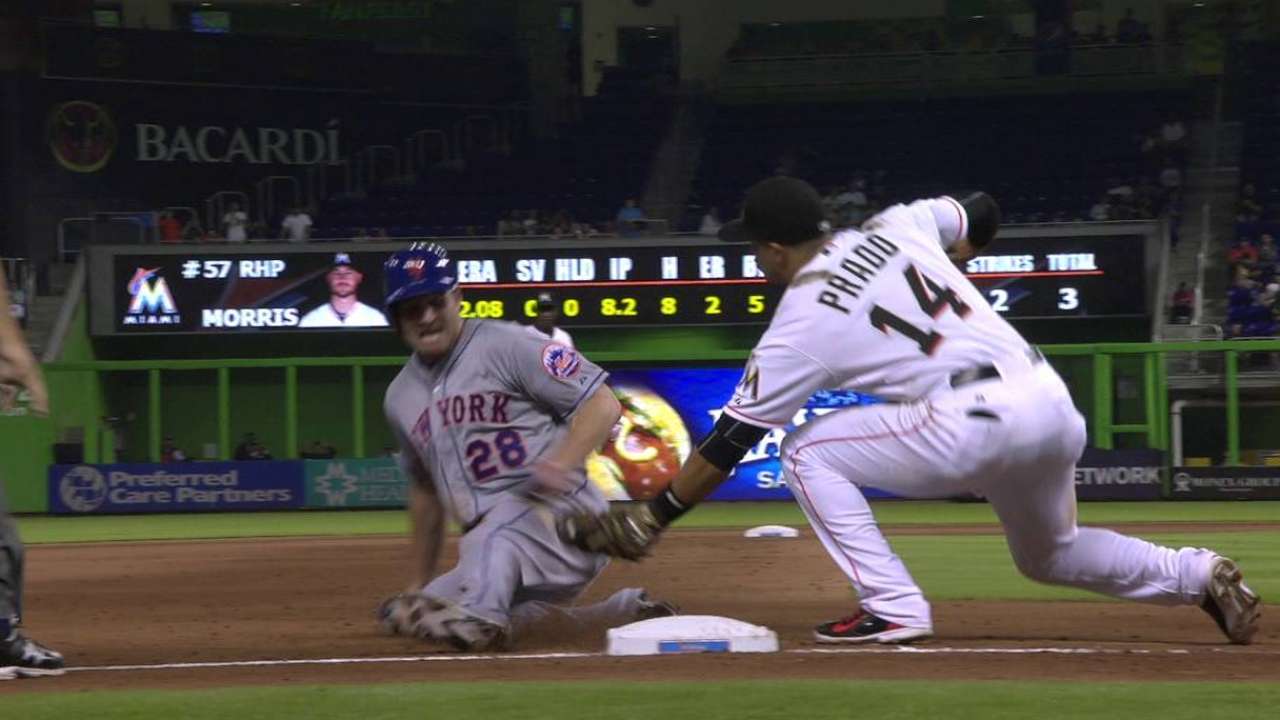 MIAMI -- In a close game, few things can be as polarizing as an unsuccessful bunt attempt. Few things can so quickly change the tenor of an inning.
So it was in the eighth inning of Tuesday's 4-3 Mets loss to the Marlins, after Daniel Murphy led off with a double. Going through his signs, third-base coach Tim Teufel gave Ruben Tejada the choice of bunting or trying to advance the runner with an opposite-field swing.
Tejada chose to bunt but struck the ball too hard back to pitcher Bryan Morris, who fielded it, whirled and cut down Murphy at third with time to spare.
"Because [Tejada] can handle the bat, if he was more comfortable trying to get a base hit to right field, I was fine with that," Mets manager Terry Collins said. "He opted to bunt, but just couldn't get the bunt down the third-base line."
Rather than have a runner on third with one out, the Mets had a runner on first. They didn't score, and the Marlins took the lead for good a half-inning later on Michael Morse's RBI single.
"Especially in that situation -- tie game, late in the game, too -- I feel a little bit bad for it," Tejada said.
Anthony DiComo is a reporter for MLB.com. Follow him on Twitter @AnthonyDiComo and Facebook. This story was not subject to the approval of Major League Baseball or its clubs.