Phillies handing out too many free passes
Five of the six batters to reach via walk during loss to Cardinals scored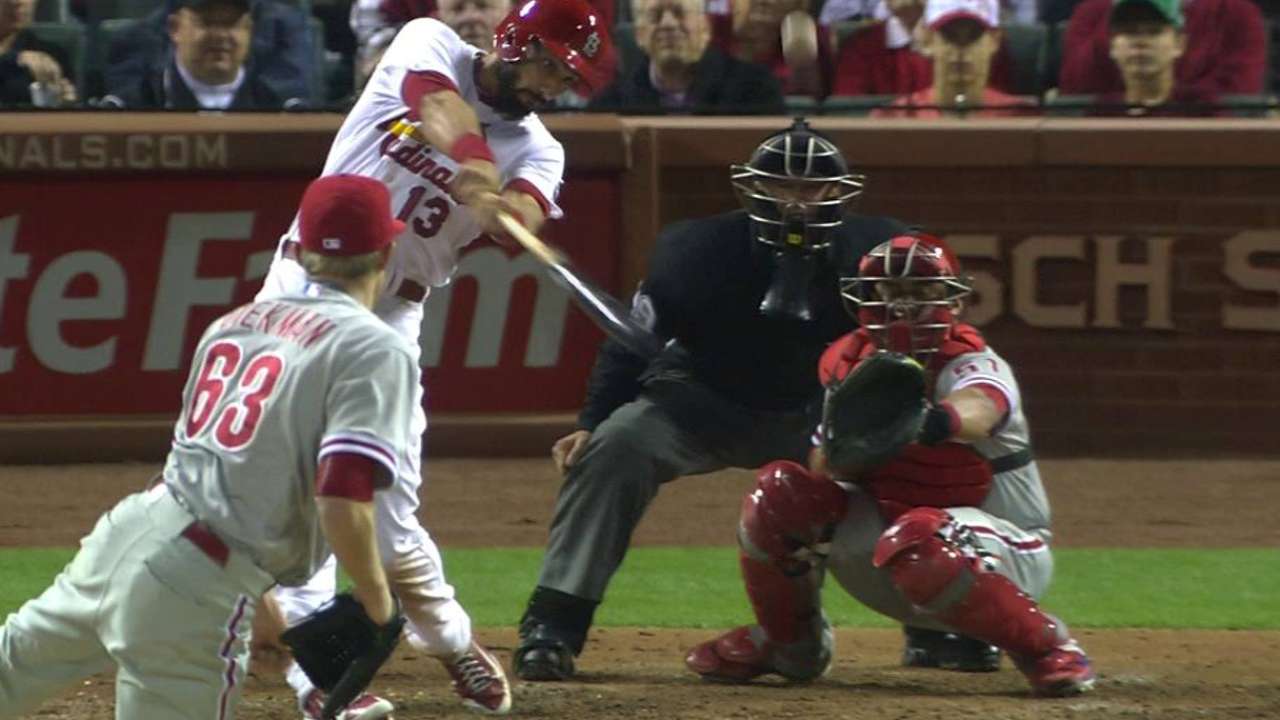 ST. LOUIS -- The Phillies have a command problem.
They already have a razor thin margin for error, so the last thing the Phillies can do is give opponents free baserunners. But they continued that trend Tuesday night in an 11-5 loss to the Cardinals at Busch Stadium. The Phillies walked six batters and five of those batters scored.
"That didn't do us any favors," Phillies manager Ryne Sandberg said.
The Phillies have walked a Major League-high 86 batters.
Phillies rookie Severino Gonzalez allowed two walks in 2 2/3 innings and both scored. Left-hander Jake Diekman allowed three in two innings and two scored. Right-hander Justin De Fratus allowed one in 1 2/3 innings, which scored.
The Phillies are averaging 4.21 walks per nine innings this season. They averaged 3.19 walks per nine innings last season.
"We're not helping ourselves in that department," Sandberg said. "We talked about starting off over the plate at the knees, then expanding."
The biggest culprit is the Phillies' bullpen. The relievers are averaging 5.21 walks per nine innings, which is the highest average in baseball. The Phillies cut the Cardinals' lead to 7-4 in the fifth when Diekman entered, and he allowed two runs with the help of two walks to make it 9-4.
"The other thing we lacked were those shutdown innings," Sandberg said. "We'd score, we'd bounce back and we didn't have a shutdown. With the matchups, [the fifth] set up pretty nicely for him. There just wasn't command of the baseball."
Todd Zolecki is a reporter for MLB.com. Read his Phillies blog The Zo Zone. Follow him on Twitter. This story was not subject to the approval of Major League Baseball or its clubs.