Bats handcuffed by Pelfrey in first loss vs. Twins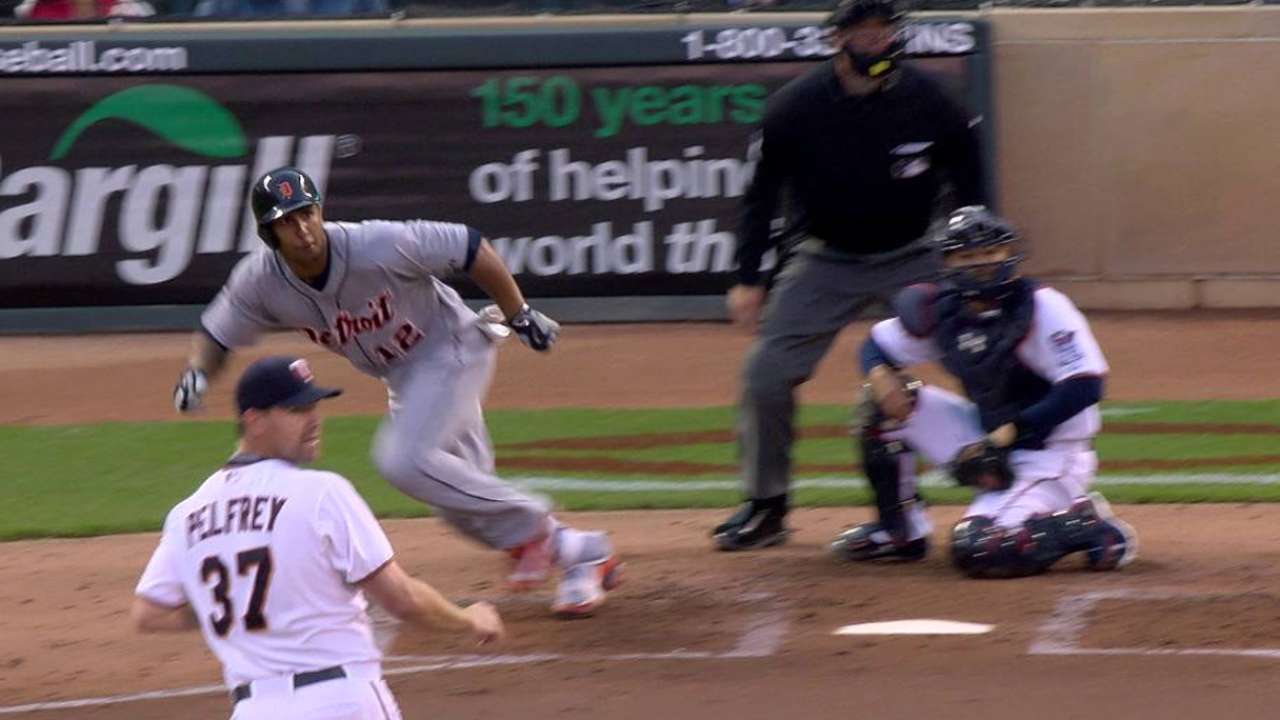 MINNEAPOLIS -- The Tigers won on Monday despite not cashing in on multiple opportunities to break the game open. That wasn't a problem on Tuesday, because they just didn't have many opportunities to score.
Three Minnesota pitchers combined to hold the Tigers to three hits, and the Twins' offense scratched out two late runs Tuesday as Minnesota beat Detroit, 3-2.
Twins right-hander Mike Pelfrey gave up one earned run over seven innings, and relievers Casey Fien and Glen Perkins set the side down in order in the eighth and ninth, respectively. In fact, that trio retired the final 16 Tigers hitters of the night.
"Pelfrey pitched really well," Tigers manager Brad Ausmus said. "He moved the ball in and out, he had a lot of movement on his fastball, he used his split and he was tough on us tonight. So he was outstanding and a lot of the credit does go to him."
In Monday's 5-4 victory, the Tigers collected 11 hits and six walks, but they ran into three outs on the bases and grounded into three double plays, which limited their offensive output. On Tuesday, they put runners on base in just two innings -- the third and the fourth, scoring a run in each. The other seven innings were three-up, three-down.
Victor Martinez, who went 0-for-4, credited Pelfrey for handcuffing the Tigers' bats.
"His ball had a lot of movement today. We got him a couple times with a good hitter's count -- myself, I had it in I think one at-bat, but I was just missing pitches," said Martinez, who flied out on a 3-1 pitch in the fourth inning. "He went out there really aggressive, used his fastball a lot."
The Tigers benefited from a walk and an error on Twins shortstop Danny Santana to score their first run, which came across on Anthony Gose's two-out single in the third inning. Then, with two outs in the fourth, J.D. Martinez and Yoenis Cespedes hit back-to-back doubles to give the Tigers a 2-1 lead.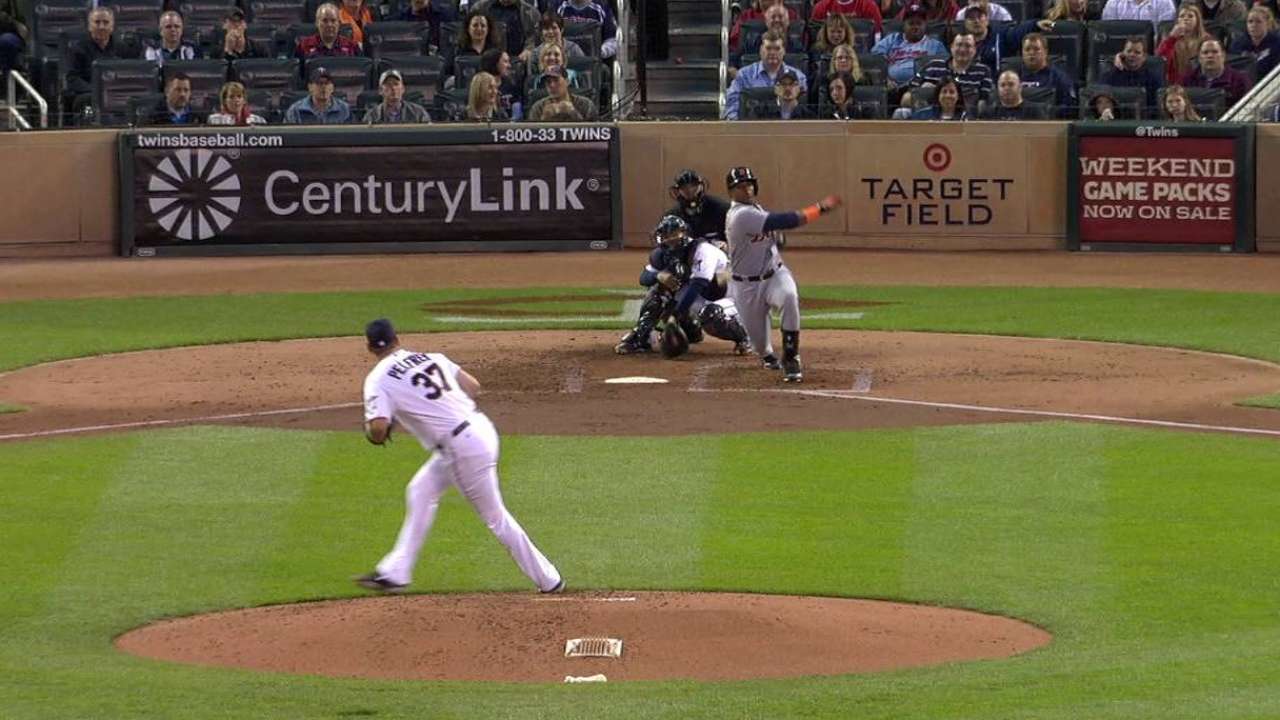 And that was it. Although there was at least some hope in the ninth as the Tigers sent their 3-4-5 hitters to face All-Star closer Perkins. All three had one career home run against Perkins, the only current Tigers who have taken him deep. But Miguel Cabrera, Victor Martinez and J.D. Martinez all hit relatively harmless fly balls to end the game.
"It's the heart of our order. All three of them took pretty good swings," Ausmus said. "I think they just missed the barrel on all three of them and they ended up being fly balls instead of balls over the outfielders' heads. That's how it goes. Perkins is a closer for a reason."
But the Tigers realize that a minor bout of frustration is merely a blip in a 162-game season. Second baseman Ian Kinsler stressed the importance of keeping things in perspective.
"It's just one game," Kinsler said. "We won yesterday. There's a game tomorrow at noon. We beat Cleveland two out of three. We're just trying to win series. Tonight was a tough one for us -- we couldn't get going with the bats, and that happens sometimes. We're going to be ready for tomorrow and try to get out of here with the series win."
Patrick Donnelly is a contributor to MLB.com. This story was not subject to the approval of Major League Baseball or its clubs.