Detwiler demonstrates progress in latest outing
Southpaw allows two runs and strikes out five over 5 1/3 innings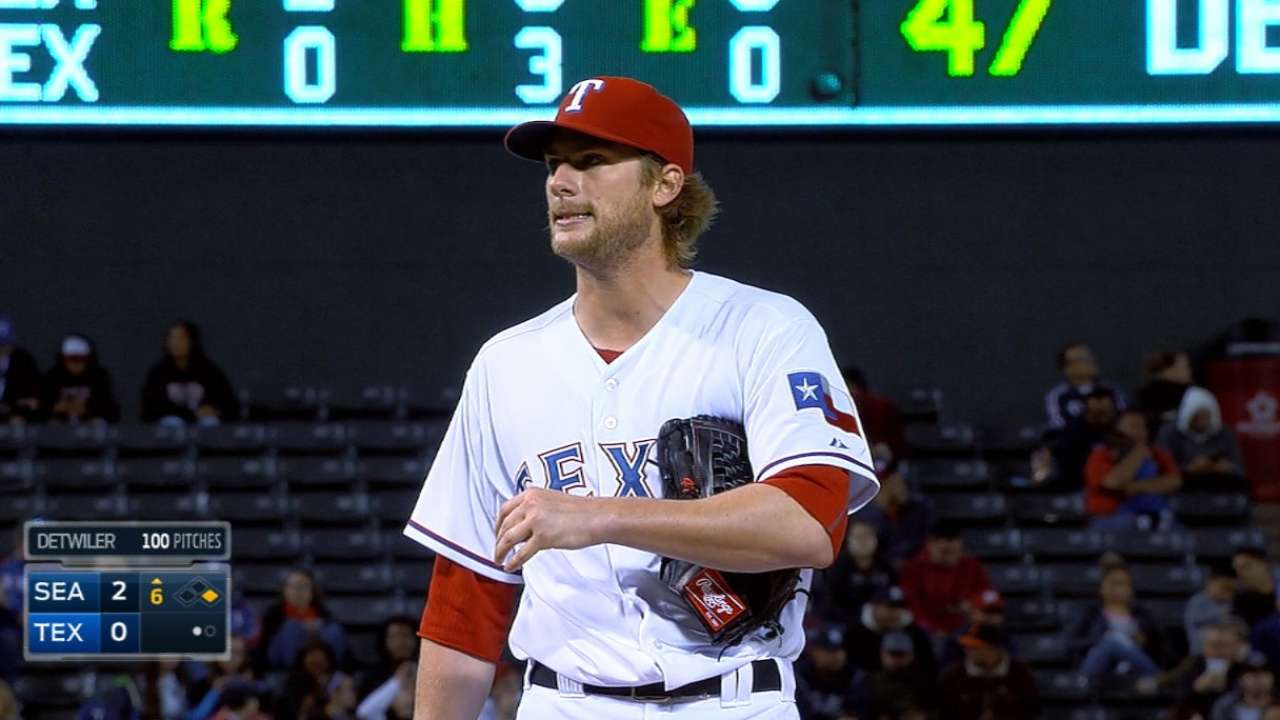 ARLINGTON -- Rangers left-hander Ross Detwiler gave an honest assessment of himself after Tuesday's 2-1 loss to the Mariners at Globe Life Park.
On the whole, his performance was better. Progress was made after skipping a turn in the Rangers' rotation.
But Detwiler also had what he called one "stupid pitch" -- which resulted in a solo home run by Rickie Weeks in the Mariners' two-run fourth inning -- and he didn't get out of the sixth inning.
So for the Rangers' newbie, there's still a lot of room for improvement.
"A starter needs to go deeper into the game," Detwiler said. "I had a lot of pitches."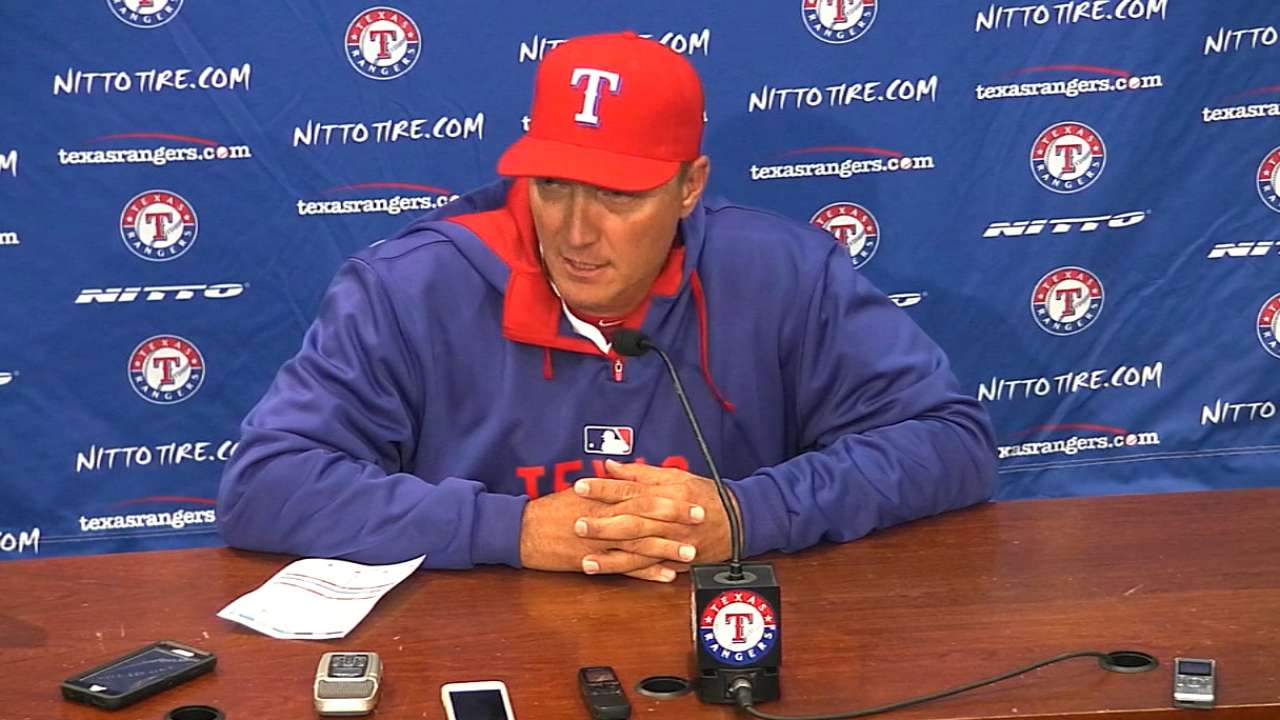 Detwiler, acquired from Washington in the offseason, has had a rocky first month getting adjusted to being a starter after pitching 47 games out of the Nationals' bullpen last year. Detwiler allowed five earned runs in each of his first three starts for the Rangers, getting knocked out in the third inning in his most recent start on April 19 against these same Mariners.
The Rangers decided to skip Detwiler's turn with an off-day on the recent road trip, giving him a chance to work on his mechanics with pitching coach Mike Maddux. Detwiler showed some moxie and controlled the strike zone better with a second chance against Seattle.
"No doubt, he threw more strikes," manager Jeff Banister said. "I'm pleased with what he did. He moved the fastball around. I felt he pitched better."
Detwiler received a confidence boost in the second inning, even though he needed 26 pitches. With runners at first and third and one out, he struck out Logan Morrison with a sinking fastball. Detwiler then walked Brad Miller to load the bases, but regrouped and got Mike Zunino to fly out to left field.
"That was definitely a confidence boost," Detwiler said. "You never want to let the other team score first, especially when you're at home. I was focused on getting a ground ball. I'm not completely there yet."
Detwiler did give up the first two runs of the game, with some bad luck throw in. Former Ranger Nelson Cruz led off the fourth by lifting a high fly ball into the right-field corner that appeared to be playable on the warning track. Jake Smolinski, playing in right for Shin-Soo Choo, overran the ball and it turned into a triple. Cruz scored on a Kyle Seager grounder to second for a 1-0 Mariners lead.
Detwiler then made his lone major mistake of the game, leaving a 1-2 fastball out over the plate to Weeks, who hit a smash over the left-field fence for a 2-0 lead.
"It was a stupid pitch," Detwiler said. "I made my pitch before that [on an 0-2 count] and he didn't swing at the curve ball down and away. He laid off."
Todd Wills is a contributor to MLB.com. This story was not subject to the approval of Major League Baseball or its clubs.