Happ continues to be steady presence for Mariners
Left-hander strikes out nine, allows one run in victory over Rangers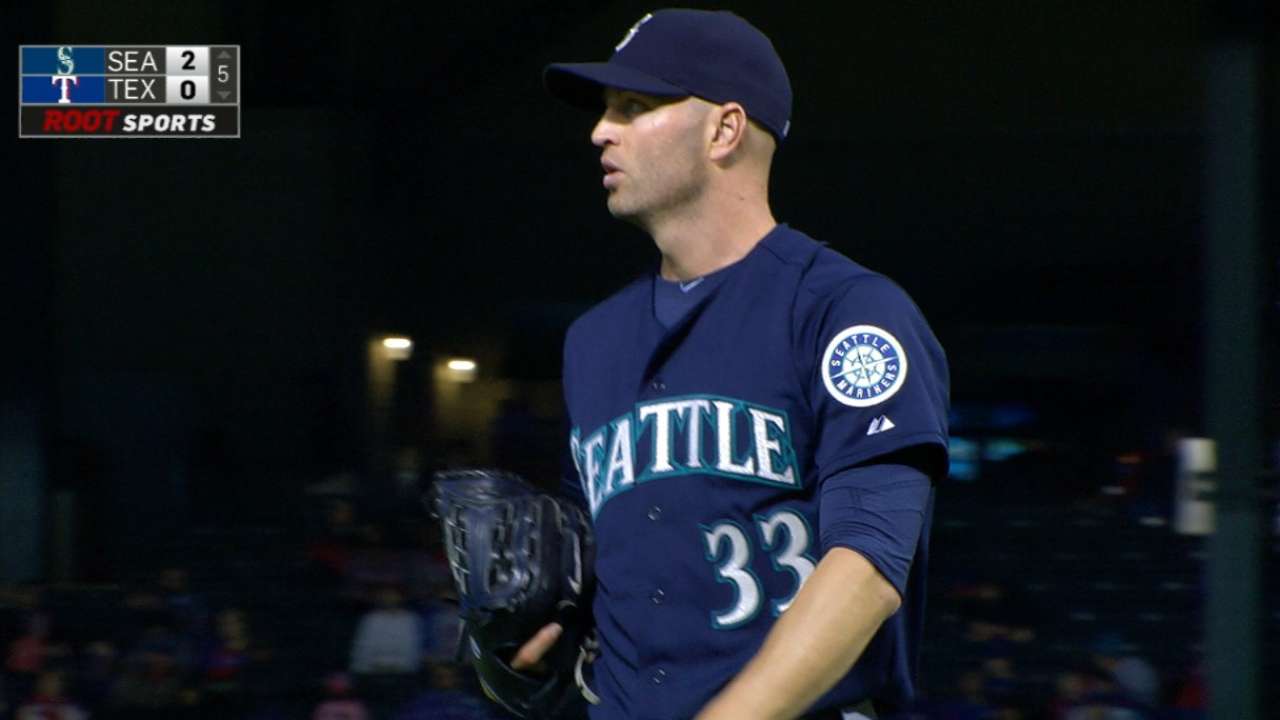 ARLINGTON -- J.A. Happ opened the season as the Mariners' fifth starter, but the veteran southpaw has quickly elevated himself to the crucial category in Seattle's early efforts.
Happ improved to 2-1 with a 2.30 ERA in his first four starts with 6 2/3 innings of one-run ball in Tuesday's 2-1 victory over the Rangers as the Mariners starters continued a promising recent trend.
After suffering through a 6.21 ERA in the first 13 games of the year, Seattle's rotation has posted a 1.38 mark in its last seven outings to lower that mark to a more respectable 4.32. There's still more work to be done, with the Mariners off to a 9-11 start, but manager Lloyd McClendon likes what he's seen in recent days and Happ has been a huge part of that.
Happ and ace Felix Hernandez have gone 5-1 with a 1.95 ERA between them for a rotation that has only accounted for six wins total to this point.
"He's given us consistency the whole time," McClendon said. "Felix on the front end and Happ on the back, they've really stabilized the rotation for us and gave us an opportunity to get the other starters in the right groove. I think it's all coming together for us."
Happ needed to be sharp on Tuesday as Seattle pushed across two runs in the fourth and then held on. The Mariners are 8-7 in games decided by two-or-less runs, with those 15 games the most in the Majors.
"These are the kind of games we've got to win if we're going to get to where we want to go," Happ said. "That's good to see. The last few days we've done that, won some tight ballgames. I'm just trying to keep us in it, keep us right there, keep the lead obviously if we can. The bullpen came in and picked me up, did a great job tonight."
Happ struck out a season-high nine, equaling his total from his first three starts. McClendon wasn't surprised.
"His velocity last year was right up there with all the top hard-throwing lefties in Major League Baseball last year," said McClendon. "He can get it up there. I don't think he had his best velocity fastball tonight, but he certainly had real good command with 90-91. He did a great job."
McClendon saw Happ hold the Mariners at bay for seven innings on two runs last year in a 14-4 victory by Toronto in the closing days of the season and knew then what the 32-year-old offered. So while some wondered why McClendon penciled Happ into the rotation as soon as he was acquired for Michael Saunders in December, the skipper never wavered.
"He's got a track record. He's not a baby," McClendon said. "He knows what he's doing out there. When he pitched against us in Toronto last year, it was one of the best-pitched games we had against us all year. It was a pretty impressive start and I remember telling [bench coach Trent Jewett], this guy would be nice to have to stabilize our rotation. He's been great."
Greg Johns is a reporter for MLB.com. Follow him on Twitter @GregJohnsMLB as well as his Mariners Musings blog. This story was not subject to the approval of Major League Baseball or its clubs.