Cash takes blame for Odorizzi pitching to McCann in key spot
Yankees catcher hits big two-run double, continues to own Rays righty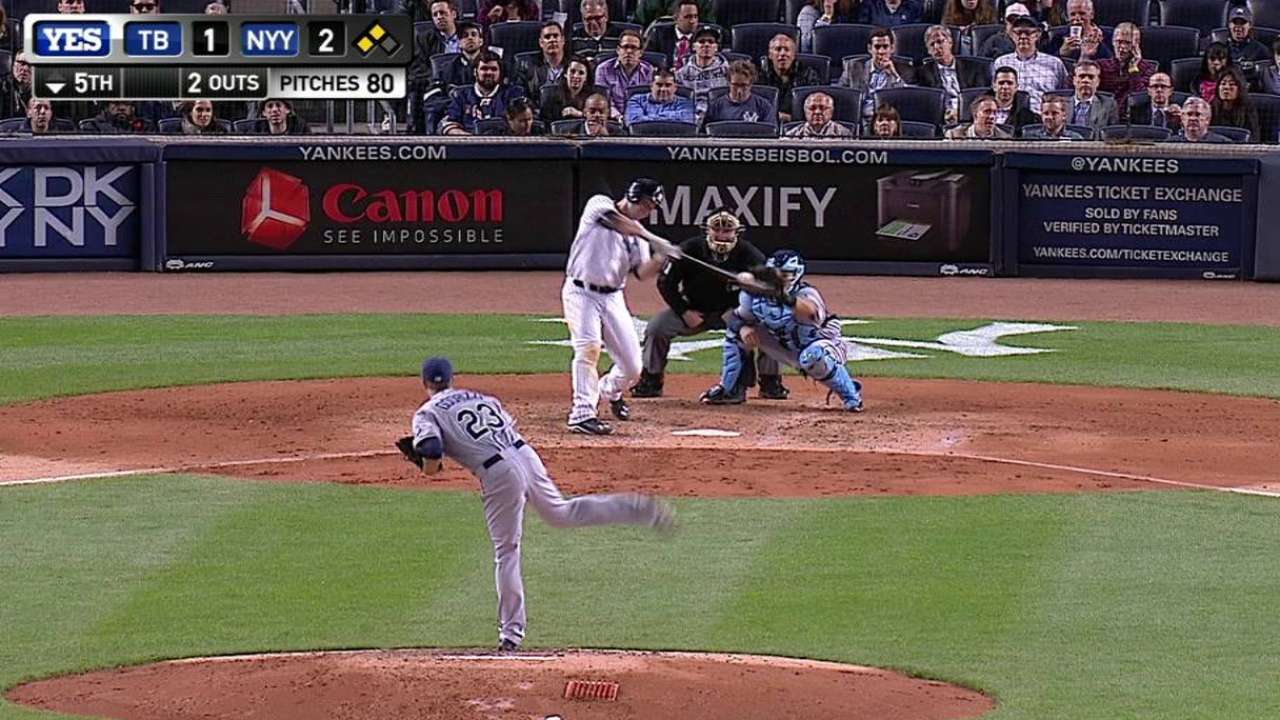 NEW YORK -- Brian McCann owns Jake Odorizzi at this point in their respective careers.
Which made Rays manager Kevin Cash's decision to pitch to the Yankees catcher at a crucial juncture of Tuesday night's 4-2 loss even more perplexing, particularly after that decision backfired.
"The choice of not walking McCann, that's on me," Cash said. "We've put so much confidence in our pitchers and in Odo, but at that point of the game, we could have very easily walked him."
McCann entered the game hitting .615 against the Rays right-hander, having collected eight hits in 13 at-bats. In his first at-bat against Odorizzi, McCann added to his legacy with an RBI double.
Odorizzi retired him on an exceptional play by David DeJesus in the fourth when the left fielder made a sliding catch in foul territory for the third out of the inning.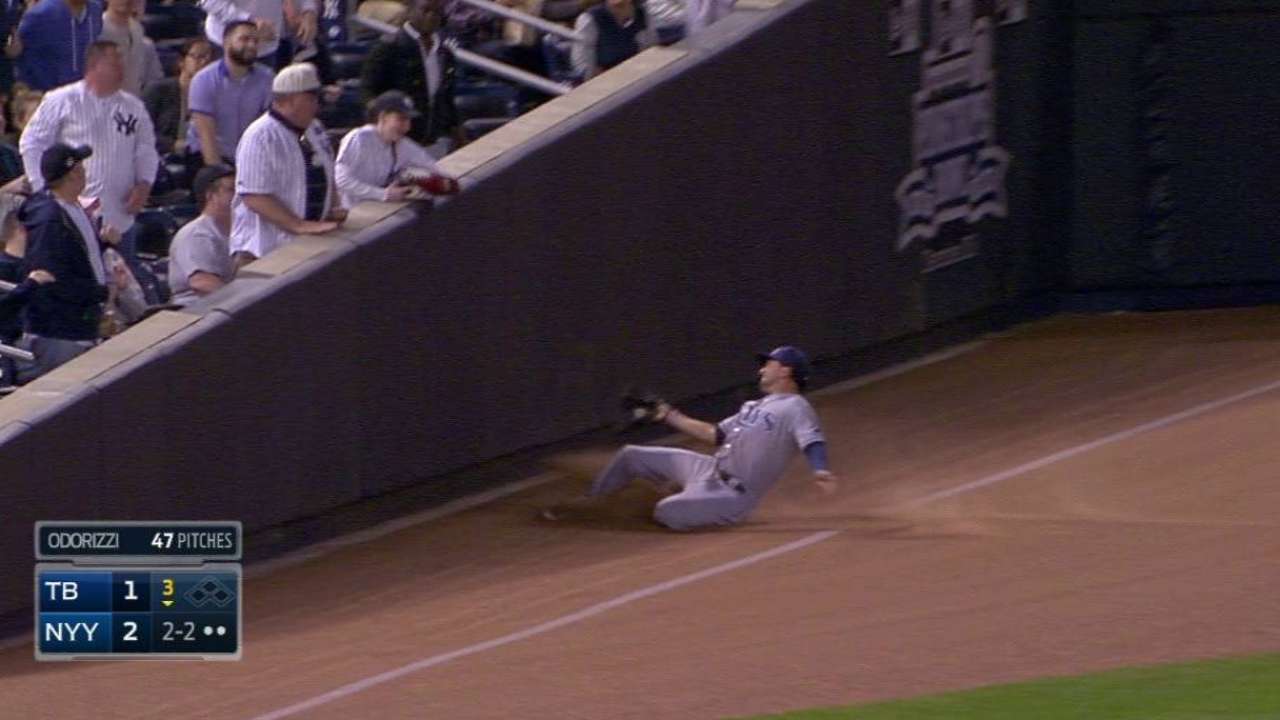 So when McCann stepped to the plate in the fifth with runners on second and third and two outs, the obvious move appeared to be issuing McCann a free pass.
The Rays did not select that option.
"We didn't want to put the bases loaded," Cash said. "And again, the confidence we have in Odo facing anybody. And then the decision of not walking him was probably not a good decision on my part. [Pitching coach Jim Hickey] had already gone out and talked to him, so we really didn't have the option to go discuss it or anything like that. At that point of the game, I should have made that decision."
Hindsight is crystal clear, making such decisions ripe for second-guessers.
Odorizzi threw a 92-mph fastball on the first pitch and McCann slapped a two-run double to left-center field to give the Yankees a 4-1 lead.
Odorizzi sounded indifferent about the decision to pitch to McCann.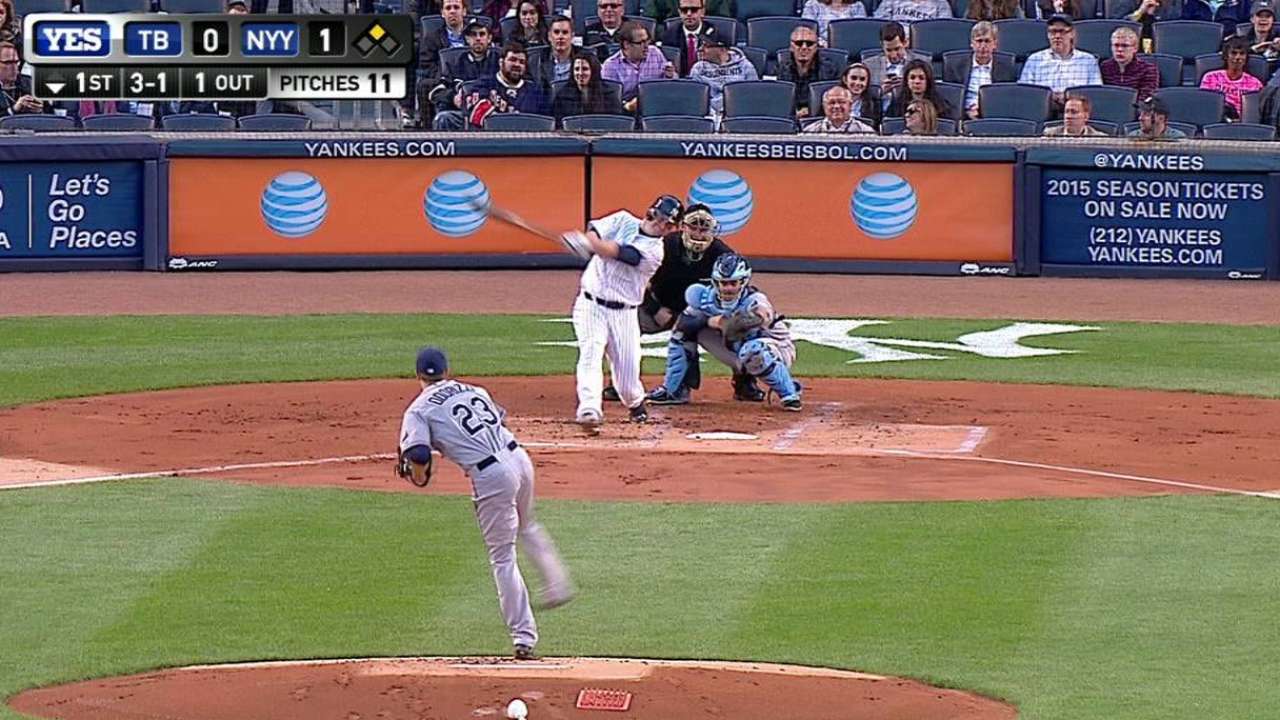 "I guess I would have been behind it, not for the reason I don't want to attack him," Odorizzi said. "But it just seems like everything I've thrown has found open area regardless of how hard it was it. I would have been in favor of that just as I would have been in favor of pitching to him. It's not a backing down, it's just the reality he hits the ball well off me and it's public knowledge. If I was really thinking there I would have done it myself. ... I could have just told [catcher] Rene [Rivera], 'Let's do four wide ones and go on to the next guy.'"
Why didn't he?
"I looked in the dugout, I figured they were talking about it, couldn't really make eye contact with anyone to see what the read was," Odorizzi said. "I thought if I execute a pitch, one swing, one out, that type of thing. But he was able to get on top of a high fastball. A lot of guys in that lineup pop that pitch up. Just unfortunate that it's the same guy, but nothing changing."
In the future, Odorizzi said he plans too continue attacking McCann and "do everything I can."
"Because at some point, it's got to give," Odorizzi said. "I'm not afraid to face him. He's gotten the better of it. It's something I have to work on the next time and come up with some new stuff."
Bill Chastain is a reporter for MLB.com. This story was not subject to the approval of Major League Baseball or its clubs.