Seeing Cueto dominate becoming second nature for Reds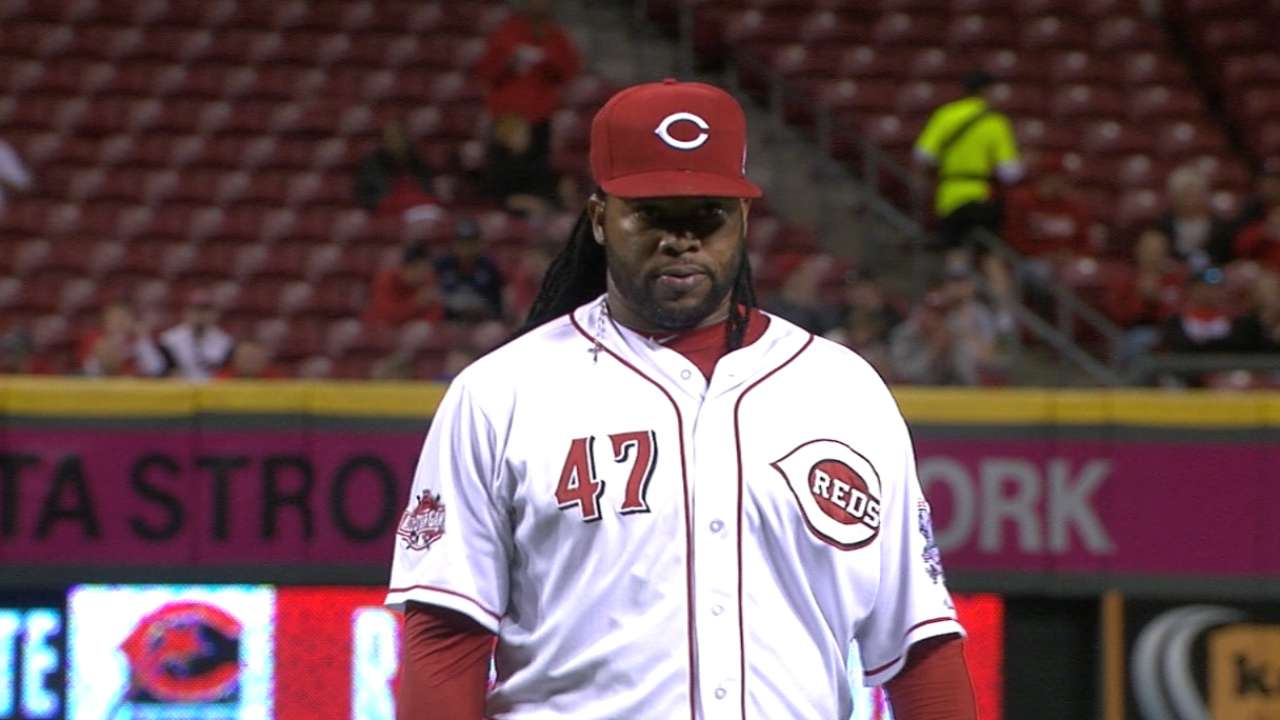 CINCINNATI -- The hardest part of Tuesday night for Reds catcher Brayan Pena was trying to describe his battery mate, Johnny Cueto. The ace of the staff had his second straight eight-inning performance as Cincinnati claimed a 4-2 victory over the Brewers.
"He's one of those guys, I don't know how to answer it," Pena said. "You guys have heard everything from me. It's like déjà vu."
Catching Cueto was an easier task for Pena. The ace right-hander gave up two runs on three hits and hit a batter. There were no walks and six strikeouts with just 85 pitches. He improved to 2-2 with a 1.95 ERA in five starts.
"It doesn't matter who is behind the plate when Johnny's pitching, you just sit down and enjoy the ride," Pena said. "He's just special."
In his previous start vs. the Brewers last Wednesday at Miller Park, Cueto threw a career-high 125 pitches over eight innings and gave up one run for a 2-1 victory. A rainout for the Reds on Saturday gave Cueto an extra day of rest. He came in with a 3.15 ERA in 68 starts when getting five days' rest, compared to a 3.40 ERA on normal rest.
"It was good because we're just starting the season," Cueto said via translator Tomas Vera. "Doing that was a lot. It was God's decision that we got the extra day. It was really good."
Other than hitting Aramis Ramirez with a 1-1 pitch in the second inning, Cueto had a spotless first four innings without a hit allowed. With the Reds and Cueto comfortably leading, 4-0, Ramirez returned in the fifth and crushed a first-pitch curveball for a long home run to left field. He is hitting .367 lifetime vs. Cueto and his six homers are the most hit by any batter against the righty.
"I always want to trick him but he's a really good veteran and a great, great hitter," Cueto said.
Leading off the seventh, Ryan Braun hit the first pitch for a homer to right field to make it a two-run game. Adam Lind followed with a single to left field, but Cueto retired his last six batters in a row.
The game lasted a brisk two hours, 11 minutes. Left fielder Marlon Byrd enjoyed the pace, and the veteran of other clubs knows that it's better to play behind Cueto than hit against him.
"He's smart, his baseball IQ on the mound is unbelievable," Byrd said. "He knows what he's doing. He sets up hitters, he sees swings. He throws to swings he knows hitters can't get to.
"He throws cutters in, cutters away, changeups, the quick pitch, the turn, pause, breaking balls -- he just locates everything. He throws that fastball from 90-95 [mph], sink, four-seam. There's a lot of movement, but he spots every pitch."
Manager Bryan Price made the call to lift Cueto after the eighth inning and have Aroldis Chapman close the game for the save. When asked if he had more in the tank to pitch, Cueto grinned, but backed the decision.
"Of course, I was ready for the ninth inning," he said. "But that's a manager's decision. He decided to take me out. I feel great."
Mark Sheldon is a reporter for MLB.com. Read his blog, Mark My Word, and follow him on Twitter @m_sheldon. This story was not subject to the approval of Major League Baseball or its clubs.