Lowrie's injury won't speed Astros' plans for Correa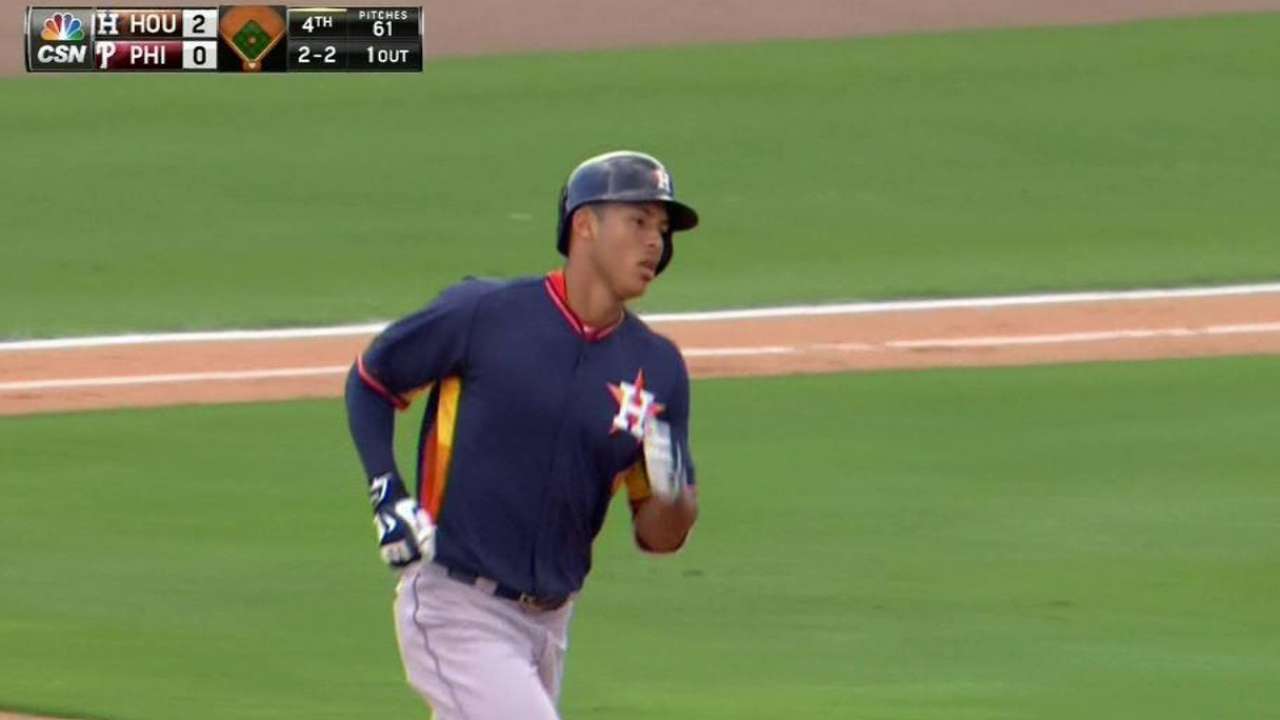 SAN DIEGO -- Astros top prospect Carlos Correa is off to a terrific start at Double-A Corpus Christi, but the club isn't quite ready to call him up to the Major Leagues despite a thumb injury to starting shortstop Jed Lowrie that will keep him on the shelf until after the All-Star break.
Houston general manager Jeff Luhnow did on Tuesday acknowledge, however, that Correa's performance is hard to ignore. Correa, ranked by MLB.com as the No. 3 prospect in the game, is hitting .400 with five homers, a triple, 11 doubles and 22 RBIs through 17 games for the Hooks.
"The way Correa has played, he starts to insert himself into the conversation," he said.
Luhnow said the club is considering keeping the 20-year-old Correa in Double-A -- and not promoting him to Triple-A Fresno -- until he gets called up to the big leagues, which could happen later this year or more likely next year.
"It's something that we discuss," he said. "It's different for every player. Carlos is a unique player, so the typical time for each level may not apply to him. We do think there's things he's learning and benefiting from being in Corpus."
There are only eight teams in the Texas League, so teams play each other with great frequency. That means the same pitchers will see Correa regularly.
"As these pitchers face him a second time, a third time, they're going to make adjustments to try to get him out, and Carlos is going to have to adjust to those adjustments," Luhnow said. "We do think there's value in spending more time at Double-A. At Triple-A, the pitching is better. It's closer to what it looks like in the big leagues.
"Carlos has done such a nice job. [Jose] Altuve was able to skip Triple-A completely, and I think Carlos may be able to, but right now it's something that we're discussing internally."
The Astros called up Jonathan Villar on Tuesday to replace Lowrie, and he will split time at shortstop with Marwin Gonzalez. That doesn't mean the Astros aren't keeping an eye on Correa.
"We're happy with his development and he's doing a great job," manager A.J. Hinch said. "We have two capable guys here. Everybody knows it's a topic, but we're very comfortable and confident with Marwin and Jonathan."
Correa homered and went 2-for-2 with the double, two walks and a stolen base in Corpus Christ's 8-4 loss to Midland on Tuesday. It was his fourth straight multihit game, going back to the nightcap of a doubleheader with Frisco on Saturday. During that stretch, he's 10-for-16 (.625) with three homers, a triple, two doubles, eight RBIs and two steals.
Correa's .800 slugging percentage and 1.268 OPS lead all of the Minor Leagues, while his 11 doubles and 17 extra-base hits are tied for the most. He also ranks among the Minor League leaders in OPS (1.268, first), RBIs (second), batting average (eighth), OBP (14th), homers (tied for 11th) and runs (17, sixth).
"Yeah, it's been what I had hoped for," Correa told MiLB.com of of his start. "Between the work I'm doing in the cage and in the field, I'm happy to see it showing up on the field. All I want to do is be consistent every single day, so that's what I have to keep working toward and make it happen every day like it has."
Brian McTaggart is a reporter for MLB.com and writes an MLBlog, Tag's Lines. Follow @brianmctaggart on Twitter. This story was not subject to the approval of Major League Baseball or its clubs.