Scioscia: Hamilton didn't take accountability
Skipper feels former Angels outfielder needed to show remorse toward teammates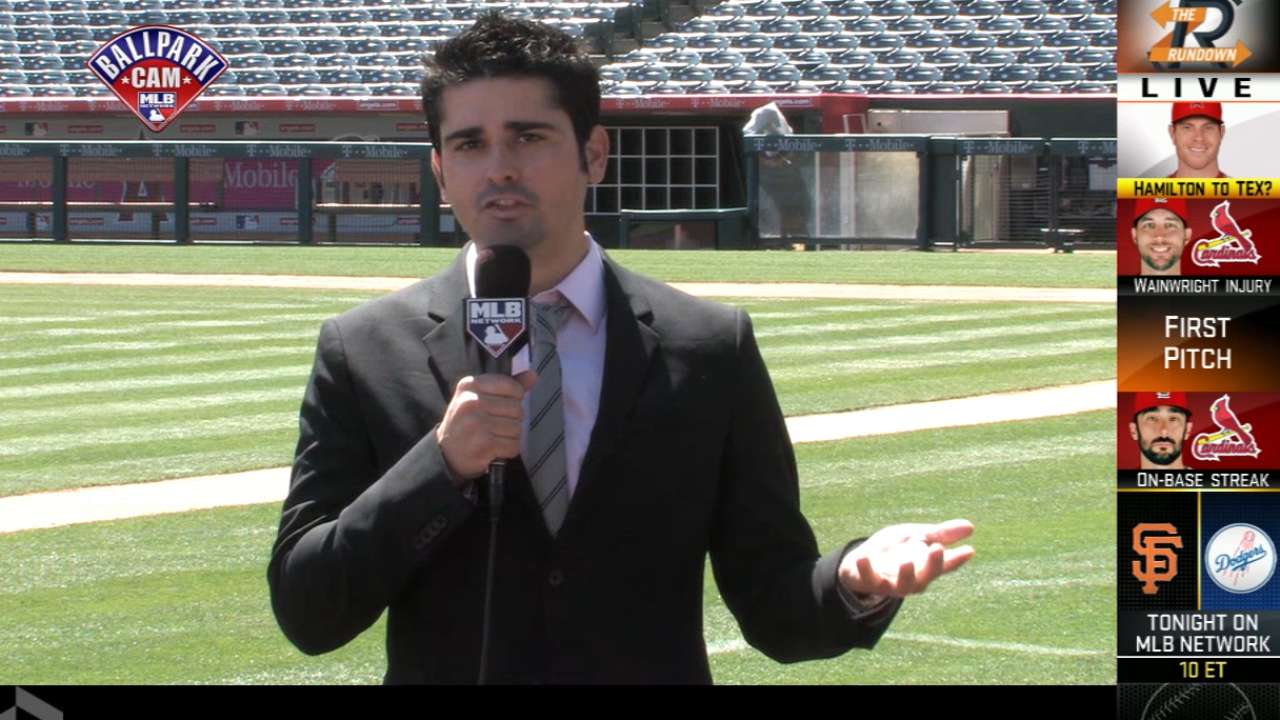 OAKLAND -- Angels manager Mike Scioscia, like owner Arte Moreno, wanted more "accountability" out of Josh Hamilton.
Speaking on Tuesday, a day after Hamilton's introductory press conference with the Rangers, Scioscia expressed disappointment in his belief that Hamilton didn't show "at least a little remorse towards his teammates" in his first public comments this season.
"The one thing that I think is sad and I'm a little bit disappointed in is the fact that there wasn't any accountability, most importantly to his teammates," Scioscia said prior to the start of a three-game series against the A's.
"If you look at how much support he got in that clubhouse, when he was struggling, whatever was happening -- no one ever questioned Josh's work ethic and him wanting to play well. He played hard. Nobody ever questioned that. I know he got a lot of support from the guys that are in that clubhouse. For him not to show at least a little remorse towards his teammates, I just think is wrong."
The Angels ended what became an awkward relationship with Hamilton on Monday, sending him to the Rangers for roughly $20 million in savings over the life of a contract that runs through the 2017 season. Moreno didn't want Hamilton playing for the club any longer and Hamilton himself had made it clear for quite some time that he wanted to return to the Rangers.
Moreno expressed his "disappointment" in Hamilton on April 10, saying: "We understand that he's had struggles, and obviously he's still having struggles, but the reality is there's accountability. When you make an agreement, you need to stand up."
Told of those comments from the dais on Monday, Hamilton said, "Yeah, I have no clue what he's talking about."
"[Moreno] knew what the deal was when he signed me," Hamilton added. "Hands down. He knew what he was getting, he knew what the risks were. He knew all those things."
Scioscia was hoping for a different response.
"Josh owes his teammates an apology," the manager said, "and he owes Arte an apology."
The Angels' players didn't necessarily feel that way, though.
Their prevailing sentiment: Relief that this is over.
"I think it was the best possible ending for all parties," closer Huston Street said.
"All the he-said, she-said, and all the focus that has been on the situation -- we can all put it to bed," said Collin Cowgill, one of Hamilton's closest friends on the team. "Josh can move on, the Angels can move on. He's going to be happy there. When it all boils down to it, I think that's what everybody wants for Josh."
Was Hamilton unhappy with the Angels?
"No, I never got that feeling," Kole Calhoun said. "I just know he wanted to play better."
Hamilton sported a .305/.363/.549 slash line while starting five consecutive All-Star Games with the Rangers from 2008-12, averaging 28 homers and 101 RBIs per season. Two years into a five-year, $125 million contract with the Angels, though, he batted .255/.316/.426 with an average of 16 homers and 62 RBIs. That led to an 0-for-13 performance in the American League Division Series, shoulder surgery on Feb. 4, a drug relapse weeks before Spring Training and general exclusion from the team.
Asked why it didn't work out for Hamilton in Southern California, Scioscia brought up many of the popular theories. Like the cleansing-juice diet Hamilton went on heading into his first Spring Training with the Angels, prompting him to shed about 25 pounds heading into the 2013 season.
"He just didn't seem like he had the same thunder in his swing," Scioscia said.
Scioscia also brought up the thumb injury that sidelined Hamilton for 10 weeks early in 2014, after a hot start, and the logistics of moving to a new state and a new environment.
"There were spots when he looked like he was comfortable and playing well," Scioscia said, "but at times it seemed like there was turmoil in his life."
While the process was unfolding, Scioscia continually expressed concern that Hamilton wasn't getting the help and support he needed.
Apparently those concerns are still there.
"I'm still concerned about Josh the person," Scioscia said. "We had a bunch of tests and counseling ready to support him, and make sure that he had the tools to come back and meet the rigors of playing baseball. And obviously with the trade, that has fallen on whatever Texas is going to do. But I'm concerned with Josh the person. I think that he needs to get that help and support, and hopefully he'll find that peace."
Alden Gonzalez is a reporter for MLB.com. Read his blog, Gonzo and "The Show", and follow him on Twitter @Alden_Gonzalez. This story was not subject to the approval of Major League Baseball or its clubs.