In one night, Tulowitzki sees the ups and downs of baseball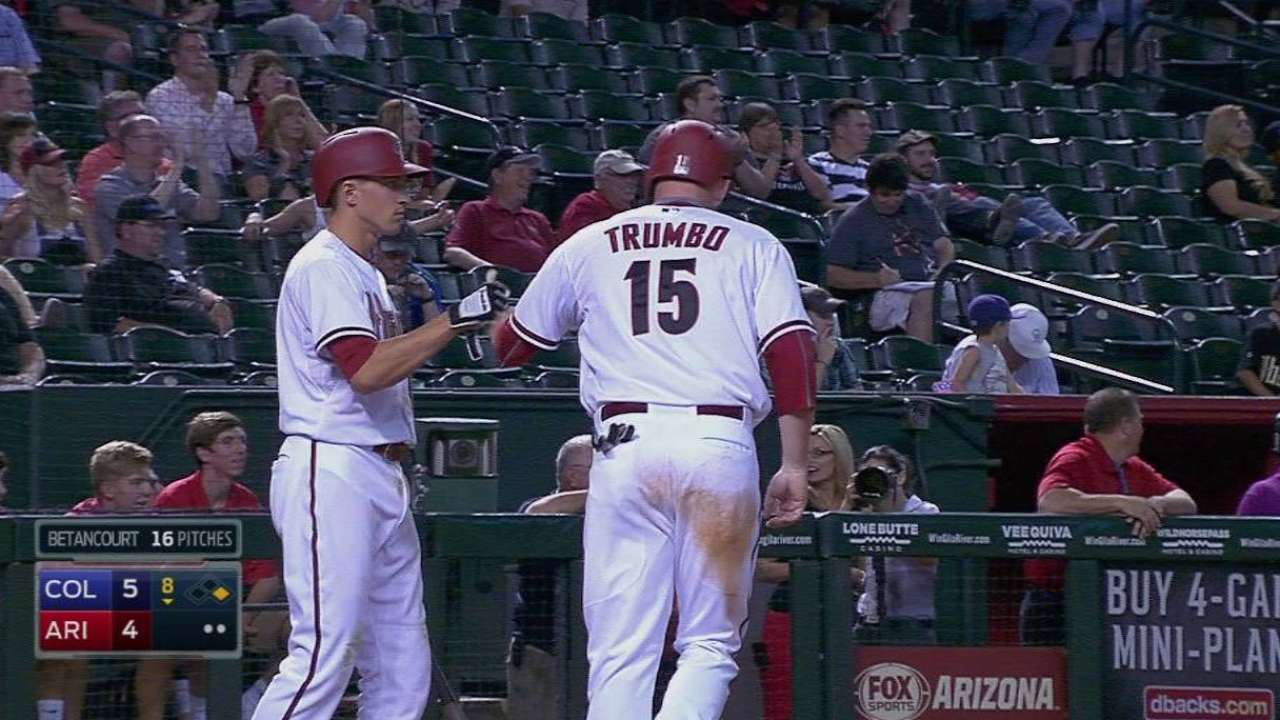 PHOENIX -- For Rockies All-Star shortstop Troy Tulowitzki, Monday night's 5-4 victory over the D-backs offered the yin and yang of things.
The yin: Tulowitzki's epic first inning at-bat that set the stage for Justin Morneau's three-run homer.
The yang: Tulowitzki's error in the eighth inning that allowed the D-backs' fourth run to score.
"I've been there," said Rockies manager Walt Weiss, who started 1,355 games at short over the course of 14 seasons for four teams, including Colorado. "Unfortunately I have. I've had one or two go through my legs."
First let's look at the at-bat: With one out and a runner on first and D-backs right-hander Chase Anderson on the mound, Tulowitzki dug in and fouled off pitch after pitch until he walked on a full count -- the 13th pitch of the at bat.
"What was he throwing? A little bit of everything," Tulowitzki said. "Changeups, some balls that had some run to it, some sink, in and out. I just tried to stay with my approach and finally he threw one out of the strike zone, and I got on base."
Two pitches later, Morneau launched his second homer into right-field seats. How much did the long Tulowitzki at-bat have to do with that outcome?
"I'm not going to have that at-bat and say that it led to Morneau's homer," Tulowitzki said. "This game is too hard to say that it led to a homer. Give the credit to Justin for him being a good hitter. So I don't think that had any bearing on why he hit a home run."
Back to the error: The D-backs had a runner on third with two out in the eighth, Tuffy Gosewisch at the plate and Rockies reliever Rafael Betancourt on the mound. Gosewisch launched what appeared to be a routine grounder to short that went right between Tulowitzki's legs, allowing Mark Trumbo to score.
Tulo looked like New York Rangers goalie Henrik Lundqvist allowing a goal though the five hole. It doesn't happen very often.
"No, but in my defense the ball was spinning in multiple directions. It wasn't a normal ground ball," Tulowitzki said. "At the same time you feel like you let your teammates down, and it got them a run closer. Luckily, we wound up winning the game, so it wasn't a big deal."
Still, it has to be a lonely feeling, recouping in the field after a play like that.
"You feel [terrible]," he said. "It's not a good feeling. You practice all day to make sure nothing like that happens. It happens, though. At the same time, you can't be too hard on yourself because it wasn't normal. You don't practice that kind of ground ball being hit.
"This game is tough, though. It'll make you humble. Sometimes you need that little reality check. Maybe I'll go out there today and make sure I have some purpose to my ground balls."
Barry M. Bloom is a national reporter for MLB.com and writes an MLBlog, Boomskie on Baseball. Follow @boomskie on Twitter. This story was not subject to the approval of Major League Baseball or its clubs.