Oblique strain sends Crawford to disabled list
Dodgers recall Hernandez from Triple-A, start him in center vs. Bumgarner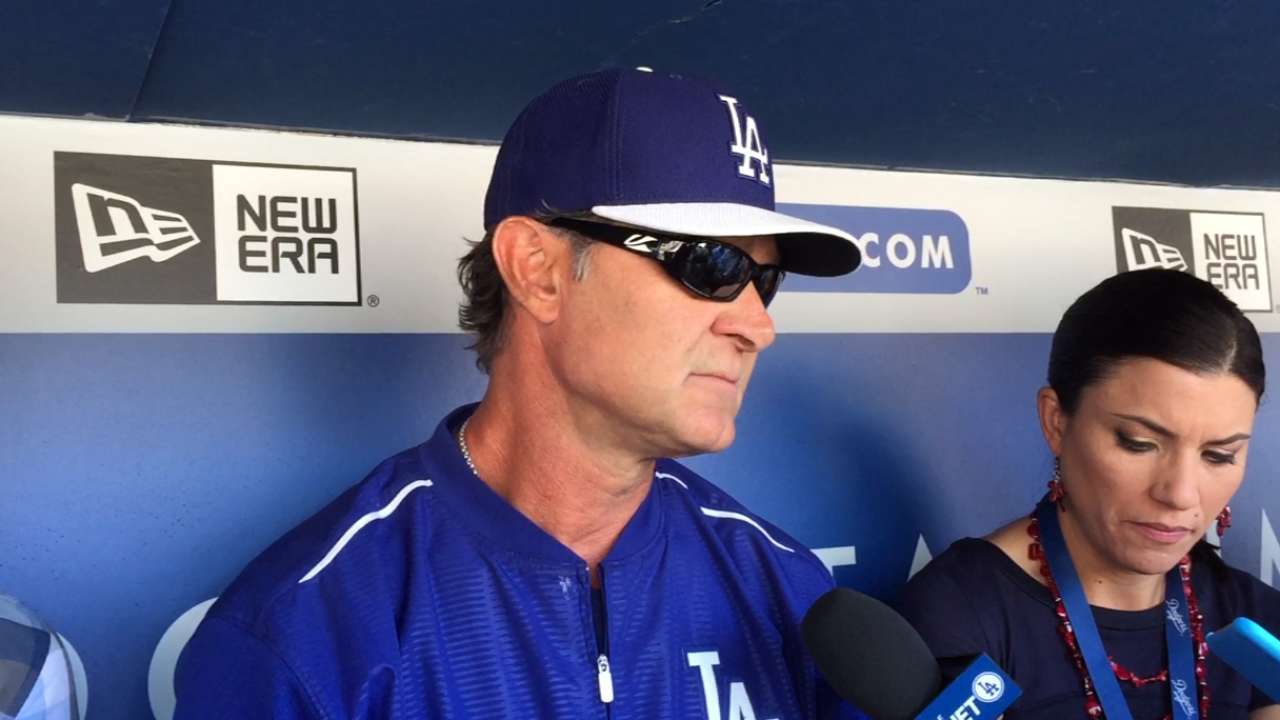 LOS ANGELES -- The Dodgers placed outfielder Carl Crawford on the 15-day disabled list Tuesday with a strained right oblique and recalled utility man Kiké Hernandez from Triple-A Oklahoma City.
Crawford was injured on a swing during a Monday night at-bat in which he tripled and joins fellow starting outfielder Yasiel Puig on the sidelines. Crawford was hitting .245 with no stolen bases.
Crawford said an MRI "showed I tore it pretty good." He said he couldn't cough without pain and received a cortisone injection. He said his latest injury was especially disappointing because he stepped up his winter workouts with a goal of finally staying healthy after a series of injuries in recent years.
"I know it's like a broken record, but there's no way I could have avoided it," he said. "It keeps happening. My plan was to play a full season."
Between 2003-10 for Tampa Bay, Crawford had at least six seasons with at least 150 games played. But he's been on the disabled list every year since.
Manager Don Mattingly wouldn't guess how long Crawford would be out, but sounded like he was preparing for about a month. Despite fielding a starting lineup with only three regular position players Tuesday, Mattingly said he wasn't panicking.
"We're going to get people back; we're getting closer every day," he said. "We're no different than any other team. If teams don't have injuries now, they're going to. We're having a little run of DL here. I still like our club. I still feel we have a lineup that can score runs and win games."
Hernandez, who was hitting .169 with a .254 on-base percentage for Oklahoma City, was immediately inserted in the starting lineup, batting second and playing center field over Joc Pederson, against Giants ace Madison Bumgarner.
In Tuesday night's lineup, the Dodgers started an outfield of hot-hitting Alex Guerrero in left, Hernandez in center and Scott Van Slyke in right.
Ken Gurnick is a reporter for MLB.com. This story was not subject to the approval of Major League Baseball or its clubs.