MLB.com Columnist
Fred Zinkie
DraftKings picks: Ethier, Grandal, Gonzalez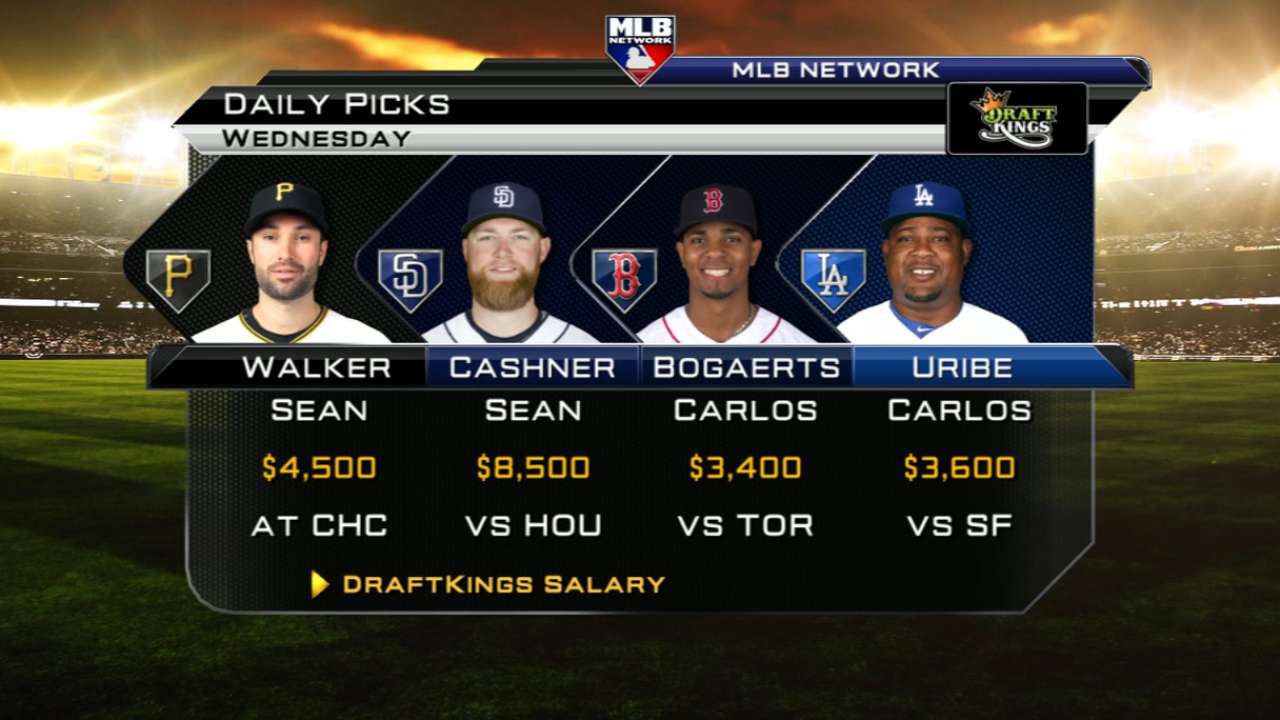 DraftKings participants could face a number of tough decisions Wednesday evening, as the presence of many talented hurlers will make attractive hitting stacks hard to come by. But fret not, as the following players could provide the answers to the toughest lineup quandaries.
Andre Ethier (Dodgers): With Carl Crawford and Yasiel Puig on the disabled list, Ethier should receive additional playing time in the coming days. And with a lifetime .889 OPS against right-handers (.642 vs. lefties), the outfielder could thrive against Giants righty Ryan Vogelsong (career 4.48 ERA, 1.41 WHIP).
Yasmani Grandal (Dodgers): Grandal has ripped just one homer this season, but he belted 15 in 377 at-bats last year and could display his power against the righty Vogelsong, who owns a 7.71 ERA and a 2.02 WHIP in 2015. In his career, the catcher has compiled a .765 OPS vs. right-handers (.715 against lefties).
Adrian Gonzalez (Dodgers): Hitting .382 with seven homers and 18 RBIs in April, the first baseman could continue to mash Wednesday against Vogelsong. With a lifetime .913 OPS against righties that exceeds his .771 mark vs. southpaws, Gonazalez has a chance to serve as the centerpiece of a solid Dodgers hitting stack.
Pablo Sandoval (Red Sox): With a career .305/.360/.494 slash line against right-handers, the third baseman could reach base multiple times against Blue Jays righty R.A. Dickey on Wednesday. Sandoval could also go deep, as Dickey has surrendered 65 homers across 72 starts since joining Toronto prior to the 2013 season.
David Ortiz (Red Sox): Ortiz has long fared best vs. righties, having posted a .293/.396/.576 slash line against them in his career. On Wednesday, Big Papi could use his patient and powerful approach to create a favorable matchup with Dickey, who sometimes struggles with command and homer prevention.
Nelson Cruz (Mariners): Having hit .307 with nine homers and 21 RBIs this month, Cruz could continue his surge against lefty Wandy Rodriguez at hitter-friendly Globe Life Park in Arlington on Wednesday. The slugger has produced a career .902 OPS against left-handers (.810 vs. righties), and Rodriguez will be making his second 2015 start after posting a 6.75 ERA during an injury-plagued 2014 campaign.
Mike Zunino (Mariners): Zunino has fared best vs. southpaws during his young career, belting seven long balls in 191 at-bats and posting a .681 OPS off them (just .614 vs. righties). On Wednesday, the powerful backstop could plant one of Rodriguez's offerings into the outfield seats.
Justin Ruggiano (Mariners): Set to bring his career .832 OPS against left-handers (.704 vs. righties) into a hitter-friendly environment against the southpaw Rodriguez, the outfielder could serve as a low-cost option on Wednesday. Ruggiano batted leadoff on Monday, and another top-of-the-order assignment would maximize his opportunities to produce.
Dee Gordon (Marlins): The second baseman is a better hitter against right-handers, against whom he owns a lifetime .696 OPS (.606 vs. lefties). On Wednesday, he could get the green light if he reaches base against Mets righty Bartolo Colon, as rookie catcher Kevin Plawecki may struggle to stop a speedster who swiped 64 bases last season.
Matt Carpenter (Cardinals): One of the Majors' best offensive players in April (.373 average, 11 RBIs, 15 runs scored), the third baseman could reach base often when he brings a lifetime .840 OPS vs. right-handers (.785 off lefties) into a Wednesday matchup with Phillies righty Aaron Harang (career 4.18 ERA, 1.35 WHIP).
Matt Adams (Cardinals): With a lifetime .843 OPS against right-handers (.535 vs. lefties), the first baseman could showcase his extra-base power against the fly-ball-prone Harang. Of note: Adams has collected 30 of his 36 career round-trippers against right-handers.
Michael Saunders (Blue Jays): Because he recently returned from a season-opening disabled-list stint, Saunders could go unnoticed by some DraftKings participants. With a career .705 OPS against right-handers (.636 vs. lefties), the outfielder could succeed against righty Rick Porcello (lifetime 4.35 ERA, 1.36 WHIP) at hitter-friendly Fenway Park.
Gerrit Cole (Pirates): The young right-hander could be in the early stages of a breakout season, as he has compiled a 2.19 ERA, a 1.05 WHIP and a 27-to-7 strikeout-to-walk ratio across four starts. On Wednesday, he could log effective innings and rack up whiffs against a young Cubs lineup that is tied for sixth in baseball with 163 strikeouts.
Felix Hernandez (Mariners): One of baseball's premier pitchers, Hernandez has dominated 2015 opponents to the tune of a 1.61 ERA and a 0.79 WHIP. If he can continue his April dominance on Wednesday against the Rangers, the right-hander could pick up a win in a seemingly advantageous matchup against Rodriguez.
Zack Greinke (Dodgers): Having compiled a 2.59 ERA since joining the Dodgers prior to the outset of the 2013 season, the righty should fare well in his pitcher-friendly home park against a Giants offense that is averaging 3.05 runs per game. With Vogelsong on the mound for San Francisco, Greinke could finish an effective outing with a victory.
Carlos Martinez (Cardinals): The right-hander has been dominant out of the 2015 gate, posting a 1.35 ERA and more than a strikeout per inning across his first three trips to the mound. Much of Martinez's success seemingly stems from his ability to reign in left-handed batters, who gave him trouble early in his career. This season, however, Martinez has held the group to a .182 batting average. Look for the youngster to continue his hot ways against the Phillies -- who have baseball's lowest-scoring offense -- on Wednesday in St. Louis.
All statistics are accurate through the completion of Monday's games.
Fred Zinkie is a senior fantasy baseball writer for MLB.com. Follow him on Twitter at @FredZinkieMLB.
This story was not subject to the approval of Major League Baseball or its clubs.